It is that time of the year when kids are forcefully sent to school because they are too occupied with the services they have to offer to their sacrificial animals. Yes, it is the month of Zil Hijjah in which Muslims perform Hajj, the annual pilgrimage to Mecca followed by the grand festival of Eid-ul-Adha or Bakra(goat) Eid as it is commonly known in the local jargon.
In Pakistan, as the days to Eid-ul-Adha draw near, the craze of buying animals for sacrifice intensifies. Streets, lanes, alleys are filled by the young as well as the old bragging about the uniqueness of their animals, despite the stench of animal waste that lingers in the air.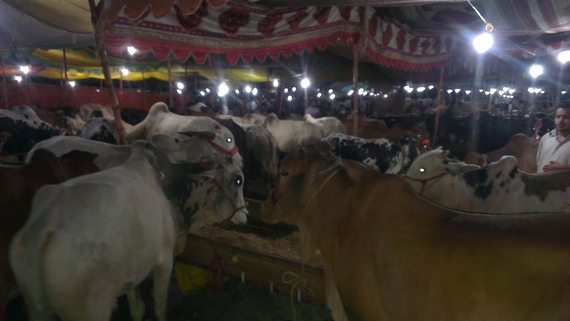 Roadsides are filled with makeshift tents which are used by individuals to keep their animals in them. Cattle, goats, sheep and camels are offered on the three days of Eid in the memory of Prophet Abraham and the sacrifice he offered making it an obligation on adult Muslims who can afford it. An individual who does not want to buy a whole animal can opt for a share in the desired animal of choice that different organizations offer.
To say the season of Eid hikes up the economic activity around the country wouldn't be wrong. With cattle ranging from Rs. 50,000 to Rs.40,00,000 (approximately $500-$40,000) and goats varying from Rs. 15,000 to Rs. 200,000 ($150-$2000), the market does offer a wide scale to the customers belonging to any strata of the society.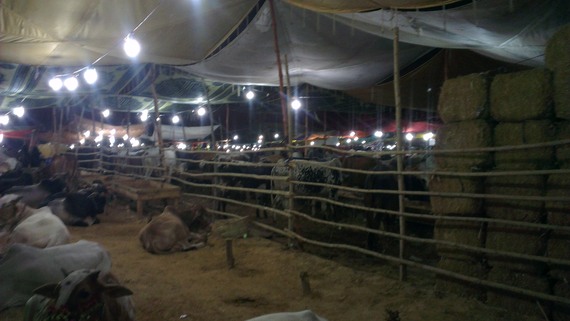 Those who have powerful bargaining skills can get great animals at a reasonable price. However, many a times, deals are made which empty the pockets of the buyers.
With moos emanating from all corners of a cattle market, along with goats tangling their horns with their irate mates, one needs to be vigilant not only to escape a charged up animal which might simply emerge from any direction, but also from pickpockets who are on a constant lookout to rob customers' valuables.
From the province of Punjab, cattle come from Sahiwal, Bhakkar, Bhawalpur while Sindh has Nawabshah and Mir Pur Khas as the breeding grounds for fine quality cattle. Sibi, also in Sindh is popular for its bullocks which are known for their distinct colour and built.
Transporting these animals from these small cities to city centres and hubs and from there to the customers' house around the nation boosts the transport business.
While the buyers try to prevent from slipping in the cow dung, kiosks offering fodder are a common sight in these markets with haystacks piled up at intervals. Purchasers spend heavy amounts on animal jewellery which is an attraction to the kids to make their personal animal stand out from the rest with its tinkling bells.
On the day of Eid, each neighborhood is on the hunt for butchers who roam around in all their glory, well the need of the Eid hours does allow them to be treated royally. While they demand huge sums of money on the first day, many families prefer sacrificing their animals on the second and third day when the rates are reasonable.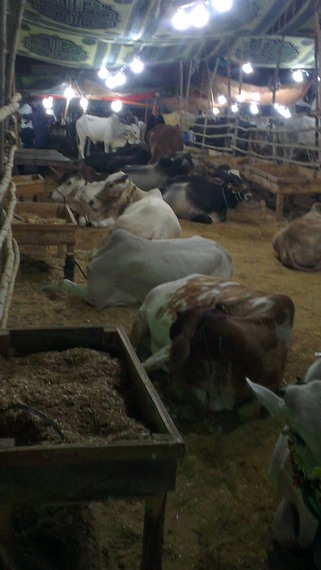 The municipal corporations in the larger cities have a tedious task to collect offal from outside houses, street corners and even vast spaces of public property where animals are sacrificed. Compared to the previous years when the stench enveloped neighbourhoods even days after the festival had ended, municipal services have lately improved.
The leather and soap industries also thrive during this season. Animal hides are collected in large quantities mostly by political party workers who move around different areas collecting animal skins. Along with them are some small and large scale NGOs who lay their hands on as many leftover hides as they can.
Call it a celebration which kids anticipate for or be it an occasion which brings profit to the dairy farming sector, Pakistan and its citizens enjoy to their fullest from the delectable dishes prepared on these days to the late night tours which families make from one block to the other witnessing unique animals within each community.
Not to forget, the selfie fad also applies to taking a selfie with an animal one owns. However, caution is advised- what if the four-legged creature is tired of this craze?
Related
Popular in the Community