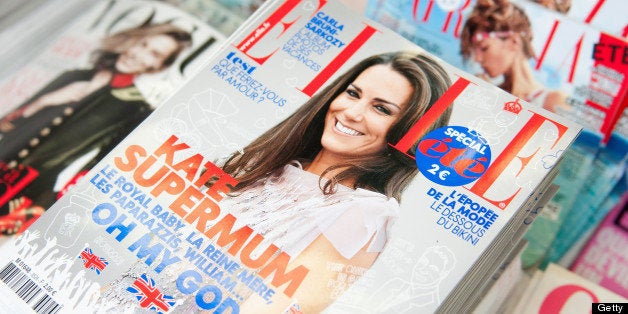 Now that Prince George has arrived and before he takes his first step, everyone in the fair kingdom of pop culture is taking a momentary pause. As we reflect back on the frenzy that was last week, we are reminded of all the excitement the royal family has created over the past several years. From weddings to babies, we can't help but wonder about the tangible effect of royal events on the lives of everyday people -- specifically wedding style and economics.
It began with a dress -- effects on consumer style
Since Queen Victoria kick started the trend of white wedding gowns, the global bridalwear industry has grown to what will be a $56 billion industry by 2015, according to a report by Global Industry Analysts.
Keeping up with tradition, Kate's lovely wedding gown tipped the trend for lace -- both for weddings and everyday fashion. According to Drapers, Alexander McQueen is riding on the royal train after the wedding. The fashion house of Kate's wedding dress saw a strong growth in 2011, with operating profit increasing by 33 percent by the end of the year compared to the preceding 12 months.
Beyond bridal fashion, the royal wedding also renewed interest in sapphire engagement rings (Kate's was Diana's ring from Prince Charles), strengthened the "Kate effect" that increases the sales of any brand the duchess wears, and yes, even launched Pippa Middleton's event planning career.
It's more than just a party -- effects on economy
And now with Prince George's arrival, Joshua Bamfield, director of the Centre for Retail Research (CRR), told Reuters that he estimates more than 240 MM pounds could be added to the British economy. Most of the spending will go to souvenir sales, and the rest will go to celebration spend and tourism.
And even bookies are getting a boost. According to Howard Archer, chief European and UK economist at IHS Global Insight, it is Christmas in July for bookies, as people were betting on the gender of the baby and its name.
But not all royal celebration is a boon. According to Archer, the Queen's Diamond Jubilee celebrations in 2012 and the Royal Wedding in 2011 resulted in a net economic loss. The holiday from both events hit output and services activity, as well as limited retail sales on the day in question. "While some of this lost economic activity was subsequently made up, there was undoubtedly a significant overall loss from this factor," said Archer as reported by the Financial Times.
We'd also like to point out that unless the spending is a net addition, and not a shift in spending elsewhere, the only people who benefit are the retailers and business directly involved in royalty-inspired sales.
While fans of the royal family would like to believe their monarchs impact the overall economy and even birth rate, there hasn't been any study to conclusively prove that royal weddings and births have significant economic impact. Fortunately, this does not really take away the optimism people feel on these joyous occasions and the happiness these bring them, even if their enthusiasm results in purchases of royal condoms and creepy wedding dolls!