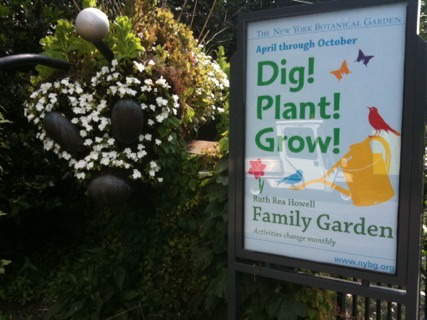 image courtesy of FamilyCook Productions's Lynn Fredericks
The White House has already harvested more than 225 pounds of produce from the kitchen garden that Michelle Obama and her crew of fifth graders planted with so much fanfare back in March. But the White House kitchen garden has yielded much more than a bumper crop of salad greens: it's brought a bonanza of media coverage to the edible landscaping boom that's sweeping the country.
The growing demand for fresh, local, affordable fruits and vegetables has inspired millions of Americans to grow some of their own food this year, many for the first time. And they're getting plenty of guidance and support from a variety of institutions, from corporations to non-profit organizations, as well as individuals who've stepped up to the plate to help put more homegrown produce on our plates.
Here in NYC, we'll have the whole summer to savor The New York Botanical Garden's Edible Garden exhibit, which just opened and runs through September 13th. The exhibit is co-sponsored by cookware company Anolon, whose own Creating a Delicious Future campaign seeks to foster "a return to eating delicious foods prepared simply at home using fresh, seasonal, local ingredients".
The exhibit's other major sponsor is Scott's Miracle Gro--a seemingly incongruous bedfellow for an exhibit that features raised beds of sustainably grown veggies, but perhaps this is as good a way as any to spend some of those profits they've made selling pesticides and chemicals that the EPA's asked them to take off the shelves. For the record, the exhibit does not appear to include any promotion of Scott's products, and the NYBG's website advocates using "organically safe gardening techniques to avoid the application of pesticides and other harmful chemicals."
Exhibitions include a Good Food Garden, a Seed Savers Heirloom Vegetable Garden, and a Beginner's Vegetable Garden, along with a half dozen other edible landscape-related exhibits. Rosalind Creasy, whose essential but long-out-of-print book Edible Landscaping has a new edition coming out in 2010, thankfully, designed the Heirloom Vegetable Garden. Other homegrown heroes like Kitchen Gardeners International founder Roger Doiron and Slow Food USA's new president Josh Viertel will be among the featured speakers at events taking place over the course of the summer.
Get a vicarious taste of what's growing at the NYBG Edible Garden exhibit by visiting this photo gallery from FamilyCook Productions' Lynn Fredericks. Fredericks, a founding member of the Food Systems Network NYC, was happy to document an exhibit that devotes so much space to promoting her own pet cause--helping kids and grownups learn to make healthy meals made with fresh, wholesome foods.
Edible landscape advocate Fritz Haeg, author of Edible Estates: Attack On The Front Lawn, installed another noteworthy exhibit last month at Elliott Chelsea Houses, a public housing project located at 441 West 26th Street at 10th Avenue. With help from a team of volunteers and the New York Restoration Project , Friends of the High Line, and the Manhatta project, Haeg planted a "native Manhattan food garden" featuring the edible plants that fed the Lenape people on Manhattan island 400 years ago.
The Lenape Edible Estate, designed to be "part experimental laboratory, and part educational display", is divided into 5 zones: woods, berry patch, low wetland, flowering meadow, and a planting of "the three sisters," beans, corn, and squash. On Monday, September 14th, Haeg will host a harvest party at the garden to mark the 400th anniversary of the arrival of Henry Hudson to the island of Manhattan.
At the national level, there's another wonderful edible gardening program that merits a shout-out: the Giving Through Growing campaign sponsored by Robert Mondavi's Woodbridge Winery in partnership with The American Community Gardening Association. Woodbridge is donating $40,000 this year to the ACGA to help provide "educational tools, leadership training, and community building strategies to participants in New York, Chicago, Atlanta, and Los Angeles." The Giving Through Growing program encourages you to send virtual "eSeeds" to your friends, and for every eSeed that's planted, Woodbridge will donate a dollar to the ACGS.
It's exciting to see all this support for the folks who are greening our urban spaces, because the more of us who roll up our sleeves and get digging, the closer we'll come to achieving a truly sustainable food system. As McArthur genius Will Allen, the urban ag pioneer behind Milwaukee's Growing Power, told Elizabeth Royte in last Sunday's New York Times Magazine, "We need 50 million more people growing food on porches, in pots, in side yards."

Calling all HuffPost superfans!
Sign up for membership to become a founding member and help shape HuffPost's next chapter