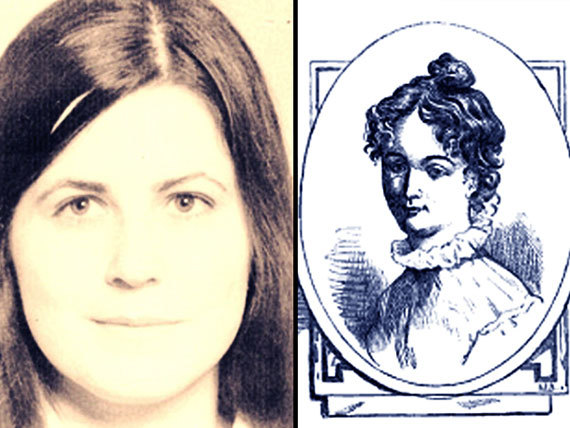 Credits: Photo of Barbara Forrest via Birmingham Mail; Illustration of Mary Ashford via Wikimedia Commons
An English suburb is haunted by the chilling similarities between two grisly murders that occurred 157 years apart.
Erdington is a quaint suburb of Birmingham, England that dates back to the 9th century. The old English community has undoubtedly seen its share of history, evolving from a rural village to a popular midway point for those traveling between Chester and London in the 18th and 19th centuries. Yet there's a dark chapter to Erdington's history that continues to haunt its residents--the unsolved murders of two young women with details too similar to ignore, right down to the date of their grisly deaths.
But the creepiest part? The similar incidents happened 157 years apart.
At 6:30 a.m. on May 27, 1817, a laborer named George Jackson came across a bundle of clothing, a hat, and shoes near a water-filled pit. He alerted locals who dragged the pool and found the body of Mary Ashford with bruising on her arms, presumably raped before her death. Footsteps of a man and woman were found in a nearby field. Authorities scrutinized the events leading up to Mary's death and named one Abraham Thornton as the prime suspect.
The victim was a comely 20-year-old girl who had plenty of suitors. On Whit Monday, May 26, she walked from Langley Heath to Birmingham on her way to work, stopping at the home of Mrs. Butler's where her friend Hannah Cox lived. There, Mary dropped off a bundle of clothing she planned to wear to a dance later that evening.
At 6 p.m. that night, Mary returned to Hannah's room and changed into her party outfit. The two then set off to attend a dance at Tyburn House. Both girls enjoyed the festivities and spent the latter part of the dance with Benjamin Carter and Abraham Thornton.
The foursome left the dance at midnight, walking along the main road, Chester Road. Hannah Cox headed back to Mrs. Butler's alone, Benjamin Carter went back to the dance, and Mary and Abraham continued on toward Mary's grandfather's home. At 4 a.m., Mary returned to Hannah's home to change back into her work clothes. Hannah questioned her about what she did as any curious girlfriend would. Mary appeared calm and in a pleasant mood; she told Hannah she spent time with Thornton before he left. Witnesses then claimed to have seen Mary along the road alone a little after 4 a.m.
A few hours later, Mary was discovered dead. By 8 a.m. the next morning, a confused Abraham Thornton was arrested for the slaying. He reportedly told police upon his arrest: "I cannot believe she is murdered; why, I was with her until four o'clock this morning." During questioning, Abraham told detectives he had sex with Mary that night in the fields. Afterward they talked and gazed up at the sky until around 3 a.m. before Abraham walked her part of the way back to Hannah's house. He waited for her outside, then left when she did not come back for some time.
That was the last time Abraham claimed he saw Mary alive.
Abraham Thornton's trial began on August 8. Public opinion was convinced of his guilt. Nevertheless, three witnesses were able to corroborate Abraham's alibi. This, in conjunction with with a lack of concrete evidence, led the jury to deliver a not guilty verdict.
Mary's brother William Ashford refused to accept the jury's decision, and appealed for a second trial. Then, in a weird twist of antiquated legal events, Lord Ellenborough who presided over the case allowed Abraham to defend his not guilty verdict with a 'Trial by Battel'--essentially a fight to the death to prove one's innocence.
Abraham made a show of it by throwing a leather glove over his head to initiate the challenge. Mary's brother, however, did not respond to the provocation. The case was ultimately discharged and Abraham walked. The public continued to believe Abraham was the killer after the trial concluded, so much so that Abraham eventually fled his home for the United States.
The unsolved murder of Mary Ashford left a deep wound on the Erdington community. Exactly 157 years later, that wound would be reopened in a painfully similar case.
On May 27, 1974, another 20-year-old woman was murdered and left in a ditch near Chester Road in Erdington. Her body--which showed signs of rape and strangulation--was discovered a few days after death. This woman was identified as Barbara Forrest who worked as a nurse at nearby at Pype Hayes Children's Home. She, too, had gone missing on Whit Monday. Reports state that Barbara was with her boyfriend Simon Belcher on the evening of her death, dancing at several bars. Belcher said he walked her to the bus at 1 a.m. and that was the last time he saw her.
A manhunt ensued, involving over 100 detectives. And once again, authorities zeroed in on a suspect named Thornton.
Michael Ian Thornton lived on Chester Road and was Barbara Forrest's coworker. After authorities reportedly found bloodstains on Thornton's pants and uncovered a false alibi from his mother, they apprehended him and charged him for the slaying.
The suspect was put on trial. And similar to the Thornton in Mary Ashford's case 157 years ago, this Thornton was found not guilty due to lack of evidence. To draw yet another similarity, Barbara Forrest's sibling Erika refused to accept the verdict. In 2012, she demanded the case be reopened and DNA evidence reviewed.
Even more chilling are accounts of both women feeling a sense of dread leading up to their deaths. Mary Ashford reportedly told Hannah Cox's mother she had "bad feelings about the week to come." Barbara Forrest had also confided in a coworker ten days before her murder: "This is going to be my unlucky month. I just know it. Don't ask me why."
Both murders remain unsolved to this day. Some view the parallels between the cases as mere coincidence, while others see them as signs of something sinister. One thing is for certain: The people of Erdington continue to search for answers to these strangely similar cases.
Support HuffPost
The Stakes Have Never Been Higher
Related
Popular in the Community