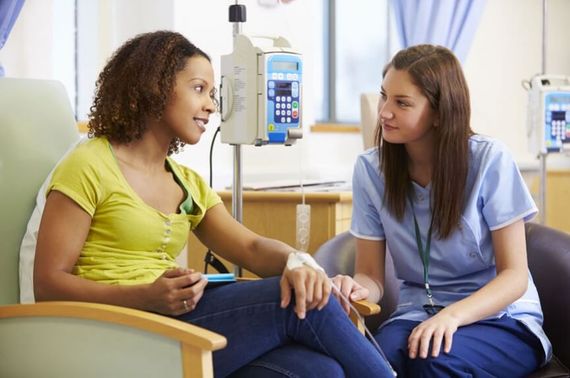 When someone receives a diagnosis of cancer that results in a surgery, the scars are visible on the outside of the body in most cases. However, if a diagnosis results in a treatment with chemotherapy, the effects on the body are not readily visible and therefore, often they are overlooked and unexplainable to others. And unless the cancer patient has had what most consider to be a luxury nowadays of having a medical professional to explain all of the possibilities of how chemo will affect them personally, many patients are ill-prepared to deal with the side effects on a personal basis let alone try to explain to someone else what may be occurring to them.
In researching the side effects of chemotherapy on the body, I was shocked by the devastation that can be wreaked on just about every part of the body from head to toe. While I understood that chemo is actually a poison that has to be introduced into the body to kill the cancer cells, its effect on healthy cells throughout the body is undeniable. As chemo has no ability to distinguish between the cancer cells and the healthy ones, it is surprising that the physical body can even survive as well as it does. And while some of the damage may be repaired over time as the body heals itself, there is no guarantees regarding the long-term effects in any given situation.
Just as each person has individual fingerprints, so is the chemistry of each of our bodies. If you consider all of the various chemo drugs that are currently available, one can begin to get an idea of what is involved. A drug that works for one person for years may only work for another person for a few weeks or months. Then when you look at the combinations of drugs that have been devised for treatment of one type of cancer, you also learn that these may not work at all for another type. And if you look at one class of cancer by itself such as breast cancer, you soon learn that there are so many different types of that cancer that respond so differently from one type of breast cancer to another. Now add to this that certain individuals may have an extreme set of side effects to a particular chemo where other patients being treated for the exact same cancer may have none, you can begin to see what any oncologists is facing in treating a patient.
Now let's talk about that patient who is receiving chemo. Most people only think about the patient losing his/her hair because that is the visible sign that usually is seen by others. But, for many, that is only the beginning of what a person will need to consider. Everything from eating to drinking and sleeping, the most basic of what we do on a daily basis, can be affected in adverse ways. And I am sure that most people have heard of "chemo brain" that can adversely affect a person's ability to function mentally at the same level as they were able to do in the past. And while the effects of the chemo on the brain may diminish over time, there again, the function may never fully return to pre-chemo treatment.
These are just a few of the results that may occur for anyone receiving chemo treatment. Therefore, it is so very important for family and friends to learn about these things in advance. By knowing what to expect, those who are interacting with the patient will be able to find ways to deal with any side effects and will be able to understand that the patient is truly undergoing the distress that they are sharing. Knowing also allows for others to be more empathetic when they understand the agony that the patient is enduring at any given time.
Educating ourselves is the single biggest thing that we can do for ourselves whether we are the patient or a caregiver. It allows for a basis of what can be expected and the ability to be forewarned and able to better deal with whatever comes our way. And especially for a patient, if you understand what might be expected, then you won't be as scared and afraid every single time that you experience a new pain or adverse reaction. And if you think that there are any exaggerations in these words, just think about all of the side effects that are listed on the warning labels of every single chemo drug. They are endless but it is so important to have this information in order to be as prepared as possible.