Way back in my student travel days, I discovered a handful of completely offbeat sights and experiences like the Ehrenberg Castle ruins in Reutte (in Austria's Tirol), just across the border from the extremely popular and commercial "Mad" King Ludwig's castles. To this day, we carefully balance the sightseeing on our tours, mixing the famous must-sees with undiscovered "Back Door" sights like these.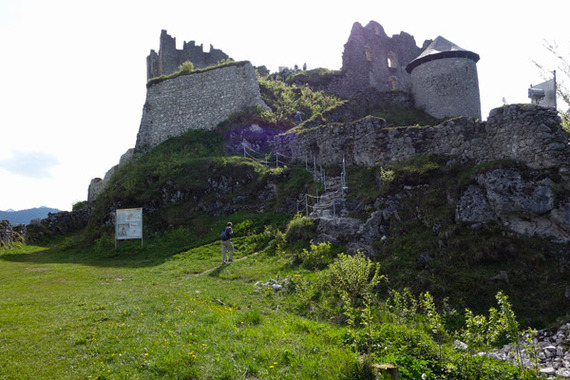 The Ehrenberg ruins are an example of the countless castles ruins rotting away on hilltops all over Europe. They're free to enter and offer lots of medieval wonder to anyone hardy enough to hike up to the top.
Hiking with our group brought back memories of the 1970s, when I was a college kid taking gangs of eight through Europe in a minibus on our very first tours. Over years of experimentation, we discovered the fun sights that distinguish our tour program to this day. From this video clip, you can imagine how fun it is for me to share this amazing sight with our tour members 35 years later.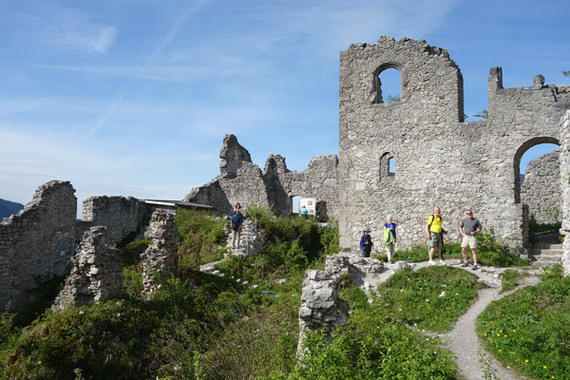 A tour guide has to be careful not to exhaust the group. An experience like this is optional for our tour members. We've already had a full day of regular sightseeing. Those who are ready for a break are dropped off at the hotel. Then, the rest of us storm the castle.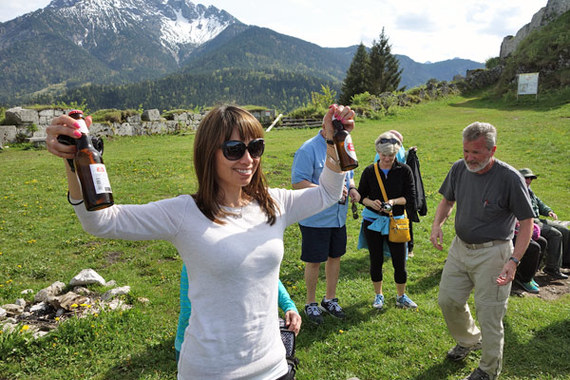 Assistant tour guide Trish Feaster helps tour guide Reid Coen surprise our gang of thirsty knights by serving beer at the summit of our little mountain. By the way, many of the photos on this series of blog entries were taken by Trish (for her travel blog, see The Travelphile.com).