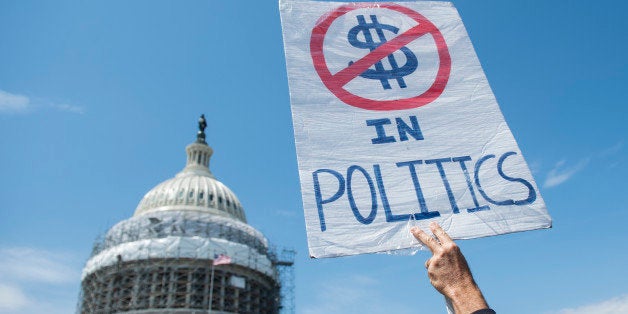 After one of the most anti-establishment elections ever, Hillary Clinton remains the odds on favorite while Donald Trump lags, and Bernie Sanders' remarkable candidacy feels like a distant memory. For those 70 percent of voters frustrated with the 2016 election, another Clinton presidency is another reminder that our political system is built to preserve the status quo.
But in 16 states, counties, and cities across America, citizens are bypassing politicians to put ballot initiatives in front of voters on Tuesday that would fix our broken elections and stop special interests from continuing to dominate our political system. This should be welcome news to every American, 89 percent of whom have only some or hardly any confidence in our nation's political system.
Flawed campaign finance laws allow billionaires and special interests to have massive influence over who gets elected and which laws they pass. Broken redistricting laws enable politicians to choose their voters, blocking competition in 86 percent of U.S. House districts. Outdated voting laws prevent independent and third party candidates from running without fear of "spoiling" the vote.
The sweeping-but-commonsense reforms on the ballot in South Dakota, Washington State, and fourteen other places this Election Day would make great strides toward fixing these problems.
For example, South Dakota is the only state in the nation where lobbyists can still give secret unlimited secret gifts to politicians. The South Dakota Anti-Corruption Act, Measure 22, would make that kind of legalized bribery illegal. It would stem the flow of unaccountable political money by requiring greater transparency and disclosure from donors. It would strengthen the state's ethics enforcement by establishing an independent commission, and it would crate a small donor system that enables every voter to direct $100 of their tax money to support political candidates who represent their values and beliefs.
Washington State's Initiative 1464 would bring far greater transparency to a state overwhelmed by secretive big-money groups with absurdly vague names like "Don't Invest In More Excuses PAC." It would force PACs to disclose their top donors -- and if those donors are other oddly-named groups, they'd have to dig even deeper until they disclose a real person's name. The initiative would prohibit big campaign contributions from lobbyists and public contractors and close the revolving door so that politicians cannot quickly cash in to become lobbyists after leaving office. And it would create a small donor system similar to the one in South Dakota.
These are only two of 16 citizen-led reforms on the ballot this November led by a diverse range of organizations and local leaders. They are designed to make America's political system what it should be: a system that serves citizens, not special interests. A government that, in the words of Abraham Lincoln, is of, by, and for the people.
The benefits to voters are clear: more say over government and less waste, fraud, and abuse. More competition and more diverse candidates. The less-obvious beneficiaries of these anti-establishment initiatives are the many qualified, independent-minded Americans who might consider running for public office, were the current system not so distasteful and expensive. By making it illegal for special interests to exert undue control over politicians, we can elect a new, better generation of public servants.
Of course, not everyone likes this plan. The billionaire Koch Brothers are funding 97 percent of the opposition spending in South Dakota while special interests spend millions to defeat this year's ballot initiatives and protect the status quo. Opposition to democracy reform comes from establishment players on both the right and the left, and from both major parties. This issue not about liberals versus conservative. It is about those who have power versus those who don't.
That's fitting, because the grassroots movement to fix politics is truly nonpartisan -- an almost shocking revelation in this era of unprecedented polarization and partisan bickering. In both South Dakota and Washington State, conservatives and liberals have set aside their ideological differences to work together to pass powerful anti-establishment reforms.
Some critics complain that ballot initiatives are overdone and counterproductive. Let politicians do their jobs and pass these reforms the old-fashioned way, they say. But when it comes to fixing our democracy, our elected leaders face a conflict of interest. They came to power under the current rules and have little incentive to change them. If there's one issue that merits reform via ballot initiative, it's the laws that govern the politicians themselves.
The fight to fix our government is an extension of our nation's 240-year fight for a more perfect union. It is the continuation of a proud history of democratic upheaval, innovation and self-improvement. When things are broken, Americans don't give up. We honor our nation by leading the way toward a new and better future.
Popular in the Community