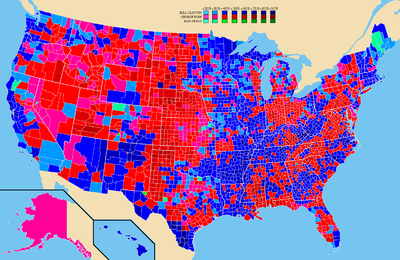 Retiring U.S. Senator Barbara Boxer (D-CA) filed legislation proposing an amendment to the Constitution abolishing the electoral college. She and many across the United States believe the president should be chosen by direct popular vote. This would be a huge mistake. The electoral college is vital to freedom in a republic the size of the United States.
Lest this be taken as a partisan argument for Donald Trump, let me clear the air. I did not vote for Mr. Trump. I understand the aversion many in both parties have for his style and even the substance of some of his policies. I understand the disappointment of Clinton supporters. I'm a libertarian from Buffalo, NY. My team never wins, neither in politics nor anywhere else – believe me, I understand!
But regardless of my reservations about Trump, the manner in which he was elected must be preserved as the only way to preserve a nation this large and culturally diverse.
Michael Moore recently called the system antiquated and only created to protect the dubious "rights" of slave states. Not so. In fact, it was created to protect smaller states from domination by the largest, including slave state Virginia. Let's remember, the people of the original thirteen states did not have to accept the Constitution. Rhode Island, which passed laws to gradually emancipate its slaves from 1784-87, didn't ratify it until 1790.
It's primary reason for holding out was the addition of a Bill of Rights to the Constitution, measures which clarified the restrictions on the power of the federal government, but did not protect slavery. What it did ensure was that larger states like Virginia and Pennsylvania were not able to dictate how Rhode Island governed its internal affairs. The very first clause of the First Amendment, properly understood, prohibited the federal government from establishing a national religion, like the Church of England. Rhode Island, founded in the name of freedom of religion by a man kicked out of Massachusetts because of his religious beliefs, was especially concerned about this.
While some of the particulars are different, the underlying principle remains the same. The United States is a diverse federation of drastically different cultures. Those who believe New York City, Atlanta, GA, Boise, ID and Los Angeles, CA aren't different cultures just aren't being honest with themselves. As President Obama is so fond of saying, E Pluribus Unum (out of many, one).
There are some laws the federal government enforces within the states, based on its power to regulate interstate commerce. But the executive who enforces those laws must represent the people of every state, especially given how culturally diverse they are. That's why we have an electoral college. That is why the people of Idaho, many of whom may find the societal values in places like New York or California abhorrent, agree to abide a chief executive who most likely comes from a place like that – because they and their culture have an equal say in electing him, even if they're outnumbered.
If the shoe were on the other foot and Midwestern evangelical states had a population advantage, you can bet New Yorkers and Californians would be defending the electoral college to the death.
The beauty of our system is that it allows people with vastly different beliefs and values to live together in one federal republic dedicated to protecting their freedom to hold those beliefs, right or wrong, so long as they do not infringe the rights of others. To transform the republic to a pure democracy and allow a few, cosmopolitan states to rule over people who don't share their beliefs would truly be tyranny and a threat to domestic peace.
The Constitution guarantees "to every State in this Union a Republican Form of Government," not a democratic one. The founders were wise in this respect. In the name of diversity, freedom and peace, we should keep the electoral college.
Calling all HuffPost superfans!
Sign up for membership to become a founding member and help shape HuffPost's next chapter