Over the past year the Centre for Local Economic Strategies (CLES) and partners, funded by Lankelly Chase, have been undertaking action research to understand how people who have experienced severe and multiple disadvantage and decision makers can effectively work together to tackle the causes of inequality across Greater Manchester.
Often termed "coproduction", exploring ways for citizens and professionals to work together is of-the-moment. However, there are a number of challenges that prevent coproduction becoming mainstream practise. These barriers are the "elephants in the room": everyone knows they are there but no one wants to talk about them. We brought together 'decision makers' and those with personal experience of severe and multiple disadvantage to openly discuss these elephants, and see whether we could get them to leave the room for good. In a series of blogs this week we've be sharing the insights of people who took part in this research project. #ElephantsGM
Any successful business knows that if you are launching a new product involving your end user in the design is a crucial part of the process. So why is effective co-production often such as challenge in the public sector?
The Elephants project has been running in Greater Manchester with support from the Centre for Local Economic Studies and Lankelly Chase for several months – its ambition is to bring together a mix of people with lived experience and officers from public sector organisations to get a better understanding of the challenges that exist around co-production. I actually became involved with the Elephants project through a request from my boss (who was already involved) for practical ideas around how we bring some of the themes/ideas that were emerging to life. As a Strategic Lead in Greater Manchester for a large national programme designed to support families with multiple complex issues I guess I was quite well placed to input into the project. I was involved in a piece of work to co-commission a new provider to offer family support services in a number of prisons that accommodate Greater Manchester residents. This offered potential to test a different approach to co-production
To begin with I had little understanding of what the project was trying to achieve but hoped that it wouldn't be a 'well-meaning talking shop'. However, it definitely captured my interest. I had written about co-production being a central principle of the way we want to reform public services in numerous papers but did I/We really understand what this meant?
I attended a couple of meetings with the group and a couple of things struck me straight away; firstly it felt pretty informal – no stuffy meeting rooms in town halls (which I believe can sometimes create boundaries between professionals and service users). Instead we met in an'earthy' shared space in Manchester's Northern Quarter. I was also pleasantly surprised by how the people round the table seemed genuinely enthusiastic about the work. Time was also made for people to talk about how they felt that day and their expectations for the meeting. To be honest I can find that sort of thing 'cheesy' but in this environment it worked as it created an atmosphere for listening to each other, which is surely a vital element of co-production. I wouldn't say that this completely dissolved the sense of 'us' and 'them' in the group but it certainly helped. I admit to feeling intrigued by some the backstory of some of the people in the room (some of which was disclosed and some of which wasn't) but this didn't overtake the meetings. The lack of a tangible focus for the work at this early stage did take me slightly out of my comfort zone but recognized that at this stage the group were still generating thoughts and ideas.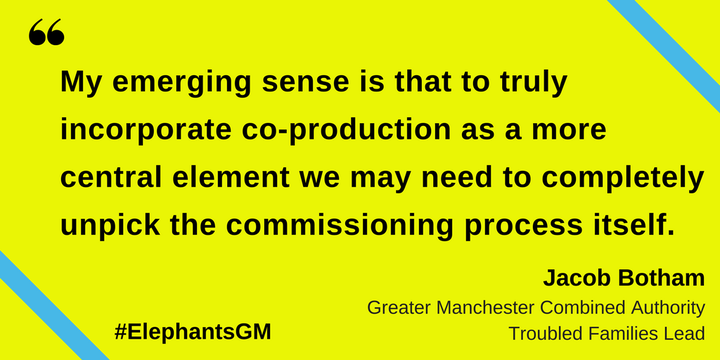 I won't describe in huge amounts of detail what the specific piece of work that the group has focused on - in short members of the group developed a clearer description of co-production to include in the contract, briefed providers on what good/bad co-production looks like and scored this element of the bids. In some ways perhaps the learning was just as important. So what did this work teach us? It taught us a lot about the procurement process itself acting as barrier, particularly the tight timescales and what seems like hundreds of rules. My emerging sense is that to truly incorporate co-production as a more central element we may need to completely unpick the commissioning process itself. We also learned that having common purpose is a vital ingredient particularly if this also means that people also have the time and space to communicate their ideas. A mistake of public services is often that we think that we know best even though the evidence suggests that despite our best efforts we still haven't solved some of our biggest challenges in society. That isn't to say we don't have a role to play - the group would recognise that the organisational skills of the public servants involved have been vital in getting the work moving.
So as I write this today I would say that my experience in the Elephants project has been a positive one and I am genuinely excited to see where it goes next. Perhaps as importantly the Prison Governors have shown a genuine enthusiasm for trying something different in relation to co-production, recognizing that previous attempts to design services, often involving less input from those receiving the service hasn't necessarily led to the quality of service or outcomes they want. Importantly they are therefore committed to building on the work that has already taken place and are considering how we can build in a longer term mechanism for ensuring that co-production is a central feature throughout the lifetime of the contract.
Has it changed the way I think about co-production? It's hard to say at this stage. Certainly I have felt motivated to try and do something different but to some extent I think we still need to see some real evidence that it can make a difference, particularly if we are to convince leaders and perhaps even our citizens that co-production isn't just a nice thing to say we have done but is actually fundamental to the way we design and deliver services. I think this requires us to be braver than we have been in the past and be prepared to fundamentally challenge the way we do things even if it often isn't the easiest choice.
This blog was written by Jacob Botham, Greater Manchester Combined Authority Troubled Families Lead.
Popular in the Community