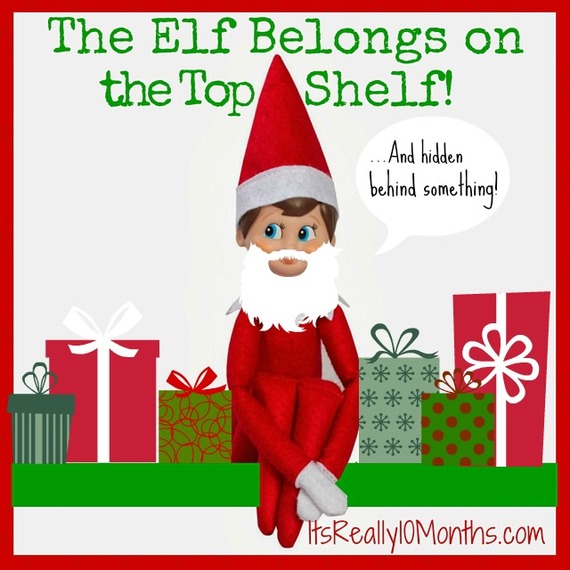 We had a minor crisis at the store the other day, which could totally have been avoided had someone been thinking. And by "someone" I mean whoever is in charge of putting merchandise on the shelves at stores. The crisis involved Elf on the Shelf (EOTS). You are likely aware of this craze, and if you aren't, you will find further thoughts on this at It's Really 10 Months' Damn Little Elf post.
Back to my crisis, and my strongly-worded letter to stores that sell EOTS. For the love of all things holy, the Elf belongs on the top shelf!
Or better yet, how about putting it on the top shelf in the women's underwear section? Perhaps the cleaning supply section would be even better, because Lord knows, kids' eyes glaze over in that section and they see nothing anyway. Please, PLEASE do not put a huge display right as you walk in the front door, and certainly not on the bottom shelf anywhere else in the store. I mean, that is just a dick move to parents everywhere.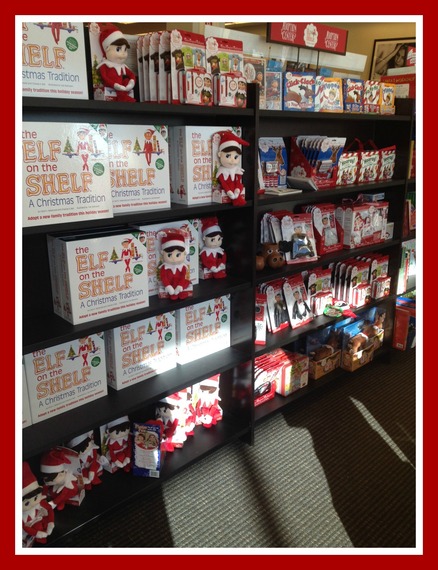 If EOTS is supposed to "magically" show up at a child's home before Christmas to monitor a child's behavior (which, by the way, is laughable, because they don't give a rat's ass anyway), then how is a parent supposed to explain why they are in a box at a store for sale? I am here to tell you, store owners and managers, that it raises some pretty difficult questions for a parent to answer. Some parents are quick thinkers and can come up with an awesome response. Sadly, I am not one of those parents. So please, just put EOTS on the top shelf where he belongs.
Next, and this one is for the asshat marketing geniuses behind the EOTS empire: Quit creating merchandise for the damn little elves! I do not want the Elf to don an apron and chef's hat, along with my child, to bake. Let's be honest, have you ever baked with a kid? I thought not. If you had, you'd know it's the very last thing a busy parent wants to do during the holidays. Our elf does not need cute outfits, and he certainly doesn't need to ride to our house on his own personal reindeer buddy! And since the brilliant store decided to advertise EOTS, its merchandise and his damn little reindeer friend on the bottom shelf, in full view of my kids, they are now wondering if a reindeer will be making a grand appearance at our home this year.
Perhaps you should put the Grinch right next to EOTS, with all his Grinch crap, so it will make sense if Mr. Grinch shows up at our home, with nothing but his green smirking self, for Christmas. Just a thought. Now excuse me while I go scour Pinterest for EOTS ideas for our damn little elf that will spread Christmas magic and cheer throughout our home this year. Don't forget, though -- Elf on the Shelf belongs on the top shelf.
About Kim Schenkelberg: Although sarcasm is often her tone, she counts on her friends to know that underneath it is a caring soul. Kim obtained her master's degree in social work soon after she delivered her first child. She practices in the fields of domestic adoption and mental health therapy. Kim co-authored a book, It's Really 10 Months: Delivering the Truth About the Glow of Pregnancy and Other Blatant Lies. Kim is a stepparent to two quickly growing boys. She has two daughters and one son with her husband. Lord help them. This is one crazy busy clan of seven! You can find Kim on social media sites @itsreally10months.