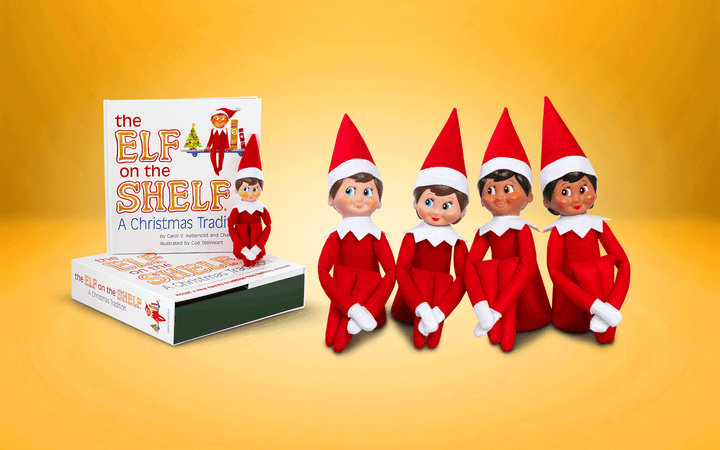 The popular Christmas tradition involves a storybook and accompanying pixie elf figure. According to the book, the elf is a "scout elf" who sits on a shelf or table or another part of a family's home to observe the children's behavior during the holiday season.
Each night, the elf flies back to the North Pole and reports the kids' actions to Santa Claus to inform his naughty and nice list picks. The elf then returns before the children wake up and settles in a new part of the house, creating a hide-and-seek game each morning.
But where did this tradition come from? And how did it become so ubiquitous?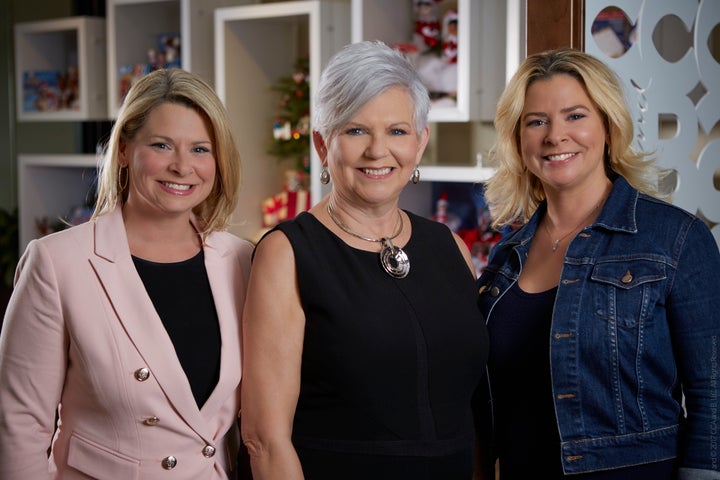 While some might assume that The Elf on the Shelf is a product of Hasbro or Mattel, it's actually the brainchild of stay-at-home mom Carol Aebersold and her grown twin daughters, Chanda Bell and Christa Pitts.
In 2004, Aebersold and Bell wrote the poem that would become the product's storybook. Along with Pitts, they launched their own company the following year to bring the story and tradition to other families across the country.
The Origin
Bell and Pitts told HuffPost that The Elf on the Shelf idea dates back to a family tradition from their childhood in Georgia in the 1970s.
"We had an elf growing up for as long as we can remember. Our elf was named Fisbee, and Fisbee of course would report to Santa Claus at night and be back in a different position in our house the next day," Pitts explained. "We loved it. It was a chance for us to tell Santa directly what maybe we might want for Christmas, or to do good deeds so that Santa would know about them."
When Aebersold was a child herself, Fisbee was more like an ornament that stayed on the Christmas tree and didn't move. But the tradition morphed over time, and when she became a mother, she told her kids the elf would magically fly around at night and mustn't be touched or it would lose its magic ― likely "to protect it, because we were pretty rambunctious children," said Pitts.
The idea of a magical elf that flies to the North Pole at night and reappears in a surprise location was "super fun and whimsical" to the twins and their brother, Brandon, Pitts recalled. "It had all of us racing out of bed in the morning to find our elf!"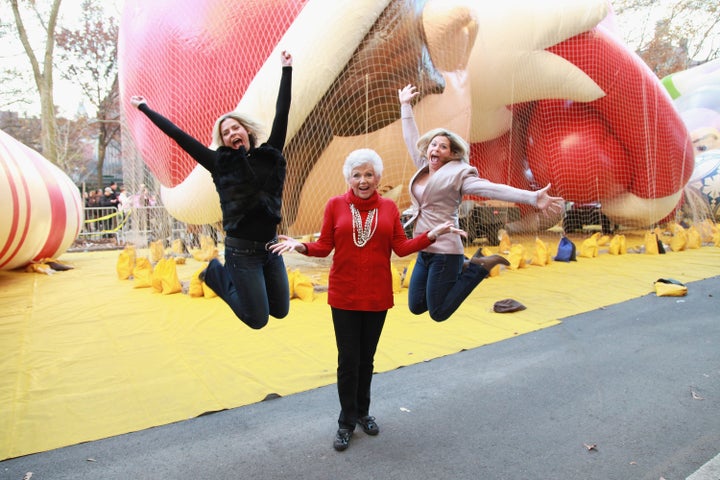 It wasn't until 2004 that Bell had the idea to immortalize the tradition in a bigger way. At that time, she was a new mom who'd left her job as a reading and language arts teacher to care for her son.
She'd started working part-time for her father, Bob, who owned a small engineering and fabrication firm. "We were broke as church mice, so my dad offered me a part-time job working two days a week where I could take my son and make $180 every two weeks. And I just thought I was rich by making that kind of money," Bell recalled.
Because the office was about an hour and a half to two hours away from where she lived, Bell and her son would usually spend one night a week at her parents' house. Meanwhile, her mother was going through a rough time, facing some minor health struggles, empty nest syndrome and issues with their family business.
"It was during that time at home that I looked up and I saw our elf that we grew up with sitting on a shelf," said Bell. "I was like, 'Mom, why don't we write a story about the elf on the shelf?' I can tell you honestly, at that time, there was no ― and I do mean zero ― intention of starting a business or really doing much of anything other than a fun project for mom and I to work on together."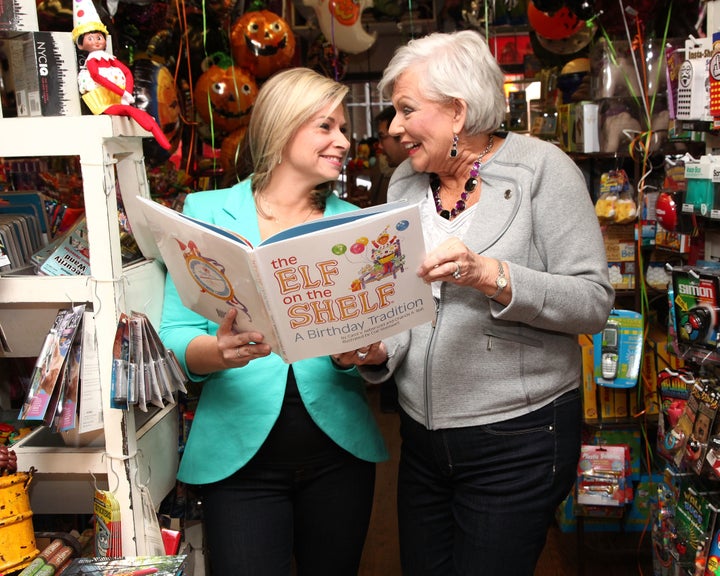 Once they'd completed the story, Bell and Aebersold wanted to publish it. Although they found an interested literary agent, they received nothing but rejections from publishers, so they decided to self-publish The Elf on the Shelf: A Christmas Tradition.
In 2005, Bell and Aebersold invited Pitts on board, and she left her job at QVC and sold her house in Pennsylvania to move in with her parents in Georgia. Bell took out a line of credit, Pitts put forth money from the sale of her house and Aebersold cleaned out her retirement account to start their own publishing house, Creatively Classic Activities and Books. They published 5,000 copies of their book, illustrated by local watercolor artist Coë Steinwart.
"We ended up taking some huge risks financially and for our families, but we all just really believed that this was a tradition worth sharing," said Bell.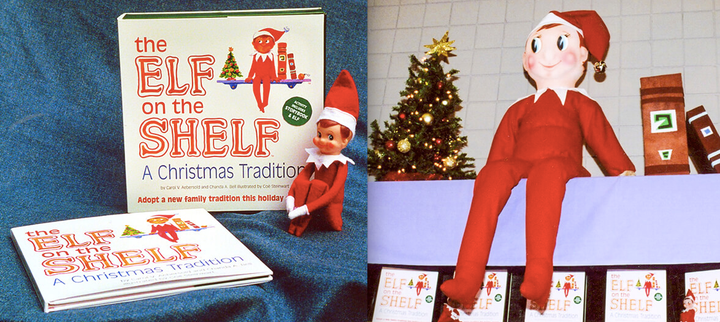 Humble Beginnings
For the next couple of years, the women sold their Elf on the Shelf kits at local trade shows and markets. They also sold their product online and appeared at bookstores to share the story of The Elf on the Shelf.
2007 marked a turning point. In November, actress Jennifer Garner was photographed carrying an Elf on the Shelf box in New York. The following month, the "Today" show ran a segment on The Elf on the Shelf. From there, they were flooded with calls and orders, and more bookstores and toy stores started selling their product.
Twelve years after its official launch, The Elf on the Shelf is a global phenomenon. More than 11 million elves have been "adopted" in the U.S. and beyond ― from Mexico to the U.K. to Zimbabwe.
The "adoption" terminology reflects the trio's dedication to their branding. Although Creatively Classic Activities and Books is based in Atlanta, Bell and Pitts say their company is "in the North Pole" and that they work "for Santa." They always say the elf is "flying," and never that someone "moved the elf."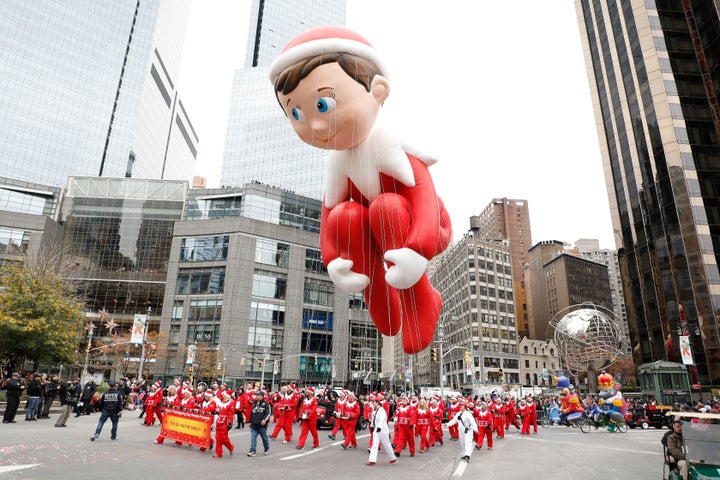 Knee-Hugger Elves
The Aebersold family's elf was not the only one of its kind. "Knee-hugger elves" were part of American Christmas kitsch in the 1950s and 1960s, reportedly thanks to a company called Yuletide of Japan. The Elf on the Shelf founders are familiar with the trend.
"The small pixie elf dolls ― I know some of them were made in Japan in the '60s," said Pitts. "If you look around, eBay has some old vintage ones. They really have a wide-ranging look and feel, and then of course there are plenty that have the pointy ears and stuff like that."
Looking at the knee-hugger elves and Elf on the Shelf, it's hard not to see the resemblance.
"I think it's important in any tradition that it has that sort of timeless sense of feeling," said Bell of The Elf on the Shelf's design, which is similar to Fisbee's look. "It's very much in a similar vein to the little elf ornament that my mom had growing up."
"We wanted to make sure that our elf was really sweet, and you could see it being a part of your family," added Pitts.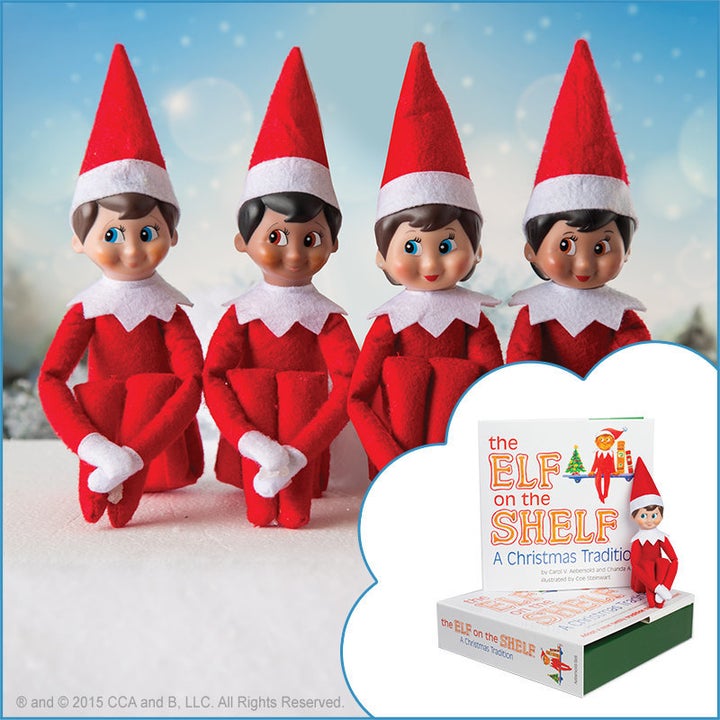 Although the pixie elf and knee-hugger elf toys were part of Christmas kitsch, the scout elf holiday tradition wasn't necessarily common. "Chanda and I were in college when we first found out that other people didn't have an elf in their home that reported back and forth to Santa," Pitts recalled. "So it was clear this wasn't something that most people were doing."
When they launched The Elf on the Shelf, they were pleasantly surprised to find several people reach out to them to say their families had a similar tradition when they were growing up.
"We've had quite a few people contact us and say excitedly, 'I can't believe it. Finally! This thing that we've been doing in our home for quite some time is available to everyone,'" said Pitts.
The Spin-Offs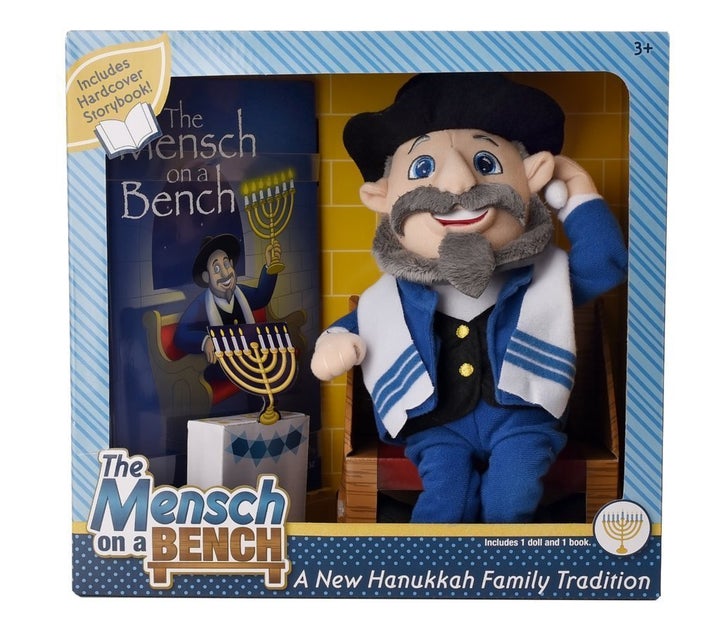 Pitts told HuffPost her family enjoys seeing the new ideas they've inspired. "Certainly we are familiar with The Mensch on a Bench. I've actually had the chance to talk to the founder, Neal Hoffman, on a number of occasions. He has a very gregarious personality. He is a mensch. And we wish him all the best," she said, adding that they know many Jewish and mixed-faith families who use The Elf on the Shelf as well.
Memes like "Snoop on the Stoop" make them chuckle, she added. "It seems like there's a new 'something on a something' every single day. When we started, nobody had any idea what this concept was," Pitts explained. "It's a testament to how we've been able to build this brand."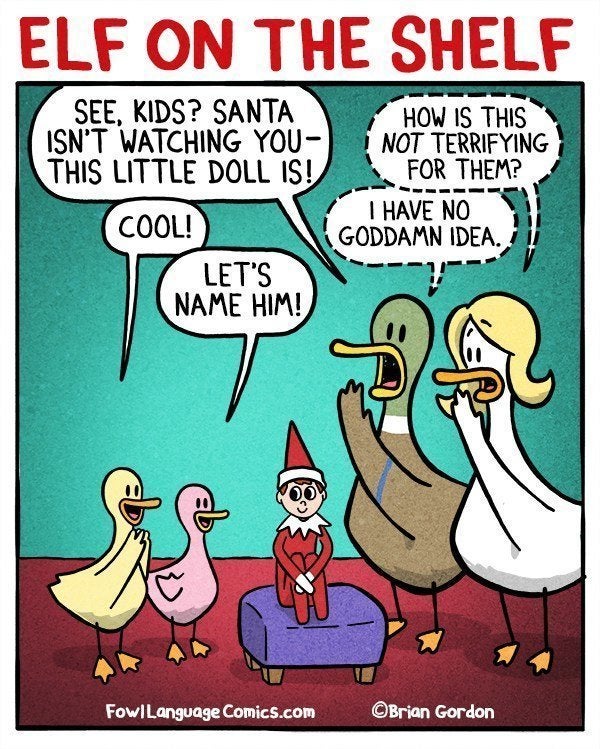 The Backlash
Overworked parents have also complained that the Pinterest-y element has gotten out of hand, as children awake to find their elves engaged in elaborate scenes and creative antics that require serious time and effort to bring to life. The popular practice of posting Elf on the Shelf scenes on social media also adds to the pressure.
In response to this criticism, Bell emphasized that the tradition is what families make it.
"I do think it's one of those things that really is what works for your family. And I often find that with people who criticize the story, most of them have never read the book, and you can tell that by what they're saying," she continued. "The story itself never mentions any sort of crazy hijinks or anything that the elf is up to per se. And it certainly does not set up a way in which any elf behaves or doesn't behave in your home. It's a very simple story about a very simple elf tradition."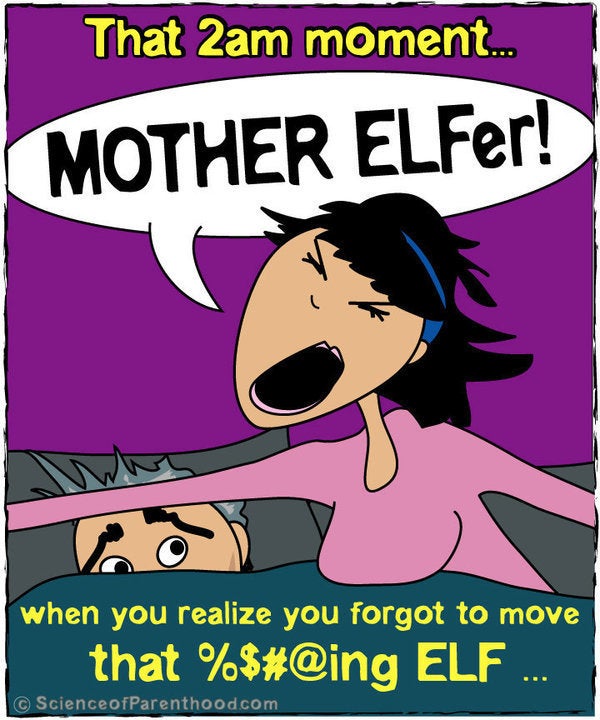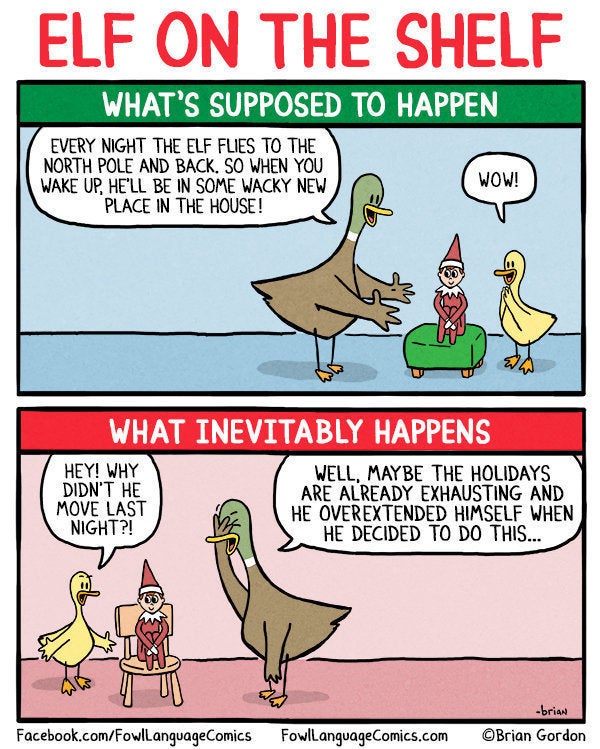 "I don't know why we feel the need as a culture to care what someone else is doing if it brings them joy and happiness. It's like when the weather man comes on and says on Christmas Eve that they spotted Santa's sleigh. It's just fun!" Bell said, adding that people need to "chill a little."
For Bell and Pitts, The Elf on the Shelf is really about the spirit of Christmas and creating family moments.
"We live in such a busy time. Everything is about instant gratification and immediate information and texting and emails and phone calls. Kids are growing up in a completely different time than we did, and they're growing up so quickly," said Pitts.
"Everyone can enjoy The Elf on the Shelf for its general simplicity. It doesn't need batteries. It's all about imagination and some Christmas magic in the mix," she added.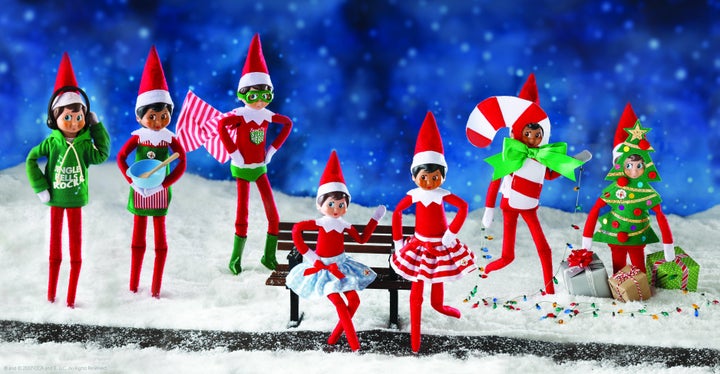 New Traditions
Today, the company has a number of other products in addition to the original Elf on the Shelf. One is Elf Pets, which includes a reindeer and a St. Bernard. Like the original product, both come with their own storybooks. The reindeer story shows how Santa's sleigh flies, and the St. Bernard story explains where Santa gets his magic ― from "Christmas cheer" resulting from acts of kindness.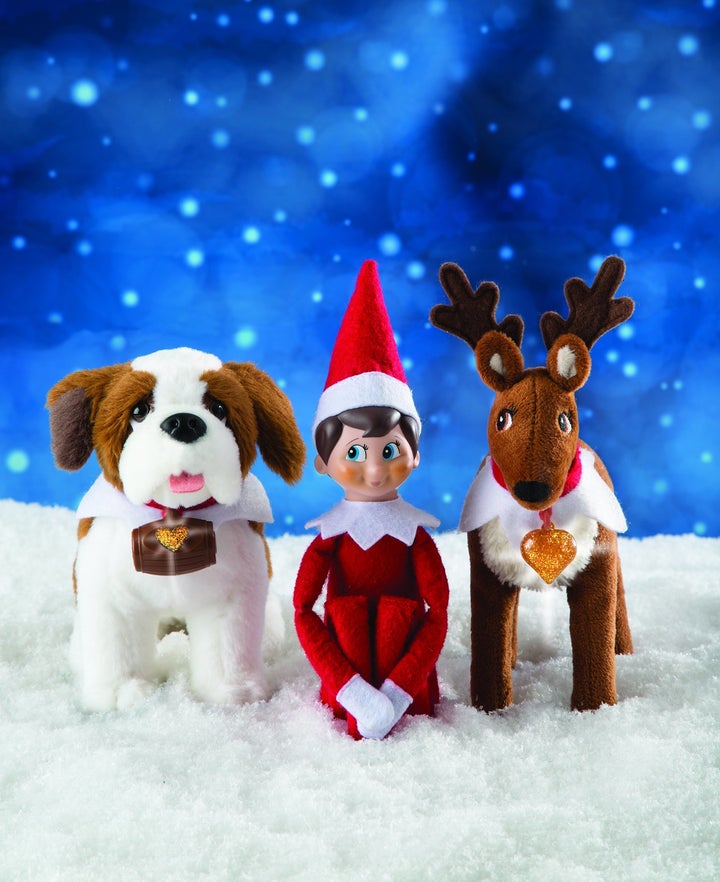 "As we started the company, we were shocked to see the number of children that were writing us and calling us ― they still do by the thousands," Pitts recalled. "And they were constantly asking if the elf has pets. Does the elf have pets? What are they? What are they named?"
Bell said they launched Elf Pets as a way to answer kids' questions about the North Pole and also offer positive lessons for children about kindness and generosity.
"There are really some very big, wonderful talking points for parents because we're helping imbue what we define as the spirit of Christmas, which is faith, hope and love," she explained.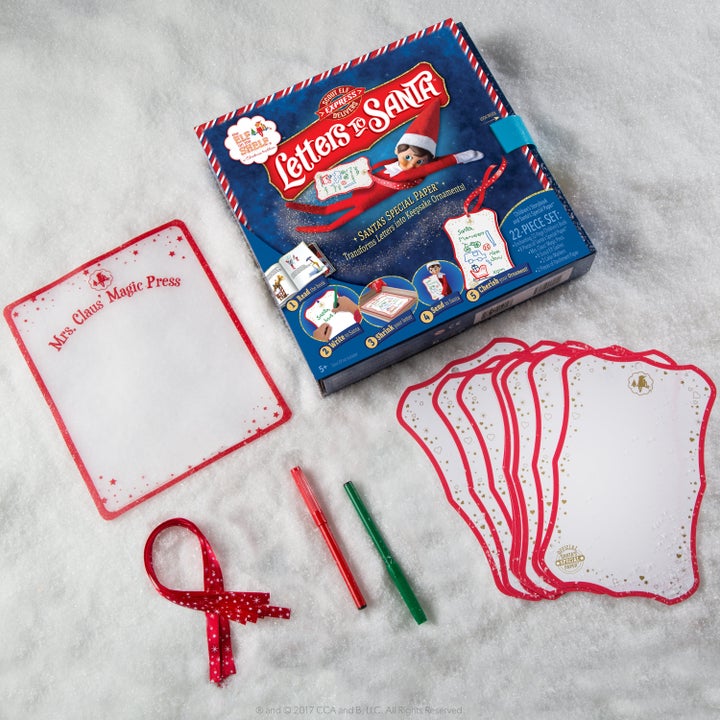 Their newest product, Letters to Santa, is also about creating family memories. The activity kit includes a storybook and letter-writing materials. Kids write their wish list to Santa on a full-sized sheet of special paper. Then, with the help of a parent, they bake the paper in the oven so that it shrinks down to elf-size.
According to the story, the family's Elf on the Shelf gives the letter directly to Santa Claus during that nightly North Pole visit and brings it back in the form of an ornament to hang on their Christmas tree.
"So you can potentially have a Christmas tree that's filled with the letters your children have written to Santa over the years," said Pitts. "It's a way to hold onto them without spoiling the magic."
Bell is proud of this product and the fact that it turns the letter-writing tradition into more of a family activity. "I imagine what it would be like if I could pull out every letter I wrote to Santa and put it on my tree and talk about it with my kids, how fun that would be today ― without ruining the magic," she said.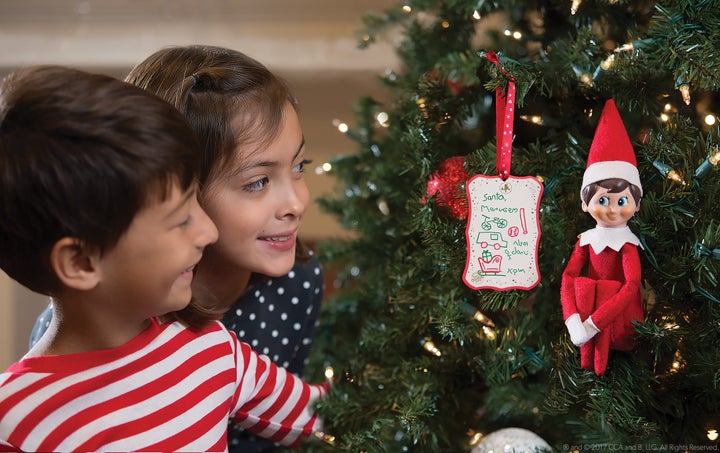 As the company grows and promotes new products, The Elf on the Shelf remains the cornerstone. The founders wrote and produced a 23-minute animated holiday special that debuted in 2011, and offer a line of clothing and activity kits for the elves and a book of elf scene ideas. They've created an Elf on the Shelf birthday edition. And ever since 2012, there's been an Elf on the Shelf balloon at the annual Macy's Thanksgiving Day Parade.
Bell and Pitts say they are humbled by the overwhelming success of The Elf on the Shelf.
"We're honored to be a Christmas tradition that is now ... part of Americana," said Bell. "You get your Christmas tree, you see Santa at the mall, and The Elf on the Shelf comes. And I don't think there's any greater compliment in life than achieving a status like that."