I got interested in the ponies when I was a teenager. My social studies teacher/basketball coach (his name was Bernie), taught me two things that turned out to be really important in my life: how to shoot a basketball and how to handicap horse races. Bernie and my father took my brother and me to Belmont Park at such an early age that between the pageantry and the excitement, we were hooked. This weekend, I am returning to my boyhood home track to see a Triple Crown.
I saw my first Belmont Stakes in 1972 when Riva Ridge prevailed by seven lengths. We went again the following year to majestic Belmont Park and every year after that for the next 15 years to see the Belmont Stakes. 1973 happened to be the coronation of maybe the best horse there ever was. I saw Secretariat win the Triple Crown, the Holy Grail of horse racing. It was the first time a horse had won the Triple Crown since Citation in 1948.

When you have a wager on a thoroughbred racehorse and that horse starts to move up during a race, your heart skips a beat, adrenaline flows freely, and you feel extra alive in that moment. The speed and the size of the animals coupled with the vivid, bouncing colors of the jockeys' silks make the whole racing experience seem so special. And this has been going on pretty much the exact same way since the beginning of civilization.
The betting part was definitely cool. And Bernie was instrumental at teaching me how to handicap as well as bet. But there was more to the game than that. I learned to study "the Bible," aka the Daily Racing Form. I became proficient in identifying the best horses. The key to successful handicapping, I discovered, was to be able to sift through tons of data and figure out what is most important. And then after wagering, there was the watching of the actual races themselves. As I alluded to earlier, the races were SO EXCITING. And the horses themselves were beautiful animals. They were also amazingly fluid as well as captivatingly powerful.
In 1973, racing had been hungry for a hero and Secretariat totally fit the bill. I had seen him on the front cover of Newsweek and Sports Illustrated well before he won the Belmont Stakes and Triple Crown. My entourage of Bernie, my father, my brother, another friend, and me went to Belmont that June day expecting to see history. The race started right in front of the stands and I remember the incredible buzz at the track in the minutes leading up to the race. Everyone screamed and cheered loudly when the gates opened. Announcer Dave Johnson said, "Secretariat broke well," but no one could hear because the throng from the crowd had begun.
Secretariat destroyed the other four horses in the race and won by an incredible 31 lengths. I recall one increasingly loud and deafening cheer as he thundered down the stretch all by himself. It reached a crescendo as Big Red, as he was called, crossed the finish line. People not only knew they were seeing history in the making; they knew they were observing a once-in-a-generation athlete. And they let they horse know they were appreciating what they were seeing. It was something extra special to be there... a very memorable moment for the men in my family to experience together. See the movie, Secretariat, for the whole story.
There were two more Triple Crown winners in the next five years and we saw them live and in person as well. Seattle Slew won all three legs of the Triple Crown pretty easily in 1977 and became the first undefeated Triple Crown winner. Then an elegant and beautiful horse named Affirmed completed the same feat of winning the Triple Crown in 1978. I have enclosed the cover of Sports Illustrated after Affirmed won what some call the best race ever run. Some days stay indelibly imprinted in your mind. June 10, 1978 was one of those days -- it was a picture perfect summer afternoon. My college roommate, Tom, and his family were together at Belmont with my family celebrating Tom's 21st birthday. My dad and Tom fancied Alydar, who ran second in all three Triple Crown races, and my brother, Peter, and I liked Affirmed. Those two horses ran stride for stride and neck and neck the last mile of the race. We were all screaming at the top of our lungs. I remember thinking during the race how incredible a race it was and how much was at stake for all the participants. Affirmed's sensational 18-year-old jockey Steve Cauthen (see SI cover below) was able to coax Affirmed ahead right at the end of the race to win by a nose and capture the Triple Crown. What a thrill!! And that was the last Triple Crown winner we have seen -- 1978.
A few years later, I visited a girlfriend who was at University of Kentucky in Lexington. I found out that Kentucky was a dry state. When I asked for a bloody mary on Sunday morning, I got reneged.
My girlfriend was a horse groupie as well so we went to visit some greats at Claiborne Farm in Paris, Kentucky. Bluegrass country was idyllic. Fields of grass and fences and heroes. We saw Affirmed, the incomparable Spectacular Bid, and the legendary Secretariat, among others. To be around this kind of greatness was amazing.
Affirmed knew he was a badass. He held himself in a way that spoke "champion." His posture was perfect; his coat glistened in the sunlight. When he turned and ran in the pen towards us, we were worried he would run us down. Wow. The grey Spectacular Bid, who had supposedly stepped on a safety pin the morning of the Belmont Stakes in 1979 and ran third while vying for the Triple Crown, had gotten fatter and now had these white starry spots. See my photos below. I discovered in Lexington that I was allergic to horses, which explains why I have tissues in my hand and my itchy eyes are closed in some of these pictures. And then there was Secretariat, who was the most special horse there. He had a gold-plated bridal with his name etched on it. And his accomplishments were on a plaque in front of his stall. his groom said the horse knew he was the star attraction. Sometimes he would grab ale with his mouth and rake his own stall. But mostly he was a huge, beautiful horse who's time of two minutes and 24 seconds for the Belmont still stands today. As a horse racing fan, to be with Secretariat as well as the history around him, was as good as it gets.
I saw many Belmonts after that. A New York trainer named Woody Stephens won five Belmonts in a row in the 1980s. That is a sports record that be NEVER be broken in my opinion. But the "glory era" of the 1970s, which included three-time Horse of the Year Forego, Ruffian and her match race, and the three Triple Crown winners was over. Fourteen horses have won the first two legs of the Triple Crown (the Kentucky Derby and the Preakness Stakes) since Affirmed won the Triple Crown. Some, like Silver Charm and Real Quiet, were very worthy of being Triple Crown champions, but were nosed out and passed late, respectively, in their Belmonts. Still others did not make it to the race or did not finish (I'll Have Another in 2012 and Big Brown in 2008).
This year American Pharaoh has won the Kentucky Derby and the Preakness and now on Saturday tries to become racing's 12th Triple Crown winner and step into the record books. The trainer is Bob Baffert; the white haired, mega successful trainer who has already failed in three attempts to win the Triple Crown. He is probably the most logical and deserving trainer there is to win the Triple Crown as he has won 11 Classic races (Derby, Preakness, Belmont) as well as 11 Breeders Cups. The Breeders Cup started in 1984 and quickly became racing's biggest day, somewhat reducing the importance of races like the Belmont.
American Pharaoh has won the first two legs of the series convincingly and Baffert has said he made sure to preserve something in the tank so Pharaoh lasts the entire 1 1/2 miles of the Belmont, Test of Champion. The jockey, Victor Espinosa, is the only jockey to have three opportunities to win the Triple Crown, with the latest failed attempt coming last year with California Chrome. I am going to the Belmont with my former roommate Tom on June 6 to see history in the making. Thirty-seven years between Triple Crown winners is too long for anyone to wait. Pharoah may not win, but if he does, I want to be one of the very few people alive to have seen the last four Triple Crown winners.
Fingers crossed everyone. Bring on the next Triple Crown winner!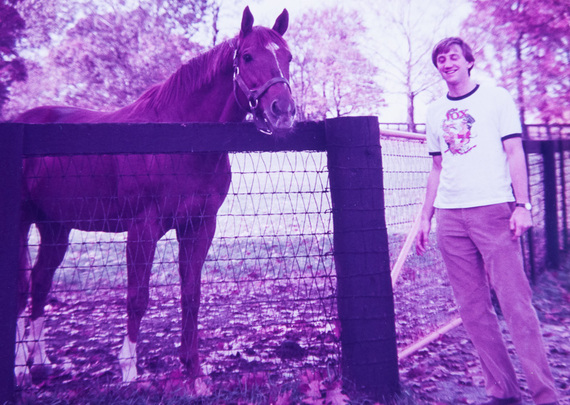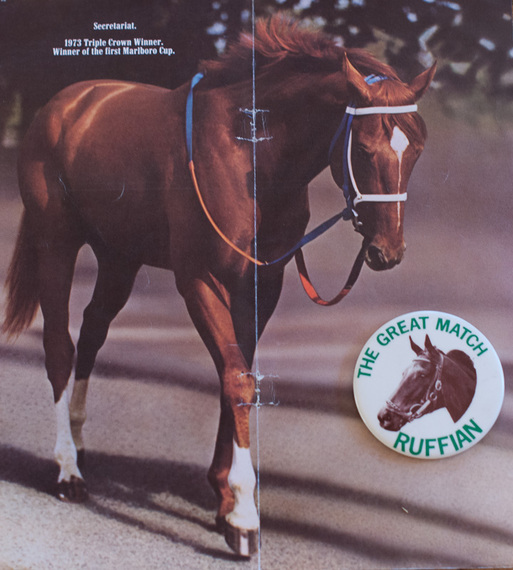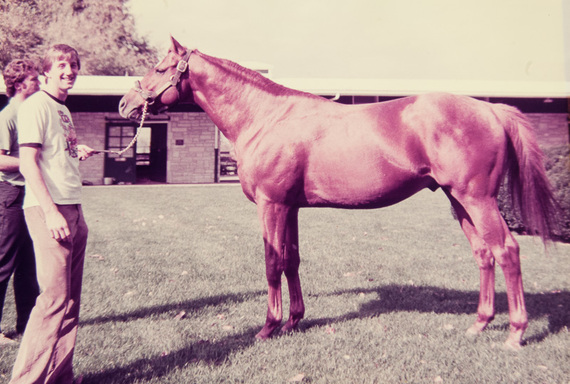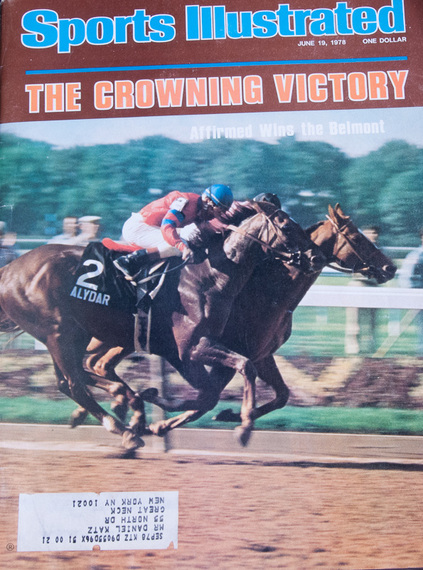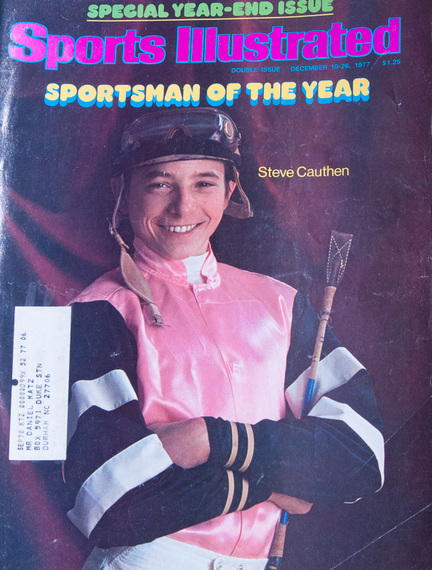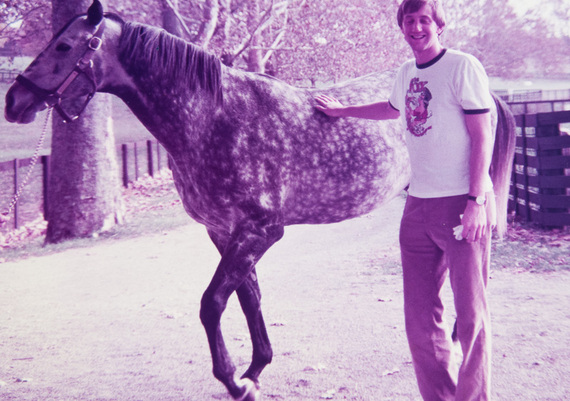 Popular in the Community