A new tool is helping women to stop apologizing needlessly at work -- and it only takes about 10 seconds to use.
"The women in these rooms were all softening their speech in situations that called for directness and leadership. We had all inadvertently fallen prey to a cultural communication pattern that undermined our ideas," she wrote. "As entrepreneurial women, we run businesses and lead teams -- why aren't we writing with the confidence of their positions? There was the desire to change, but there wasn't a tool to help."
The plug-in, which users can download as a Chrome extension on the Google App store, flags these words by underlining them in red, similar to the way Gmail flags misspelled words. When you hover over the underlined words, boxes pop up to explain why they're problematic.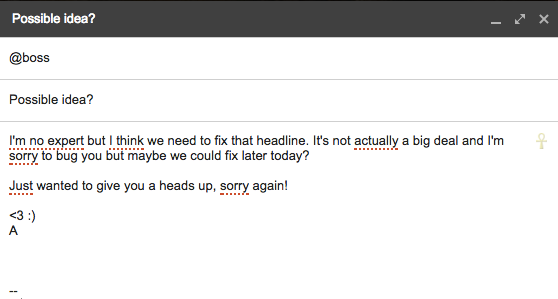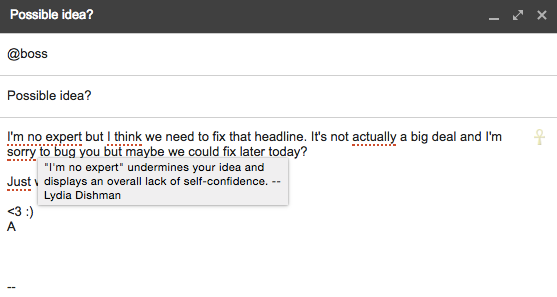 The extension launched on the Google App store on Dec. 28 and has since been downloaded over 27,000 times. "We had set a goal of 10,000 downloads by the new year thinking people would make a resolution to come off as more confident," Reiss told CNN Money. "We hit that mark on the morning of the second day."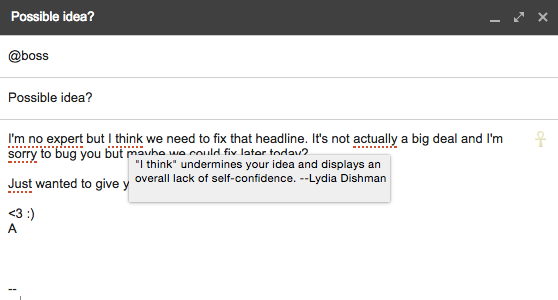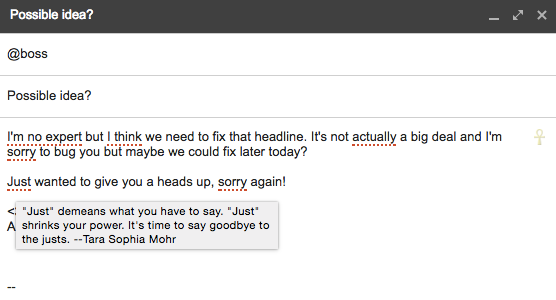 Arguments have been made against encouraging women to change the way they express themselves, particularly if doing so "is just another way we are asked to internalize and compensate for sexist bias in the world," as Ann Friedman wrote in The Cut last year.
"Maybe women are undermining themselves a bit when they, like, speak in a way they find more natural," Friedman wrote. "But only in the sense that they are seeking to articulate their thoughts more authentically and connect more directly with the people listening to them."
Reiss explained to The Huffington Post why it's so important for women especially to stop softening our speech in work emails and conversations. "I think it's important to be aware that when we soften our speech we are saying to the person who's reading/listening that we aren't confident in our approach or our thoughts," Reiss said. "Most of the time we know we're right, but we add in passive tone subconsciously which has negative impacts on others confidence in our message. The app helps people make a conscious decision what and how they want to communicate."
Head over to the Google App store to download "Just Not Sorry" for free. (Refresh your email after you've installed the extension and written your message for the flagged words to show up.)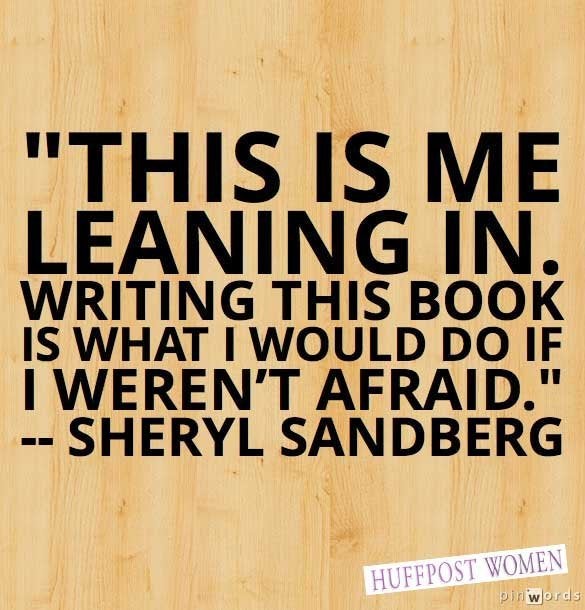 11 Quotes From Sheryl Sandberg's "Lean In"