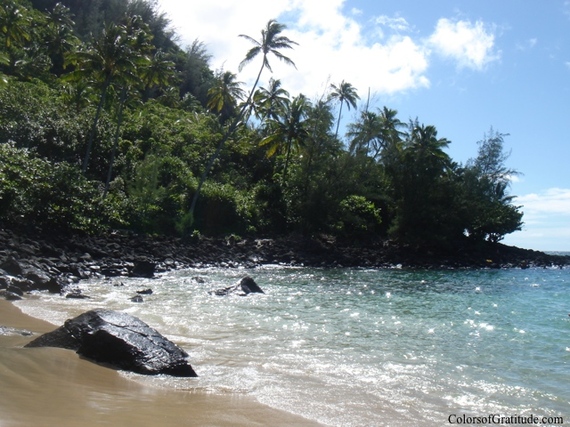 Islands, naturally detached from the mainland, hold the key to serene ecstasy. They're surrounded by an invisible, sparkling crown of mystery of such majesty that visitors reintegrate upon arrival and transform upon departure. Yearning, yearning to bottle the serum of youth from the archipelago's cosmos they drizzle the nectar of memory upon their dreaming hearts.
For some she's Tahiti. For others she's Hawaii. For yet another she's Bali, Bora Bora, Aruba... The embodied feminine is both spatial and non-local. She's the lush gardens and pristine greens extending over moist earth and air-fine sands; the exquisite fluorescent blue of the sky, water, waves and hidden gems; she's the rainbow of pigments strewn over petals; the prismatic breeze, deep quiet, marine array; she's the nourishing rays of the morning sun, the electric euphoria of the ancient butterfly, the dance of time performed each day on the stage of life.
Anchor into your feelings of bliss. Invite her home, the goddess of your secrete island. Let her gaze imprint your body with the alphabet of stars, that bubbling creative surge known only to those who connect. Talk, learn, see. Realize, embody, remember. The embodied feminine is only a breath away.