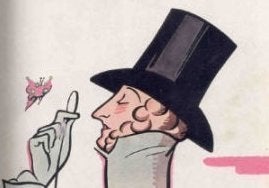 Perhaps this will make up for CoverGate: The New Yorker has just endorsed Barack Obama in an editorial just released online and on newsstands on Monday in the October 13th issue. The editorial — by "the Editors" — is called "The Choice" and should probably surprise no one, but man do they make their case: 4,214 words with a laundry list of areas in which the Bush administration has failed the country, and McCain has failed to lead or inspire. (That's the kindest way of expressing it. Here's a ess kind way: "John McCain [has] played the part of a vaudeville illusionist, asking to be regarded as an apostle of change after years of embracing the essentials of the Bush agenda with ever- increasing ardor.") In contrast, the "Editors" point out how Obama has done just that: Leading and inspiring, but also following up his promise for change with thought, strategy, work and action.
It is notable, too, that in an essay of this length, only a single paragraph is devoted to McCain's "cyicism" in choosing Palin. That said, on this, the day of the Vice-Presidential debate, it's the one everyone will read it looking for. Here's an excerpt.
We are watching a candidate for Vice-President cram for her ongoing exam in elementary domestic and foreign policy. This is funny as a Tina Fey routine on "Saturday Night Live," but as a vision of the political future it's deeply unsettling. Palin has no business being the backup to a President of any age, much less to one who is seventy-two and in imperfect health. In choosing her, McCain committed an act of breathtaking heedlessness and irresponsibility.
At a moment of economic calamity, international perplexity, political failure, and battered morale, America needs both uplift and realism, both change and steadiness... It needs a leader temperamentally, intellectually, and emotionally attuned to the complexities of our troubled globe. That leader's name is Barack Obama.
Of course, they would say that — look at their logo! The New Yorker is obviously a snooty Joe Sixpack-hating member of the gotcha media elite. So, they can't be trusted, just like the silly facts they cite. Right?
The full editorial is here.
Update: A spokewoman for the New Yorker confirms that the byline "the Editors" meant that "many people weighed in" but editor David Remnick and columnist Rick Hertzberg "took the lead."
Calling all HuffPost superfans!
Sign up for membership to become a founding member and help shape HuffPost's next chapter