An Ohio mom is giving social media users a glimpse into what the body really looks like after giving birth.
Just 24 hours after delivering her fifth child, Erica Andrews posted a raw selfie that shows the adult diaper-clad, breastfeeding mom in all her post-birth glory.
"This is what 24 hours postpartum looks like," Andrews wrote in the caption for the black and white photo. "Baby in sling. Skin to skin. Adult diapers. And a rosy glow."
"My body feels like it ran a marathon and my heart is wide open from yesterday's travels," she continued. "Birth opens us like an earthquake opens the earth and I am still in the intimate, fragile throes of that opening. I feel raw. Emotional. Different. I feel like I'm on the undulating surface of the rippling ocean being tossed back and forth between happiness, gratitude, melancholy, and grief."
Andrews lyrically describes the many emotions she experienced after giving birth to her baby boy Silas. She compares the heartbreaking "emptiness" in her womb and the beautiful reminders that she now holds life in her hands.
Reveling in the strength of mothers, she adds, "This time is simply unlike any other."
Andrews told The Huffington Post that she felt particularly emotional with this pregnancy and birth because Silas is her fifth and last baby.
"This is my last time to experience all of these radical changes and big emotions," she said. "As I gazed in the mirror that next day I wanted to capture what I had somewhat glazed over with my other four, what our bodies look like so soon after birth. Where we go from being so round and full of life to having a soft belly and life in our arms. The words are my way of navigating this fragile time."
Though the mom was not expecting the viral response to her photo, she says the comments from fellow parents, particularly those with grown children, have brought her to "happy tears."
"It's pretty intense at this still fragile time (I'm now 13 days postpartum) to know that so many people have seen me in an adult diaper, nursing my fresh newborn in a sling," Andrews told HuffPost. "But to know that my words were heard and understood by so many incredible women has made it all that more special."
Ultimately, the mom is happy to know that her words may help others in the throes of postpartum emotions and physical changes.
Said Andrews, "My biggest hope is that other mothers find beauty in their form, in their amazing body, in their baby, and that they know they are not alone in the BIG feelings that are washing over them."
Best wishes to all moms out there, grappling with a new reality after giving birth.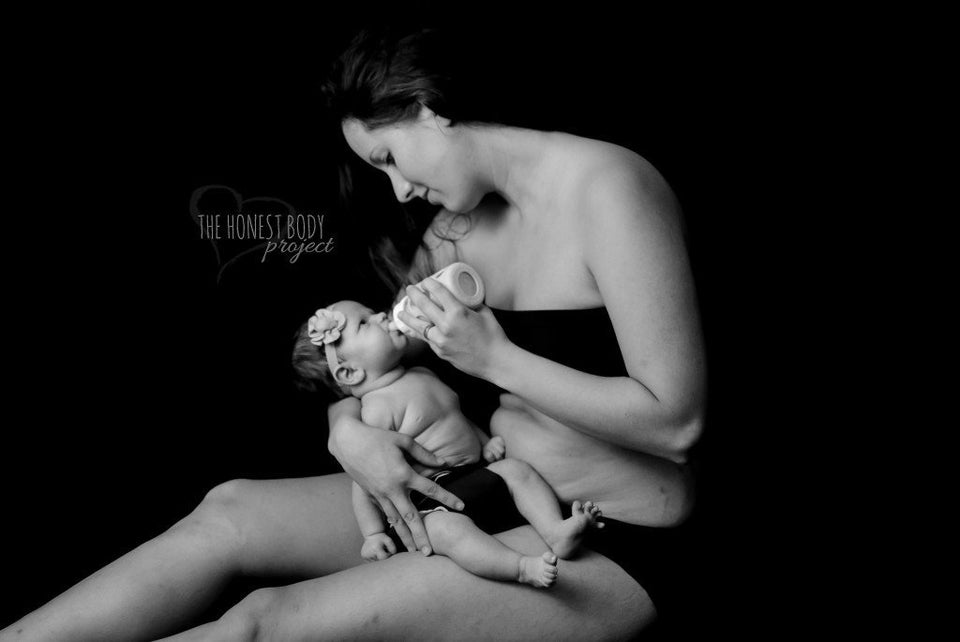 Postpartum Body Project