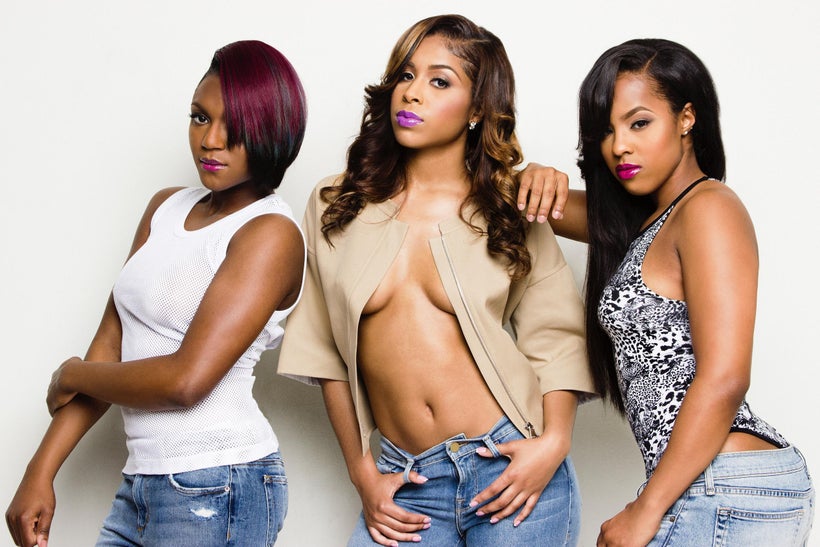 In the 90s girl groups dominated the music charts, whether it was En Vogue, Xscape, SWV, and later Destiny's Child, the music world was strong with female empowerment. The songs ranging from anthems of unity to leaving behind that no good man there was a song for everyone. Those groups paved the way for countless other groups to follow in their footsteps to possibly even become better. Three girls growing up in Detroit would later listen and move toward crafting their own brand of girl power. They are known as DMK, the acronym a moniker of their names Damoli, Melanee, and Kourtney.
In a city like Motown music is deep in your bones, especially for these three young budding singers who have been singing together for 12 years which is spectacular given the fact that they range in from 21 to 22. Music has been in the bloodline since birth, especially for Kourtney whose grandfather is the legendary Levi Stubbs of the Motown group "The Four Tops." You could say that these young ladies were destined for music and just recently they stuck career gold when the creators of the hit FOX show "Empire" called to tell them they would be featured artist on an episode of the shows second season. Needless to say what was already a growing fan based turned into millions of eyes on three Detroit girls whose passion for music is so deep that they grind hard even to the level of perfection.
I caught up with them while they were doing press in New York City at their Public Relations and Marketing team offices The Chamber Group.
KM: Let me just say that I was listened to your EP titled "DMK" on the way over and you girls are great and there's some major things happening with you, for instance "Empire" what a great opportunity?
Melanee: "I probably freaked out the most because they called me to tell me that we won the competition and I screamed in their ears. I mean they treated us like show regulars instead of contest winners. It was mindboggling and to be on set with great like Taraji and Terrance and other show stars it was an amazing experience. Something we will never forget."
Kourtney: "We went and rehearsed on set for three days and then on the fourth day we taped. It was a 12 hour day and it was so cool to see how all of it comes together. The chemistry on set is so real and it really is what you see on television."
KM: I can't leave without acknowledging that you guys are from Detroit and that's Motown so how has the city influenced you?
Damoli: "Detroit has definitely had a great impact on our music, especially with Kourtney's granddad being Levi Stubbs from "The Four Tops" so growing up we always had the Motown influence just by talking with him and then the different people that we got to open up for as kids. We have been together a long time so our harmonies have had time to really mature together."
KM: I understand that Brandy is a major influence of all of you.
Melanee: "Ohhhh sister Brandy!"
Damoli: "Oh we love Brandy."
KM: She's shaped you guys musically as well?
Melanee: "Brandy, musically is ridiculous, we were listening to her album this morning and the background, her runs, everything about Brandy vocally is just amazing, like beyond amazing."
Kourtney: "We call her the vocal bible."
KM: Brandy was never part of a girl group but you guys say it's time for the girl groups of the past to resurface in a new way, what makes DMK special?
Damoli: "Our years together, when people hear us sing I think they automatic hear the 12 years we have been doing this together."
Kourtney: "For us to be three girls growing up in Detroit and we sing about a lot of things and young girls can listen to us and live what we are saying because it's stuff that actually happens, we are relatable."
KM: The EP "DMK" is your first packaged work, how did you decide on what to put on it and how long to make it.
Melanee: "We had over 30 songs recorded and picking the songs…."
Damoli: "…It was very hard and picking the songs we had to make sure it was the right sound, the right vibe for the EP, so it was very hard to narrow it down."
Kourtney: "We had a lot of help with that decision, because if it was up to us, we would still be deciding what songs to put on that."
One thing the ladies have decided is that their future will be bright. They have a number of gigs coming up and one in Detroit that they are especially looking forward to when they open up for singer K. Michelle. The Empire of "DMK" started with a dream of three young girls on the path to becoming women. Musically they blend like a fine tuned car and if the engine here is the metaphor then listen carefully because the group has the sound of sweet sensation to a commanding roar. You can check out all things DMK across social media platforms buy searching for @DMKmusic and if you missed that Episode of "Empire they were featured in check our "Rise by Sin" the original television air date was May 11th.
Calling all HuffPost superfans!
Sign up for membership to become a founding member and help shape HuffPost's next chapter
This post was published on the now-closed HuffPost Contributor platform. Contributors control their own work and posted freely to our site. If you need to flag this entry as abusive,
send us an email
.