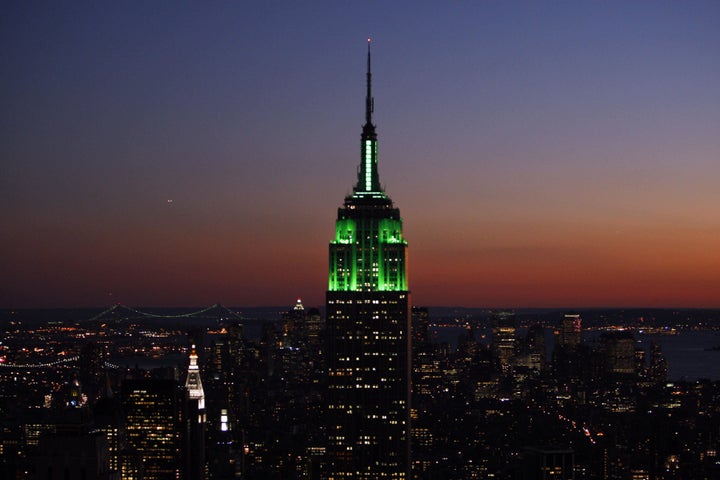 The Empire State Building is a New York City Landmark, a U.S. National Historic Landmark, and has also been named by the American Society of Civil Engineers as one of the Seven Wonders of the Modern World. In the years to come, I wouldn't be surprised if this great structure also became known as the most energy-efficient skyscraper in the world.
Standing at 1472 feet, and with 2.8 million square feet of leasable office space, the Empire State Building currently consumes the energy equivalent of 40,000 single-family homes.
Yesterday, I convened a hearing of the U.S. Congress Joint Economic Committee (JEC) and learned more about the Empire State Building's plans to completely change this -- to substantially reduce their energy consumption and do it in a way where the retrofitting costs would be completely recouped in 3 years. My colleagues -- both Democrats and Republicans -- were impressed.
Considerable attention has been placed on making homes, utility appliances and cars more energy efficient. Making the things we rely on each and every day use less energy is undoubtedly an important initiative that will not only reduce our energy consumption, but also create jobs. In the Recovery Act, for example, $5 billion was included to weatherize homes -- money that is paying contractors and their employees to reduce homeowners' energy bills by making homes more energy efficient.

In total, the Recovery Act included over $90 billion for clean energy, the largest clean energy investment in our nation's history. The law provides a range of clean energy economy investments including innovation and job training. These federal dollars have been instrumental in driving private sector projects and progress. For example, $46 billion of the Recovery Act's clean-energy investments are leveraged investments, which support an additional $100 billion in private sector clean energy commitments. This money will be used to fund energy technology projects that have the potential to completely reshape how we fuel our day-to-day lives. Or, as President Obama's team explains it, "Ultimately, the investments could help transform the United States into a global clean energy leader."

While these endeavors are important, in major cities across our country, it is commercial buildings that consume the most energy. As Anthony Malkin of the Empire State Building explained in Washington, D.C. yesterday during the JEC hearing, in New York City, "80% of the energy consumed is consumed by buildings. 20% of the buildings consume 80% of that energy." In simple terms, what this means is that big commercial buildings are the City's biggest energy consumers.
The Empire State Building is leading the effort to change this right now. The Empire State Building retrofit will deliver improved windows, high-efficiency light bulbs, and among many other things, renovated heating and cooling systems at a cost of $13 million after netting out other savings. By 2013, this plan will have reduced the Empire State Building's energy usage by 40%. The $4.4 million in annual energy savings will have completely paid for the costs of the retrofit project 3 years after completion.
One of the reasons I convened this hearing was to identify innovative ways to promote a clean energy economy and at the same time help create jobs. Three key points arose from the hearing.
First, energy efficiency does not have to just be a decision to save the planet, it is also makes good business sense. Business owners can save an enormous amount of money in energy costs by retrofitting.
Second, if we want to make real progress in reducing greenhouse gas emissions, we must concentrate on the biggest energy consumers and that is big buildings that exist today.
Third, government has a role to play in shining a spotlight on the economic, environmental and consumer benefits of retrofits, but it is the private and non-profit sectors that will roll up their sleeves, nail down the economics and make these retrofits happen.
Each year, the Empire State Building attracts more than 3.5 million visitors who come to see the New York City sights from the highest point in our city. I am confident that it will attract even more visitors in the near future -- visitors interested in learning how cities and buildings like the Empire State Building can provide a beacon to a more energy-efficient future.

Congresswoman Carolyn B. Maloney represents parts of Queens and Manhattan in the U.S. House of Representatives where she is the Chair of the U.S. Congress Joint Economic Committee.


Related
Popular in the Community