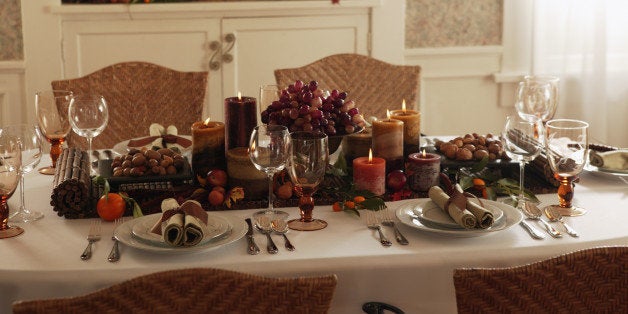 Thanksgiving has always been a day that is close to my heart. The memories are rich with laughter, love and family. Each year would bring the same traditions. Traditions I looked forward to and anticipated, until things changed.
Thanksgiving 2007. The year everything changed. The year we started new traditions. My mom still made an amazing dinner. Filled her house with love and family. My oldest brother sat at the head of the table, so no chair was left empty. But something was missing. Dad was missing.
I always loved the week leading up to Thanksgiving. My dad would start prepping for the big day. I'm not talking about prepping in the kitchen to help my mom -- no, he was never allowed to do that. I'm talking about prepping his stomach.
He would take advantage of any special the local restaurants were having for an early Thanksgiving meal. He would piece together mashed potatoes, turkey, gravy and stuffing in an attempt to make a complete Thanksgiving dinner.
He would talk about it, dream about it. He would pace the kitchen the day before, waiting for the moment my mom would leave and he could sneak a bite. My dad would wait anxiously while we drove home from college. Oftentimes, he was standing in the driveway when we pulled in. Waiting with that familiar smile, wave and hug.
I always loved waking up on Thanksgiving morning. The house would be warm. I would lie in bed and listen to the rustling of the newspapers. Feel the heat start to travel through the house. As I crept downstairs, I would peek around the corner and watch him. Watch my dad. He would tend to the wood-burning stove like it was a sacred treasure. Bent down on one knee, he would carefully fill it with just the right amount of paper, kindling and wood. As soon as he heard me, he would turn around. That was my favorite part. You see, my dad could say a thousand words with his smile. His kind face. "Come on down and sit with me," he would say. Those were the best words I heard every Thanksgiving morning.
My kids never knew their grandpa. Never held his hand, sat in his lap, heard his wonderfully rich stories about growing up on a farm in North Dakota during the Great Depression. They never got the chance to sit with him at the table on Thanksgiving Day -- be part of his beautiful prayer and see the joy on his face as he took in every moment, every blessing of the day.
Each Thanksgiving, I tell my kids a new story about my dad. Every one of these stories gives my kids another piece of their grandpa. Each memory shared allows them to feel his spirit and experience his kindness. We are creating new traditions, new stories.
As we get closer to Thanksgiving Day, I am reminded of the struggles many face with the holidays. Remembering the ones they have lost. Feeling like something is missing. Feeling guilty as they move forward with a heavy, yet happy heart. Trying desperately to make new traditions.
So here's to you, Dad. Thank you for your love, laughter, table prayer, fires in the wood-burning stove and traditions that will live on through your family each Thanksgiving. Please know that the amazing gifts you have given me are being instilled in my children.
My son has taken on your role as the master of ceremonies. He gathers us around, tells us to hold hands while he speaks his words of kindness. There are so many things about that moment that remind me of you. His kind, compassionate voice. His smile and the joy that lights up his face. His unique ability to bring a group together with his words. He is carrying on your traditions.
My daughter has taken on your role as the caregiver. Making sure everyone has a place at the table. Bringing people together with her wise soul. Making sure each person knows they are loved. I see your soft face and feel your kind soul when I watch her. She is carrying on your traditions.
Our Thanksgiving table is still full of laughter, kindness, smiles and love. We are finding our way by creating new memories, new traditions. Even though you are not part of the new stories, your spirit is always with us. Sitting next to us and listening to the words of our family. Watching over us. Filling the empty chair.
There are three things I always share with my children on Thanksgiving: Be grateful for the gifts of love that surround you; thankful for the kindness, compassion and love that guide you; blessed for the traditions, values and stories that bring a richness to your life.
As I prepare for Thanksgiving Day, I smile, knowing my dad will be standing next to us. Holding our hands while we give thanks for all that we have. I look forward to sharing a seat at the table with his kind soul. I am excited to feel his love as we tell stories and make new traditions. I am forever grateful that my kids will always know the true meaning of Thanksgiving.