I mean, the first line of the title song for this acclaimed animated series flatly states that ...
There's 104 days of summer vacation
And school comes along just to end it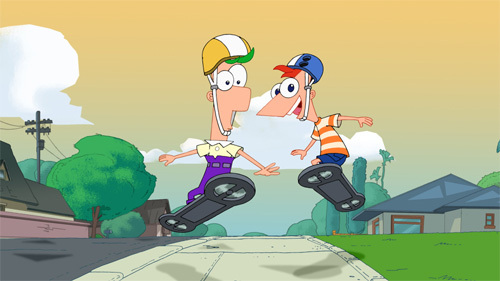 After 126 episodes, five one-hour specials and a record-breaking Disney Channel Original Movie, the day that Phineas and Ferb fans have been dreading since this show first hit the airwaves back in February of 2008 is now just weeks away.
To be specific, The "Last Day of Summer" -- an hour-long episode of Phineas and Ferb -- will bow on Friday, June 12th starting at 9 p.m. ET/PT on Disney XD with a simulcast on Disney Channel.
Mind you, to properly set the stage for this show's send-off, Disney XD plans on presenting every Phineas and Ferb story just prior to "Last Day of Summer" 's broadcast debut. This 73 hour-long marathon will begin on Tuesday, June 9th at 8 p.m. ET/PT.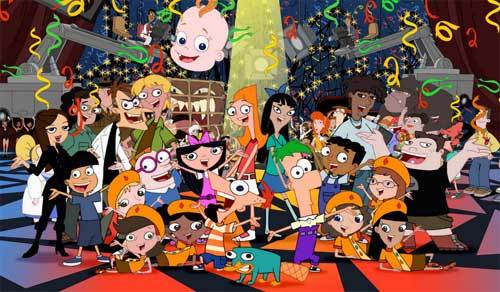 "So what's the final episode of Phineas and Ferb about?," you ask. As you might expect, it revisits classic themes from this show:
"The summer season is coming to a close and it's Candace's last chance to bust her brothers. She is quickly foiled, but is presented with an opportunity to redo the day when she sets off Dr. Doofenshmirtz's Do-Over-Inator, which results in other consequences like rips in the space-time continuum, the shortening of days and the disappearance of her brothers."
Just to be clear here: Just because the "Last Day of Summer" airs on Disney XD & Disney Channel on June 12th doesn't mean that Mickey is done with Phineas and Ferb. This animated series will continue to air daily on Disney XD.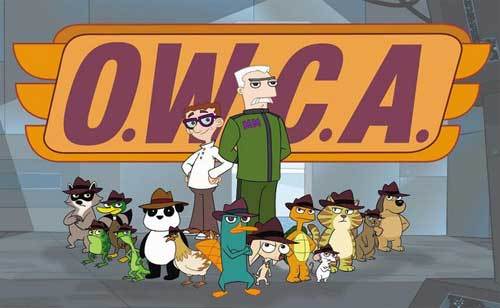 More to the point, "Last Day of Summer" won't even be the last official Phineas and Ferb-related show that Disney XD airs. Later this Fall, "The O.W.C.A. Files" -- a standalone hour-long special that focuses on Agent P (AKA Perry the Platypus) and his fellow animal agents -- will premiere on that cable channel.
And for those who are prematurely mourning the idea that -- with Phineas and Ferb wrapping production -- they'll no longer get to enjoy Dan & Swampy's twisted take on the world, fear not. Povenmire & Marsh have not only decided to continue their association with Disney Television Animation, they've already got a new animated series for Disney XD in the works.
This animated comedy -- Mikey Murphy's Law -- will be built around a brand-new character: Mikey Murphy, the fictional great-great-great-great grandson of the Murphy's Law namesake. Povenmire and Marsh are the creators & executive producers of this Disney XD series (which is scheduled for a 2017 premiere). And joining Dan & Swampy on this eagerly anticipated project are several of their key "Phineas and Ferb" colleagues. Among producer and director Robert F. Hughes, story editor Scott Peterson and staff writers Joshua Pruett, Dani Vetere and Martin Olson.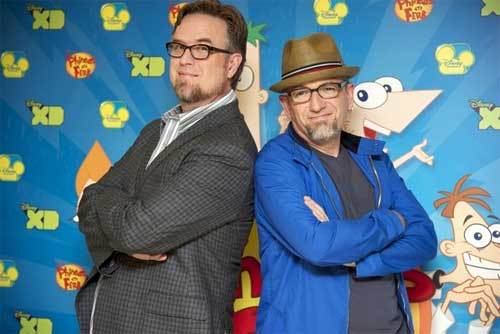 In a statement released earlier today, Marc Buhaj (i.e., the Senior Vice President of Programming and General Manager at Disney XD) said:
"Dan and Swampy are two of the most respected and proven show creators in the animation series business. They are incredibly gifted storytellers who have a track record of creating smart, original and relatable characters that are universally appealing to both kids and families. It's a coup for Disney XD to continue working with this talented duo on their latest creation Mikey Murphy's Law. We're looking forward to another great creative partnership."
And while having Mikey Murphy's Law to look forward to does soften the blow somewhat when it comes to Phineas and Ferb finally officially closing up shop, it's still kind to sad to think that the "Last Day of Summer" is only weeks away now.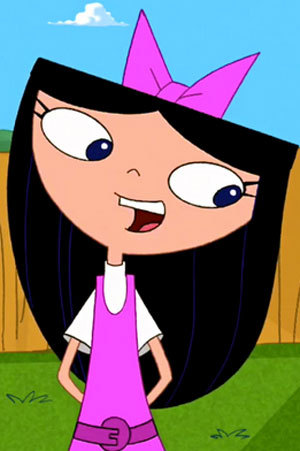 So if Isabella Garcia-Shapiro (i.e., Phineas and Ferb's across-the-street neighbor, the leader of Fireside Girls Troop 46231. Not to mention being the girl who's had a crush on Phineas for these past 8 years) were to ask me "Whatcha doin'?" right now, I'd have to say that I am marking my calendar for June 12th at 9 p.m. Just so I don't then miss my chance to say "Good-bye" to this incredibly inventive set of step-brothers.
Calling all HuffPost superfans!
Sign up for membership to become a founding member and help shape HuffPost's next chapter