Yet what is less known is the historical context for what motivated the Daughters to make their original $50,000 donation.
The UDC was founded upon five basic tenets -- memorial, educational, historical, benevolent, and social -- all of which were intended to insure the legacy of the Confederacy, pro-slavery warts and all. The group's donation to George Peabody College, which became part of Vanderbilt University in 1979, achieved three of these goals.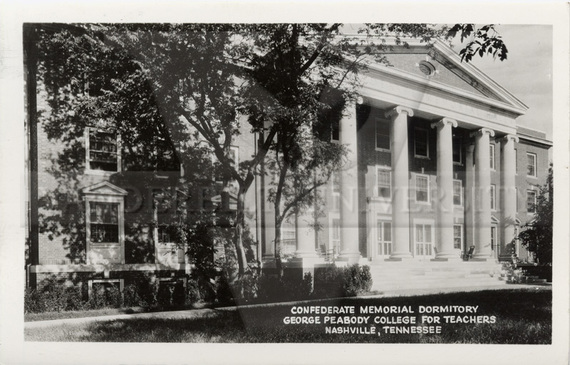 While it is true that the Daughters' educational goal -- to tell the "true" (i.e. pro-Confederate) history of the war -- was being met through textbooks in the region's white public schools, the dormitory at Peabody College -- a teachers' training school -- also accomplished this goal.
Certainly, naming the building "Confederate Memorial Hall" commemorated Dixie's veterans through brick and mortar. Yet the underlying goal of the donation was to provide the daughters of those veterans -- especially those who could not afford it -- with a place to live while they completed their education as teachers. Teachers, it must be added, whose instruction would likely include a pro-Confederate view of the Civil War.
So, in effect, providing these young women a residence hall also served the UDC's goals of being a benevolent organization as well as an educational one. More importantly, with this gift, the Daughters made a strategic move to extend the legacy of the Confederate generation in perpetuity.
This was the ultimate goal. In fact, the Daughters, founded in Tennessee in 1894, included a statement in their constitution that they would work to extend the Confederate legacy "unto the third and fourth generation," which eventually came to mean all future generations.
The successful effort by Vanderbilt University to remove the word "Confederate," therefore, represents more than erasing the historical name of the residence hall or giving a middle finger to Confederate heritage organizations, although it may be interpreted as such.
The more significant outcome is that it marks the end of a Confederate legacy--and not just one that commemorates white southern heroes. It brings to an end the history of a heritage that justified the institution of slavery, helped maintain the system of Jim Crow, and was used to deny African-Americans their civil rights.
$1.2 million is a small price to pay.
Popular in the Community