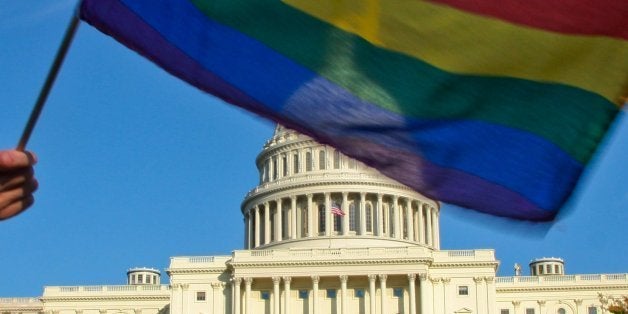 Last week the LGBT community was riven by a bandwagon of national organizations pulling their support from congressional passage of the long-sought-after Employment Non-Discrimination Act, or ENDA. ENDA, which passed the U.S. Senate by 2 to 1 last November, with almost unanimous support from gay organizations, is now pretty much an orphan, with the exception of a few holdovers, including the Human Rights Campaign (HRC), Freedom to Work (whose board I chair) and the National Center for Transgender Equality (NCTE). I'd like to take this opportunity to provide a scorecard to the excitement that has transpired, and I am doing so outside my role with Freedom to Work.
ENDA started off in 1974, on the fifth anniversary of the Stonewall uprising, as the "Equality Act," a comprehensive civil-rights bill, with Congresspersons Bella Abzug and Ed Koch its lead sponsors. It would have added sexual orientation to the protected classes specified in the Civil Rights Act of 1964, and it would have prohibited discrimination in employment and access to public accommodations and facilities. The bill subsequently became limited to only employment rights as the power of oppressed minorities manifested during the '60s and early '70s faded.
In 1996 it had a chance of passing the Senate as something of a consolation prize, 10 days after passage of the Defense of Marriage Act, but it failed by one vote, as Sen. David Pryor was home tending to his seriously ill son. In 2007 inclusion of gender identity and expression in the list of protected categories caused a serious rift within the gay community but was nevertheless an opportunity for community education about trans persons. The principle behind trans inclusion is that while all political progress is incremental, we do not accept the incrementalism that leaves distinct segments of our community behind, and particularly not when history shows that there will be little effort to come back for them later, as is still evident by trans exclusion in state law in Wisconsin, New York and New Hampshire.
As in most legislation, there have been carveouts and loopholes in ENDA, and the type that is the focus today is the religious exemption. The current religious exemption was written during the 2007 legislative campaign and was expanded to gain Republican votes for Senate passage last year. This religious exemption is broader than the exemption in the 1964 Civil Rights Act, now the gold standard for appropriate balance between equality and religious liberty. The best exponent of this difference is Tobias Barrington Wolff of the University of Pennsylvania School of Law, and his discussion of the issue is available here and here.
Interestingly, while some members of the political LGBT community have been concerned about religious exemptions for years -- after all, who wants to allow discrimination anywhere -- there has been an understanding that passage of equality legislation necessitated some accommodation with religion. For instance, the 2012 marriage-equality bill in Maryland was called the Religious Freedom and Civil Marriage Protection Act, to emphasize in clear (if unnecessary and repetitive) language that same-sex marriage would not in any way force churches to perform such marriages if they were proscribed by the tenets of their faith.
What's happened now? Several things, including:
The battle last fall over Arizona's S.B. 1062, the state's Religious Freedom Restoration Act, which was a vehicle for anti-gay discrimination. The Arizona battle was followed by battles in other states.
The recent Supreme Court decision in Burwell v. Hobby Lobby, extending religious freedom to closely held private corporations.
The president's recent announcement of the drafting of an executive order explicitly protecting LGBT persons employed by or seeking employment with federal contractors.
The growing sense within the gay leadership that with marriage equality sweeping the nation, we needn't "settle for less," and ENDA, even with limited religious exemptions, is clearly much less than a comprehensive civil-rights act modeled on the 1964 Act.
The bandwagon effect was a wonder to see. Demands were being made on listservs and phone calls to disengage from ENDA. Commitment to the cause -- commitments that had been manifest for decades, in some instances -- was called into question. Those who were unwilling to jump on board were at times told they would be no better than HRC, which, in 2007, had stood against trans inclusion to the very end. The Americans for Workplace Opportunity coalition, which had been working on ENDA for several years, saw its steering committee shatter, with the Task Force not only pulling its support but leaving the committee and stating that it would advise the president to veto the legislation if passed. And in so doing it left its allies at the National Center for Transgender Equality alone with HRC less than a week before its annual Lobby Day on Capitol Hill, a day that has always been focused on ENDA.
As a trans woman I will say that watching this play out, there are particular surreal ironies for me. The trans community has been protected under Title VII of the 1964 Civil Rights Act since the Macy decision of April 20, 2012. I have promoted that fact and helped craft materials to educate the community about its rights, materials offered by the Transgender Law Center in Oakland. NCTE recently promoted those protections in an essay celebrating the 50th anniversary of the passage of that Act. Since the Macy decision the trans community, both organized and not, has been working to bring our gay allies full protections. While we don't need ENDA, we've been fighting for it, as well as the federal-contractor executive order. The Macy decision brings with it coverage under Executive Order 11246 from the Johnson administration. That coverage was recently made explicit by the Labor Department in an announcement on June 30.
If my gay colleagues choose to jettison ENDA, I'm willing to back off. I understand the need to signal to the White House that a broad religious exemption in the upcoming executive order is strenuously opposed by the community, and continuing to support the current version of ENDA may send the wrong signal (though there is a difference when federal dollars are at stake, which the administration clearly understands). While it's not up to the LGBT leadership to make these decisions -- they ultimately lie with Congress and the president -- we are listened to by our representatives. The question with which I am left is: Now what?
Do we really expect that the House of Representatives, which won't even debate the version of ENDA with broad religious exemptions, will seriously consider a stricter amended one?
Do we believe that the Senate will be willing to consider a comprehensive civil-rights law modeled after the 1964 law, or even open up the 1964 Civil Rights Act for amendment?
Do we think that the composition of the House will change sufficiently before the next redistricting in 2022? (Let's hope Democrats vote in the 2020 presidential election and take the time to vote for their state legislatures as well, because their failure to do so in 2010 has left us in the congressional desert for a decade.)
Are we going to take our ball and leave the field until the next decade? We will see over the next few years how bad the religious-exemption backlash becomes, and we will probably end up in court again and again. But right now ENDA is the only vehicle we have to educate Congress and the American people about our rights to liberty and equality. Flawed as it is, until our congressional allies are seriously willing to sponsor a comprehensive bill with significant co-sponsors, there is no alternative to ENDA. That is why a number of organizations continue to lobby for ENDA while pushing for more comprehensive coverage.
Or, maybe, this explosion of resistance from the left is simply an elaborate ruse, concocted by a number of activists with both willing and unwitting co-conspirators, to push some of the less reactionary Republicans to grab for this bill, flawed as it may be, because the eventual bill will be much less to their liking? Regardless, it is always helpful for progressives to have fierce activists to their left, just as the conservatives have had to their right with the Birchers and tea party over the past half-century. It's how the game is played.
Finally, Kerry Eleveld just published a piece entitled "The Title VII Awakening," which highlights the progress of trans persons but also discusses the TerVeer case, which may bring all gay persons under the Title VII umbrella and make the entire ENDA debate virtually moot.
This has not been a particularly hot summer, but it is playing out as one in the national LGBT community.
REAL LIFE. REAL NEWS. REAL VOICES.
Help us tell more of the stories that matter from voices that too often remain unheard.