Believing we have drained our brain is what drains our brain.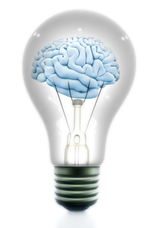 Returning home emotionally exhausted at the end of the day is a common phenomenon in modern life. I'm not referring to the rare medical condition called chronic fatigue syndrome, but rather to the exhaustion many people feel at day's end caused by a hard day at work. Yet, if you look at it closely the only physically taxing thing you probably did at work that day was walk into the building from the parking lot and type on your keyboard. The rest of your exertion was primarily mental.
Is it possible that the two-pound wonder called the brain is able to expend most of your physical energy simply through thinking?
The answer is no. Sitting at your desk performing cognitive functions doesn't take much energy. Your brain only needs 12 watts of energy to operate smoothly, which is one-fifth the energy it takes to light up your desk lamp. On top of that, the brain burns approximately 11 calories an hour, which is the equivalent of one minute of modest exertion on an exercise bike. Clearly, this is not enough to cause exhaustion.
Is it the difficulty of a mental task or the amount of time you concentrate on the task that leaves you exhausted?
Again, the answer is no. Mental fatigue is really not about the task. For example, millions of neurons connecting through a multitude of neural circuits are active when you follow a movie with a plot as complex as The Matrix, or a book as intricate as War and Peace, or pondering your opponents next move in Chess while you plan your own. Yet we can focus on these complex activities for two hours straight and at the end feel stimulated by it. So what is it exactly that is causing the fatigue we experience?
It's our mental attitude. Science has found that if you believe a task is going to be difficult, it will be. If you expect a meeting to drain your energy, it will. If the fear of failure overwhelms you, it's likely to result in bad decisions that lead to failure. In short, we get what we expect to get. A chronically anxious, negative attitude repeatedly activates the stress response system. Stress hormones flood your system with adrenaline and cortisol, elevating heart rate, raising blood pressure, and debilitating the higher order brain function that generates the savvy, creative insight and optimism that solves problems. You're more prone to emotional upsets, memory lapses, and mistakes. We human being generate all sorts of stress reactions purely in our heads, exciting wild emotions that send the mind and body into an uproar and leave us physically exhausted. More often than not, the driving force behind it isn't our job or the task or even our boss. It is our attitude towards people, tasks, and events.
Type A personalities, for example, are the highly competitive workaholics who tend to be overly-reactive and aggressive. Type-A's face a much greater risk of cardiac death than the more peaceful Type-B's. But it's not hard work, a difficult challenge, or even long hours to blame for Type-A's heart problems. It's the stress from the hostile struggle their aggressive attitude generates.
Attitude is everything, even in those moments when you feel stressed and anxious. Shifting your perspective when you're afraid of failing to feeling excited in the challenge can make you less likely to burn out in a demanding job. A study in Germany found that professionals who were skilled at shifting their anxiety in this way were less likely to be frustrated or drained by their work. In another study, students who viewed their stress as excitement reported less emotional exhaustion, did better on exams, and earned higher grades. A positive mindset provides an immunity to emotional exhaustion and predicts greater success with all our goals. A positive shift in attitude, when sustained over a few weeks, can literally rewire our brains for the Good Life.


The technical term for the way a change of mindset rewires our brain for greater success is called neuroplasticity. Neuroplasticity has huge implications for business. Results of over 200 scientific studies on nearly 275,000 people (APA 2005) have found that every key business outcome improves when people are emotionally positive.
People are 31 percent more productive, three times more creative, and a positive mindset increases sales by 37 percent (Lyubomirsky, 2005).
We are ten times more engaged with work (Achor, 2012), and prosocial in ways that achieve superior customer service (George, 1991), and facilitate teamwork that is highly collaborative. (Barsade, 2002).
In addition, a positive mindset fosters supportive relationships, which in turn predicts a longer and healthier life (Danner,2001), and lowers health care costs for companies (APA,2002).
The brain scans on the right show the difference in brain function when we're positive and well-adjusted compared to when we're stressed and depressed. Multiply the difference by 1000 and you have the loss in brain power in a company doing nothing to alleviate stress.
Related