When someone dies it's such a private time and yet so very public. That's how I'm feeling about the loss of my job. We didn't sit shiva only because CBS kicked us out so fast. (I did get some flowers.) I'm going to guess most of the time the entire world doesn't hear about your job change; maybe you can fake it for a few weeks. I don't have that option since my boss left on national television. Yesterday when I dropped my son Simon at school, some parent I'd never met asked "What are you going to do next?" I said, "Get a haircut." He laughed and I thought, no, really, that's all I have on my schedule for "next."
Wednesday I'll be 58 years old. I am wife to another woman and Ema (Hebrew for mother) to an 8 1/2 year old boy. I am a New Yorker, sober, a Jew, constantly struggling with my weight, a Democrat ... but more than anything I am an ex-employee of Dave Letterman. My mother Sophie, may she rest in peace, told me I was too sensitive to work in television and maybe she was right, but what else was I going to do with my life? I was not exactly astrophysicist material (ha ha ha, I'm killing in my head).
I started as the receptionist in pre-production on what we all called "the morning show" (really The David Letterman Show) on May 21, 1980. I worked for Dave for 35 years to the exact day. Reporters kept asking us why we all stayed so long. We stay because Anatevka is our home (What? You don't know Fiddler on the Roof?). We stayed because we are all in some way part of the land of misfit toys. Some more misfit than others. One of us had to touch every single guest that went out on stage, another (sometimes, maybe if no one was looking) licked Dave's make-up mirror. But mostly, we were the ones who didn't enjoy high school.
I was promoted from receptionist to production assistant when Jude Brennan (who came back and eventually became one of the Executive Producers at the Late Show) quit because she couldn't get up that early. She took one of those yellow legal pads and hand-wrote out how to do the job on 15 pages which I kept until our beloved cleaning woman Bea Clark accidentally threw them out.
The morning show lasted 18 weeks. A year later, I was working on the NBC sitcom One of the Boys (which starred Mickey Rooney, Dana Carvey and the great Nathan Lane) when, walking in the halls of 30 Rock, I saw Dave. "Hey Gaines, how come you're not working on the new show?" he asked "Yeah", I replied, "How come?" I got the call to start pre-production on Late Night with David Letterman that night.
One day early on at Late Night Dave made a comment on air and I screamed a correction from backstage. I was normally pretty shy, but I just couldn't help myself and I sat right behind his desk. Shouting during the taping became something I ended up doing quite a lot. (Back then I thought if I could remember anything I would call my memoir Screaming from Backstage.)
Toward the end of Late Night I was in a recurring segment called "How's the Weather?" Dave would riffle through a phone book and I would randomly point at a number and then we'd call a stranger and ask "How's the weather?" We did this when we had nothing else and it only worked a third of the time. The last time we tried it no one was answering so we called my mother in Pompano Beach and she asked Dave if I was wearing my father's sweater. Before he could could answer, she said I wore his clothes because I was fat. "Put her on a diet Dave!" That ended random calling.
The most joyous time of my career was sharing an office with Barbara Sheehan when we worked on Late Night at NBC. I had enough responsibility to be in the inner circle but not enough to worry about the show on weekends. There was no funnier office mate then Sheehan. She threw my favorite hat down the air shaft & then ordered a fishing pole from props to retrieve it. She talked me into giving John Chancellor a low hug and singing "Dirty Boulevard" to Lou Reed. Sheehan and I continued to share an office when we moved to CBS in June, 1993, until she got hold of her senses and eventually left television. As you know by now, I stayed.
When we went from 12:30 at NBC to 11:30 at CBS, we went from four shows a week to five, and a studio to a theater. The Ed Sullivan Theater has amazing history (I mean, The Beatles!), but call it "Studio 50" all you want, it's a Broadway theater not a TV studio. Besides being filled with rats the size of Smart cars, the control room was nowhere near the stage which was a challenge for production. And though I can't speak for everyone, the move made things harder than we would admit.
All I ever wanted was to put on a show and in that respect I have been the luckiest girl in the world. And, of course, receptionist-me dreamed of becoming a producer and winning an Emmy award, and at the Late Show both those things came to pass. I (clear throat) won five.
But, the more responsibility I got, the less fun I had. In 1996 I became a producer; in 2000 an executive producer; and then in 2002, the show runner. The nine years I was at the podium running the show were the most stressful of my life, and maybe took nine years off. The first day in 2002 that I was at the podium Dave said, "Don't worry Gaines, this hour that we tape the show will be you and me." A few shows later I asked a question in the commercial break and he said, "I don't know, I'm not the producer." Suddenly, I was on stage alone.
In 2011, when I decided to leave the stage I loved so much, our director Jerry Foley welcomed me to end my career in his control room. (Nancy Agostini took over the running of the show.) During my second week down in the booth, Dave was talking and talking and not throwing to the clip. I wasn't used to being able to speak out loud during the show since I'd been on the floor all those years. I screamed at the monitor "Roll it!" Jerry rolled it, and jumped Dave's cue. I said, "Why did you do that??" and he replied, "You're the Executive Producer." And I thought "Heyyyyy...."
So from typing TelePrompTer script in 1980 to the puppet master in 2011 -- oh no, sorry that's not true, I thought, I don't know, I was in a dream for a second, there is no puppet.
Two or even three years ago, before Dave announced his retirement, Dave and I talked about how, when the day came, we would need a montage to end the show. So we hired a big shot to work on it. I was happy to give it to an outside professional since I figured he'd have a different "take" on us, something fresh and interesting. And of course there's always that self-hating hope that someone else will make something more special than the misfits.
So all this time he had been working. I didn't give it a thought until Dave actually announced. I asked to see it, and well... it was clear he didn't get us. I never showed it to Dave. Dave decided to trust my opinion (after a half dozen people agreed with me) and said, "So what are we going to do now?" I said, "I'd like to try it." He looked at me and said, "You?" Granted, my job at the show had never been a creative one. I edited every night but I took things out, I didn't piece them together. I said, "Yes. Me. Give me a couple of months. If I see I can't do it, I'll hand it over to a writer."
So, on a Friday last October, I went into the edit room with Associate Director Randi Grossack and Senior Editor Mark Spada and started cutting. We called it "The GRIM project" for Gaines, Randi and Mark. One Friday after we started, I was speaking to Dave on the phone and I said something about using a Joaquin Phoenix bite and he said "I thought we talked about this being stills?" and I said "What? No? I must have.... Oh no." So back to the drawing board Randi, Mark and I went.
I, of course, was thinking Dave had no idea what he was talking about, television is moving pictures - why would we use stills? What a pain it will be to take freeze frames off of all those shows. We began the painstaking process of picking a show, freezing the frame, deciding the order, and editing it all to the Foo Fighters' "Everlong." Around version 8, I thought, "Okay, the stills are working. I think I have something here." I gathered the producers and showed them what I had. They said varying versions of "That's nice," "You can't end the show with this" and "Oh, look what you made." I knew I was in trouble.
Dave kept asking how it was going and did I have something and I just wasn't ready to give up. The months were ticking by and we were getting closer to May 20. We'd only been working on the montage on Fridays, the one day we we didn't tape a show, because although I was thinking obsessively about the final weeks, we were still producing daily shows. The GRIM team started working vacation days and constantly exchanging emails.

Finally, at version 19, I showed it to everyone again and people actually cried. I knew we were there. Version 21 is what aired on the last show. It was one of the proudest moments of my time at the show. (The other was accepting the Emmy Award on behalf of the program in 2002.)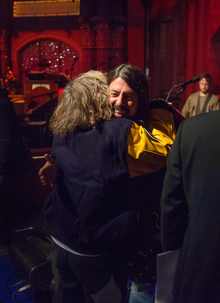 The last day at rehearsal, when Dave Grohl and his Foo Fighters played live to those 560 or so images for the first time, I got so excited I ran up on the stage and hugged him. Dave Grohl does not know me, but being the nice guy that he is, he hugged back.
During the final six weeks of my job I was so consumed with the last 28 shows that I didn't have time to think about what would happen after. Well, lookie, lookie here it is. It's utterly bizarre to no longer be lying awake thinking about freeze frames and what's missing and the order they should be in. And to no longer be making my daily way to 53rd & Bway.
After 35 years working with the most devoted and hardworking staff and crew, I have learned one thing for sure: I'm not the craziest person in the room, but I'm definitely in the room. In 1980 when I was on the morning show, Dency Nelson (the cue card guy at the time before he became stage manager to the stars) once told me "Stop thinking the most interesting thing about you is what's wrong with you." So I grew to think the most interesting thing about me was working for Dave. And now that's what's wrong with me. I guess I have to start looking for another room.