Authored by Pilar Dellano for Psyched in San Francisco. Pilar is a Licensed Marriage and Family Therapist who is passionate about helping her clients make conscious contact with themselves and others. She specializes in relationships of all kinds, is sex-positive, queer & kink friendly. LMFT #90934
An Anti-Assimilationist Valentine's Day
I know I don't have to tell you that February 14th is barreling towards us at superluminal velocity. You also may know that if you're not in a romantic relationship, you might as well crawl back into your lair and resume braiding your body hair or filing the fingernails on your dewclaws, or whatever it is that single people do, because how dare you attempt to join the ranks of those who will not be dying alone.
But if you do, however, happen to be in love, well I'm sure you know better than to erect anything less than the most stunning and enthusiastic tribute to your beloved, replete with chocolate, champagne, sex in more than one position, and possibly a proposal.
Unless of course, you're not in the business of celebrating corporate sponsored heteronormativity, underwritten by Hallmark, self-hatred and comfort pastries; or the holy day also known as Valentine's Day.
Valentine's Day -- destroyer of all things -- is a celebration of everything that's wrong with our rendition of modern love. There's nothing quite like this arbitrary event to magnify our expectations, diminish our relationships and test our self-esteem. Come February 1st, convenience store aisles, awash in the empty symbology of romance, close in on us with one message, and one message only:
Your value as a person rests solely on the number of long-stemmed roses that appear on your doorstep.
We all know this isn't true, but for a few weeks in February, we throw ourselves at the feet of St. Valentine, hoping, no, praying he'll find us worthy applicants into his candy coated kingdom. Then come February 15th, we'll lift our weary bodies off the ground, extract Cupid's arrows and observe our spoils: empty calories, temporary validation, and an emotional hangover.

* * *
So I propose the end of love. Or the end of a love that must be proven rather than shown. An anti-assimilationist Valentine's Day embraces the corporeal and not the corporation. It asks for presence, not presents. An anti-assimilationist Valentine's Day broadcasts love's cries, its rows, and its rackets, rather than just its tiny, tidy sound bytes.
An anti-assimilationist Valentine's Day would never confuse the conversation for the conversation heart.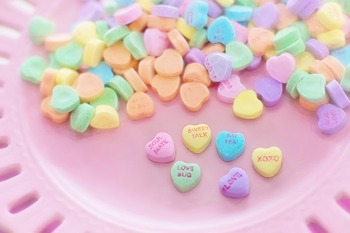 But if you have trouble distinguishing reality from popular culture, it's not your fault. Your Valentine's Day began eons ago. Days and months and years before today, in the mythology of bedtime stories, lullabies and tales of happily ever after.
As seen in Arthurian legends to Dante's Commedia, Madame Bovary to Sex in the City, the myth of romantic love asserts that no life event is as important as the moment you and your beloved meet in total (mental, physical and spiritual) union, and that this blissful state shall only be realized through a pristine mixture of coincidence, divine intervention and persistence.
As a social mythology, love itself has become our undeclared religion, acting as a lens through which we organize our lives, and a prime -- possibly the most fundamental concern for us human beings.
Mythology works best when it fits loosely around us and gives us a framework to bump (and grind) against. It works when it allows us to see ourselves more clearly and understand our human journey in response and reaction to legend and folklore. But when we hold ourselves too tightly to its claims, as has been the case with modern romance, mythology becomes the enemy of self-esteem.
And on Valentines more than any other day, it looks like:
Anger at our partner when they don't meet our unspoken wishes.
Resentment towards those in "happy" relationships.
Fantasies of being saved or rescued by love.
Feeling incomplete or broken without it.
So What Does an Anti-Assimilationist Valentine's Day Look Like?
Love everyone and celebrate everything.
Allow this day be a commemoration instead of a command. Celebrate the ways in which you care for yourself and everyone around you. Be specific. Thank your barista for his expert foam art. Spend hours admiring yourself in the mirror. Tell your sweetheart how wonderful it is when she sets her boundaries even at the occasional expense of your expectations. Write love notes to your in-laws. Buy your pets the plushest most expensive toys you can find.
Observe love in all its forms.
I don't know about you, but on this V-Day, I will thank my partner for holding me to a higher standard when it comes to natural bath products. Our conversation hearts will as likely read "Not tonight, I have a headache" as they might "Let's F**k."
And for the love of god, I will not feed her insulin spikes in the form of champagne and chocolate, but instead, leave her bunches of kale swaddled like babies on her doorstep. I will feed her avocado. I will give her beets. I will give her matcha, which, like her, exhilarates and sustains me.
I encourage you to give Cupid the day off because you know what, you've got this. Shift away from romance as a cultural imperative, into a pronouncement of personal power and your unique expression of love.
And oh yeah, Happy (Anti-Assimilationist) Valentine's Day.
Related