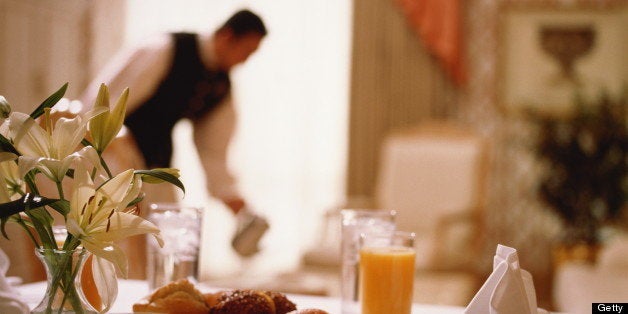 June 19 (Reuters) - When the New York Hilton Midtown said it was dispensing with room service starting in August, it caught the attention of frequent travelers who, after getting in from a long flight, have come to count on being able to order a burger at 2 a.m.
The news was particularly significant since room service itself was popularized about a half mile away in the 1930s at the Waldorf Astoria Hotel, which is now also part of the Hilton chain.
Plenty of hotels, however, are going the opposite way - trying to turn room service into a bigger draw. The number of hotels offering room service actually increased by 8 percent between 2011 and 2012, says Ned Barker, president of Grill Ventures Consulting Inc and spokesman on the issue for the American Hotel & Lodging Association.
"I don't see room service going away any time in the near future," says David Morgan, vice president of food and beverage for Omni Hotels & Resorts. "We would lose customers if we did not have in-room dining."
Because so many people count on room service (all 47 Omni hotels offer it), Morgan says it makes more sense to try to do it better - such as expanding and improving menus: "People are eating differently. Simply offering a Cobb salad and a chicken club isn't going to do it any longer."
In fact, some hotels are embarking on over-the-top attempts to draw guests to room service. That includes sending mixologists to your room at the Four Seasons Hotel in Chicago and the Surrey Hotel in Manhattan. At the Surrey it will cost you $60-$104 for various packages that yield four or five drinks.
How about macaroni and cheese with Maine lobster and Parmesan sauce delivered to your room at the Four Seasons Hotel Boston for $37?
At the JW Marriott Chicago, an array of specialty treats are available, including artisan cheeses paired with craft beers for $28 and other "experiential culinary snacks." The hotel offers a tasting plate of appetizer and desserts for $18 as well as a wine and food pairing for $55.
The Trump SoHo in Manhattan, which has round-the-clock room service, now has a 16-page in-room dining menu. The menu offers Thai coconut green curry, Korean short ribs, and lobster roll.
At the PUBLIC Hotel in Chicago, fine dining from the hotel's Pump Room restaurant is delivered to rooms in standard takeout boxes in paper bags. "It's easier, quicker, easier to dispose; guests like it," Barker says.
That tweak could be coming to less fancy lodgings. "You're going to see that in mid-scale hotels," Barker says. It just makes sense, he says. "The number one entrée in room service across all brands is a hamburger. I think it's a natural fit."
Everyone knows that ordering a meal to your room can be considerably more expensive than eating at the hotel restaurant, but they may not know that room service is not a money maker. That's because staff dedicated to order-taking, setting the rolling tables and delivering meals can be costly.
Room service accounts for about 1 percent of overall hotel revenues, according to PKF Hospitality Research, and has declined each year since 2007 when it was 1.5 percent.
"Before you even begin, you're spending more than you are at a restaurant," Barker says.
At the Omni Hotels, for example, delivery charges range from $2-$5 and a typical service charge of about 18 percent. That service fee is the tip. The space for an additional tip is there should the guest want to reward the server for exceptional service, Morgan says.

Related