A 2.4 magnitude earthquake ushered in the New Year near the old Texas Stadium in Irving, TX. The event was yet one more in a series of frequent seismic episodes to rattle Dallas County residents.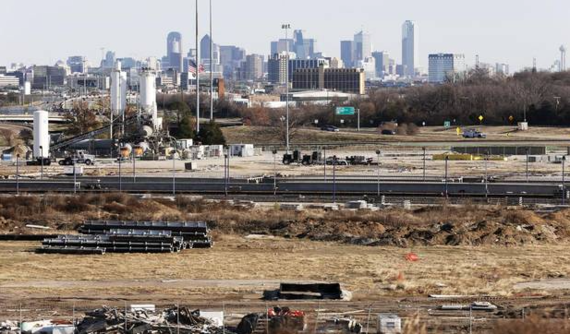 The area surrounding the old Texas Stadium site is the epicenter for the majority of Dallas County Earthquakes occurring since November 2014. Photo Credit: Vernon Bryant, Dallas Morning News
Then, eleven earthquakes hit Irving five days later on January 6th and another quake struck the same area at 1 a.m. on the 7th. Notably, the twelve tremors over just 24 hours followed five earthquakes occurring over four days in late November, the largest of which was felt by many tens of thousands of residents. The old Texas Stadium is located at the intersection of Highways 114 and 183 in Irving, TX, about three miles west of Dallas Love Field Airport.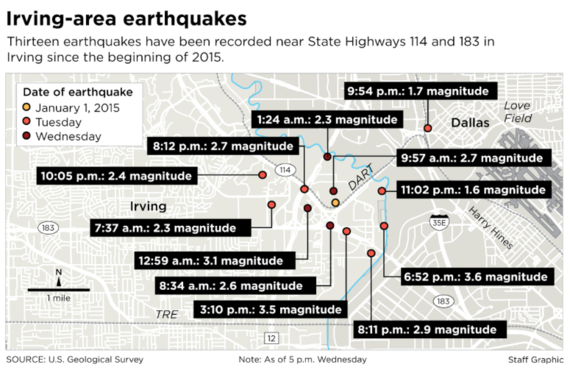 Thirteen earthquakes strike Dallas County between January 1 and 7, 2015 Credit: Dallas Morning News Graphic using USGS data
Seismology experts at nearby Southern Methodist University's (SMU) Earth Sciences Department have been working overtime recently to position earthquake monitoring sensors in Irving, the epicenter of all but one of the Dallas County earthquakes recorded this year. According to SMU's media office, January's earthquakes are the "fourth sequence of earthquakes in the Fort Worth Basin since 2008."
SMU's studies on two of the four sequences occurring in nearby Tarrant County cited "wastewater injection wells [from natural gas drilling operations] as a plausible cause of the seismicity." Tarrant County abuts the western border of Dallas County and is the #1 natural gas producing county in Texas, according to the Railroad Commission of Texas (RRC). Their September 2014 "Gas Well Counts by County" report indicates that 4,015 productive gas wells occupy Tarrant County's 897 square miles. In contrast, there are 31 oil and gas wells in Dallas County.
While it's true that the oil and gas reserves of Tarrant County have created remarkable economic growth for the region and the state, they have also created challenges and hardships for residents, according to a story by Dallas Morning News journalist Julie Fancher:

"In the Tarrant County city of Azle, which has endured hundreds of small earthquakes since fracking and injection well activity began, residents have reported sinkholes, cracks in the walls of homes, and air and water quality concerns."
Might the recent spate of Dallas County earthquakes also be linked to the natural gas fracking bonanza that has swept much of North Texas over the past six years?
Fracking Wells vs. Injection Wells
Fracking involves injecting a combination of water, sand and chemicals into the ground under pressure to break apart subsurface rock formations so that natural gas is released and recovered at the surface. Once a gas well is fracked, the residual water is stored and later returned to the ground via even deeper wastewater injection wells. Until now, SMU's research has only linked the industry's wastewater injection wells to seismic activity. Yet, in Ohio, Emily Atkin reports that seismologists Paul Friberg, Ilya Dricker, and Glenda Besana-Ostman attributed 400 earthquakes occurring over three months to the fracked natural gas wells themselves. Pragmatically, their conclusion makes sense as both gas production wells and wastewater injection wells are subject to drilling techniques that involve large quantities of pressurized water.
The RRC's oil and gas well map shows the locations of all oil and gas industry wells in each of Texas's 254 counties. By choosing a county and zooming in three times, the well locations become visible. Below is a screen shot of the north-south boundary separating Tarrant County from Dallas County. One wastewater injection well that is permitted to Chesapeake Operations is located just inside the Tarrant County line. A few of the thousands of oil and gas wells already drilled in Tarrant County are also visible on this screen.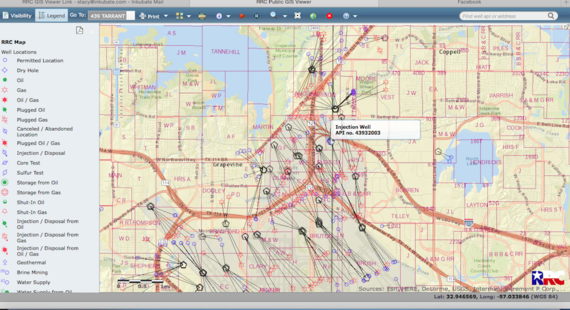 Screen shot created using RRC's oil and natural gas map shows boundary between Tarrant and Dallas Counties, a wastewater injection well, and a number of oil and gas production wells.
Dallas Mayor Mike Rawlings is understandably curious to know more about what could happen in the future and what the range of outcomes might be given the facts that we have about the robust fracking industry operating in North Texas. In our January 9th interview, the Mayor's pragmatic nature prevailed:
"I'm less concerned about what the specific cause is. Whether it is gas wells or wastewater injection wells, my major question is what is happening geologically that we need to know about."
The Geology of the Fort Worth Basin
The Fort Worth Basin is a geologic feature comprised of many millions of years of sedimentary deposits. The Barnett Shale, residing roughly 1.5 miles below ground, is the carbon-rich reserve that has spurred thousands of productive oil and gas wells in the area. Oil wells dominate the Basin's westernmost counties of Shackelford, Stephens and Palo Pinto. Moving eastward, natural gas wells, many of which have been fracked since 2008, have labeled Parker and Tarrant counties equally productive energy plays. Fracking technology enables operators to drill horizontally once they reach the Barnett Shale, significantly increasing the return on investment for each productive well installed. Fracking in Dallas County--the easternmost limit of the Fort Worth Basin--has not yet proven to be a lucrative investment. Not only has fracking been banned in the city of Dallas since December 2013, but an expansive geological boundary may discourage further fracking in cities like Irving, where fracking is still currently permitted.
The Balcones Escarpment, described by bestselling novelist and award-winning Texas Monthly columnist Stephen Harrigan as "geology's most fateful mark upon the surface of Texas," is a line of hills that divide the eastern part of Texas into two distinct physical zones. Reading Harrigan's story, one can easily envision the rocky limestone ranching uplands to the west and the fertile rolling prairies to the east. It is the structural differentiation beneath this Escarpment that will inevitably influence the local oil and gas industry moving forward.
In her 2010 Dallas Morning News story, Wendy Hundley explores the relationship between the structural geology of Dallas County and the limitations it poses for the oil and gas industry.
"That boundary is the Ouachita Thrust Fault, a geological formation thought to mark the eastern edge of the Barnett Shale. It bisects Hill County, clips the northwest corner of Ellis County and runs through the northwestern third of Dallas County."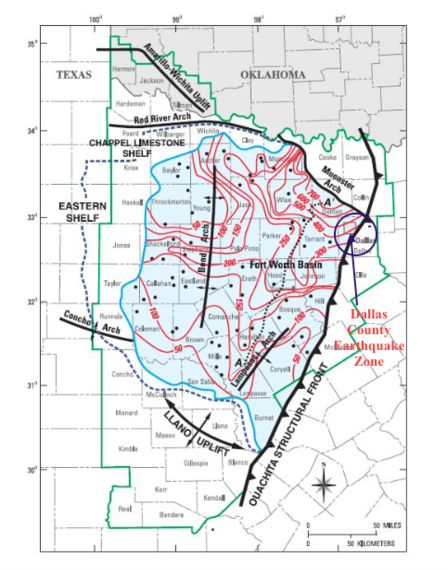 Ouachita Thrust Fault runs underneath Dallas County's recent earthquake zone in Irving, TX Courtesy: TeamFrack
In her story, Hundley quotes SMU's Bruce Bullock, who runs the University's Maguire Energy Institute. In an email to Hundley concerning the limitations posed by the 200+ mile long Ouachita Fault, Bullock wrote, "Based on current technology, we do not anticipate the Barnett Shale moving that much further east."
The RRC's oil and gas map cited above confirms Bullock's prediction. Near the old Texas Stadium site and further east towards University Park and East Dallas, a sizable number of the gas wells are dry. Two wells, located adjacent to the old Stadium property have not produced oil or gas for at least two years. It bears noting that no wastewater injection wells are currently located in Dallas County.
Though repeated earthquakes over short periods can be an emotional ordeal for neighborhoods that are unprepared and ill equipped to respond to a more serious seismic event, they may nevertheless be a blessing in that their disruptive nature has awakened Dallas County residents to the very real risks of extreme energy extraction. With Tarrant County just six miles to the west of the old Texas Stadium, neighbors agree that further study into the source of the earthquakes by impartial seismologists, should not be delayed.
Just over a week ago on January 20th, four more earthquakes ranging in magnitudes of 2.2 to 3.0 were recorded by the USGS in the same vicinity of Irving. Dallas County residents familiar with the experiences of Tarrant County homeowners are cautious about what the oil and gas industry's progress may cost them personally. Though minor in most cases, the economic impact of the earthquakes on commercial and residential properties has also engaged people to think about the security of their homes and businesses in an area where insurance policies do not typically cover earthquake damage. More pointedly, homes and buildings in Dallas County have not been constructed to withstand regular seismic activity. A meeting of neighbors at Drip Coffee on Lovers Lane the morning after the November 22nd earthquake was telling.
Larry Winnie, who lives with his wife Cathy in East Dallas, felt the shock of the 3.6 magnitude earthquake and ran outside to see what had happened. A Senior Lecturer at SMU, Winnie contrasted the event with his earlier life in CA. "I've lived in Palo Alto, where earthquakes are very different than what we experienced last night. What we heard and felt was an explosion... like a fireworks plant had exploded or a plane had crashed nearby."
University Park resident and preschool teacher Mary Schutte, who lives two miles north of downtown Dallas, had a similar experience. "I thought that the walls of our home were about to cave in. The vibrations felt like a freight train passing right by our windows." And University Park High School senior Drew Alexander recalls a similarly daunting experience. "I was at the Highland Park stadium with my friends and we thought that the pillars were collapsing from all the shaking."
It remains to be seen whether increasingly frequent seismic activity--a recent phenomenon for Dallas County residents--is caused by the drilling of natural gas wells, the subsequent fracking of those wells, the associated wastewater injection operations, or some combination of the three.
Regardless, Mayor Rawlings's view is properly protective and unambiguous:
"Ecclesiastes 3:1-9 says there's a time for everything. I say there's a place for everything and Dallas is not the place for natural gas drilling. Irving needs to speak for themselves."
Popular in the Community