Sprawling fields of high grass, hillsides off in the distance, and ... a gorgeous bride and groom perched on a vintage velvet burgundy chaise. Oh, the memories of the vintage wedding and its somewhat silly staged photographs. The not-so timeless vintage theme is one that often incorporates elements such as 50's era luggage used as décor, mismatched chairs reminiscent of a casual backyard event, and floral vessels made from all types of throwback food canisters.
Thankfully, the vintage wedding trend that took the nation by storm (in no small part due to the relentless plugging by us bridal bloggers), is finally starting to see the shade of its own sunset. And not a moment too soon -- I say let the trend end!
Over the past few years we've seen such a clamoring for personal and nostalgic wedding details that those details have lost all personalization and actual meaning. A typewriter guest book that once told guests the bride or groom were, in fact, writers, now merely signals a successful flea market shopping trip, writers or not. But today brings a new dawn and a new crop of engaged gals. The popularity of the vintage ideal is fading, since all the guests have, well, been there and done that.
This infatuation actually affects the quality of work too! Robert Evans, co-founder of WeddingPhotography411.com, appreciates art when it doesn't reflect last week's wedding. "Wedding photography should tell a different story each time. If you buy into the recent fad, your wedding photographs will quickly become dated before their time. Every vintage wedding I see looks exactly the same, as if there is a set of directions on how to shoot it! The couple in the field holding hands two feet apart, back lit by the sun, or the dress and slacks pulled up showing shoes and socks. I think it's important for photographers to find their own vision and capture the unique style of the couple, not the trend of the season." Bottom line: the end of a trend can actually benefit brides and grooms, as it translates to more original thinking on the part of wedding vendors.
So what's next? Anthroplogie may have made its mark on our weddings, but thanks to the Duke and Duchess of Cambridge, William and Kate's wedding, in 2012 we'll see a shift away from that nostalgic tradition to a more formal and sophisticated style. Say goodbye to those weathered fabrics and mason jar refreshments and hello to detailed French lace and lavish tufted furnishings. A more carefully curated and less-cluttered, old world glamour meets modern sophistication wedding trend has emerged.
A couture gown might still give a nod to history, yet shows the fashion-forward side of today's bride. Dare I say Ralph Lauren and Alexander McQueen even have a shot of knocking Anthropologie off its wedding high horse? Julie Sabatino, founder of The Stylish Bride in New York, has also been noticing the shift. "I'm seeing a return to classic style and glamour. Surprisingly, this is translating into bridal fashion through brides' renewed interest in fuller A-line skirts. It's so refreshing, and perhaps on trend because of Kate Middletown's gown and the influence of the royal wedding. I think we will see a greater number of brides wearing a veil as she did, and considering long sleeves."
And that regal style has found its way into event design, too. The new flavor is infused with rich textures, lots of white (and even some metallics) and grand traditional settings. Linda Pittelli, owner and lead designer of Eventful in Los Angeles, shares her insight, "The classic traditional wedding will never fade away. It just needs a little modification. It doesn't matter how many fads come and go, there are always the girls who have the dream of the fantasy storybook wedding." Case in point, "we recently designed a wedding in Santa Monica and had basically a sandy beach to work with. I needed to turn that into something very special since the bride was wearing an amazing ball gown! The feeling I was going for was an English garden on the sand. We built a platform, carpeting it and added lots of hedging and flowers, and poof: a formal ceremony area on the sand!" Linda explains.
So say farewell to the photo of the couple in the field, and say hello to the next token iconic wedding image ... perhaps a kiss on a regal balcony? At least this image will be anchored by the love of the couple and not the lack of creativity in design. I welcome the glamour of the old world into our new wedding season as it pays tribute to the depth, meaning, and emotion a marriage is meant to have. Though wait until next year and I'll likely be desperate for the next new thing to take shape and refresh our state of unions.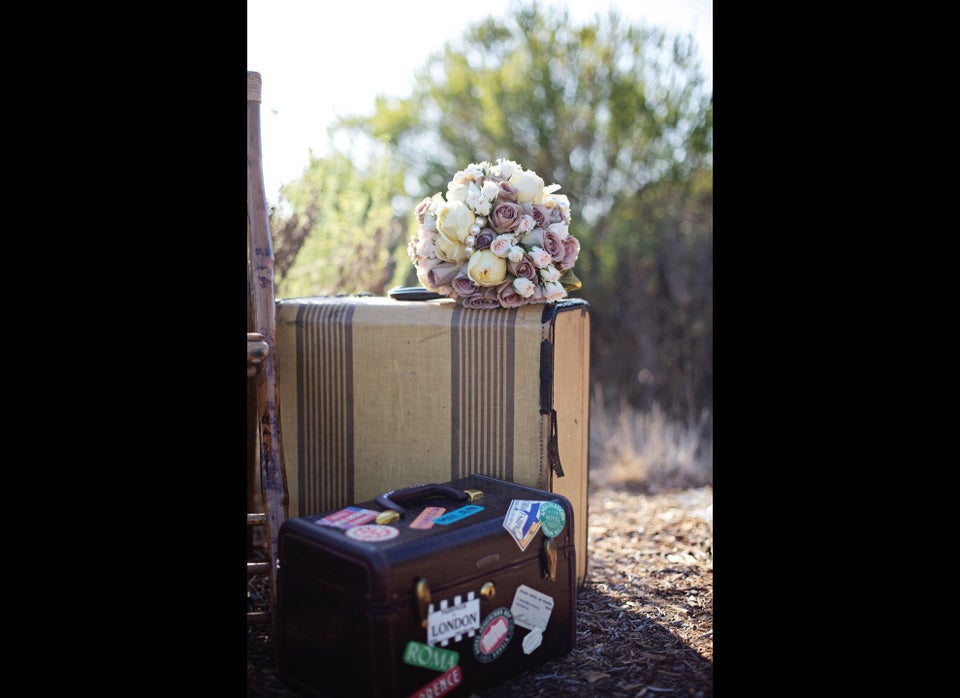 Harmony Walton
Related