For the last thirteen years, the DC Comics imprint Vertigo has been putting out a comic book called Fables. It's set in a world where the storybook fables of folklore, books, and nursery rhymes are real and they've been displaced from their homelands, living amongst us in our "mundane" world. At the beginning of the series, Old King Cole is the mayor, Snow White is his chief of staff and Bigby (Big Bad) Wolf is the mayor of Fabletown. Over the years their adventures to take back their homelands, remain unknown in our world, and sort through their own problems have filled hundreds of issues of comics and spinoff comics, short stories, a novel, video games, and hopefully, one day, movies and television. In fact, it was even under option at ABC up until just before they announced the subpar Once Upon a Time... but that's another story.
This month, after a brilliant run of comics, writer Bill Willingham and artist Mark Buckingham brought the series to a close.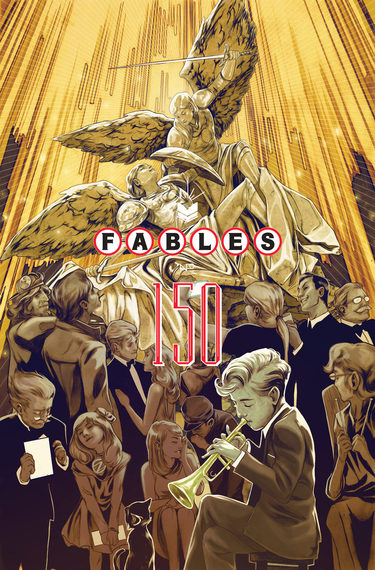 With the release of Fables #150, many of the loose ends are wrapped up and we're left to know as much as we can of the continuing fates of immortal storybook characters.
To commemorate the ending, I re-read the entire series from start to finish, and was able to talk to Willingham and Buckingham about their accomplishment. Over the decade-plus of publication, there was definitely an evolution of storytelling style and art, but never did anything feel less than it needed to be. Every time the book hits a high point, or an emotional low point, or a tragedy that just makes you want to cry, you think to yourself, "How can they top this?" And then they do.
And the ending these two have wrought is nothing short of surprising but inevitable, that elusive balance all writers seek to strike. It's a book I've loved since the beginning, and seeing the character and family dynamics that began the series tie together so beautifully at the end, after so much has happened, is uniquely gratifying. It seems to be one of the most difficult things in all media these days to craft a conclusion to a long running story, but Willingham and Buckingham have stuck the landing. It's emotional and is everything you didn't know you needed it to be.
When asked about coming to the end of a series that had defined more than a decade of his life, Willingham agreed that it was a bittersweet relief. "It feels like there's a giant weight lifted off, but at the same time it feels like there's something missing. Why am I not getting up to work on Fables everyday?"
"It's very sad that we've said goodbye to all those characters and it's not easy to let them go," series artist Mark Buckingham said. "But at the same time and you sit and look at the shelf bending with 22 volumes of Fables, plus all of the spin-offs that existed, it's a huge body of work and it's something we can take a lot of pride in, that we managed to create such an expansive and exciting universe over all these last few years."
Although I had a list of my own favorite moments in the series, from the "March of the Wooden Soldiers" to "Cubs in Toyland," Willingham chose "The Good Prince" as one of the high watermarks for him personally. "[That] story arc came out more or less the way I imagined it when I started writing. Someone much wiser than me said that you ruin a story by actually starting on it because when it's just in your imagination, it's perfect. But your skills are never going to live up to what you hope for a story in your mind, so by beginning it, you wreck it. And that's been pretty much the story of my career, except for the time I look back now and again and say, 'That kind of worked out the way I thought it would.' And that was nice. But that's pretty rare, too."
Fables is a series of books that will always have a proud home on my shelf. The story that winnows through each of its 22 volumes and spinoffs is one of the most compelling stories I've ever read in comics. It invites readers to connect dots and know the mythology and folklore behind each of the characters, many nights would I spend after reading Fables going back to the source material and original stories many of these characters came from. I would do this both to enrich my own understanding and to guess where Willingham and Buckingham might take me. But I could never guess.
Who would have guessed that Little Boy Blue was such a cunning warrior with a sad story? Or that the Frog Prince was so good a man? Who would have guessed that the Prince Charming from every story was the same cheating man? Fables took everything I knew about so many beloved characters and turned my understanding on its ear. Every. Single. Time.
Fables is something you should read. Now. Immediately. And now that it's over you won't have to suffer through waiting to see what happens next. It's all out there and ready for you.
Popular in the Community