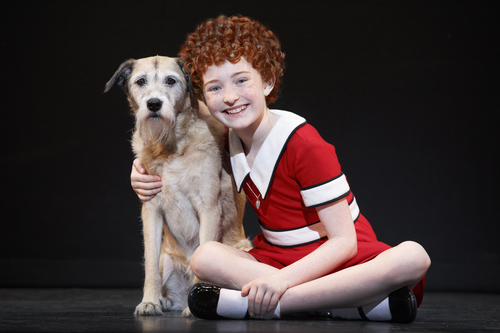 Macy as Sandy and Heidi Gray as Annie in Annie at the National Theatre March 15 - 20, 2016. www.thenationaldc.com © Joan Marcus.
For the first time in a generation Annie is coming to the stage in Washington, DC. Although the memory of the re-make of the movie that was a disappointment to many is still fresh, the stage adaptation stays true to the original story.
Annie is special to so many who have vivid memories of seeing the play as a child and are excited to share the experience this March with their own children. I am no exception. I may have shouted out loud when I first saw that Annie was coming to the National and dug out my old Annie doll that my grandmother bought for me when I saw Annie with her many years ago.
Annie is now the longest running show on Broadway, has been translated into 28 languages, and been performed in 24 countries. So, it's no surprise that so many Washingtonians are looking forward to seeing Annie again. Here, some local figures and residents share what makes Annie so special to them.
Lauren Landau, WAMU:
I remember seeing Annie on Broadway. It was one of the first shows I ever saw, and I can't even tell you how many times I listened to the soundtrack. In 7th grade, I played "Pepper" in my school play and had a blast.
Anne Davenport, PBS Newshour:
I grew up as "Annie" and have always loved this production--saw it on Broadway and other places. Couldn't see it enough times!

Katie Bianco / DC Modern Luxury:
Annie is one of my faves! When I was 5, I insisted on getting my annual portrait at Sears wearing my red Annie dress.
Keith Loria, Fairfax Times, DC Theatre Scene:
Annie was my first Broadway show when I was younger and saw the original--Andrea McArdle. This last year I had the chance to interview her, which was a big thrill.
Brooke Sabin, Where Magazine:
I remember seeing this production at the National. I became totally obsessed with the musical, learning every song by heart (and probably driving my poor parents crazy).
Amy Miller, Our Kids: "Annie is one of my all-time favorite musicals. I sang all the songs as a kid and still do as an adult with my kiddos today. I can't wait to see it at the National Theatre!"
Matt, NW DC:
This was the first Broadway show I saw, and I may or may not remember all the words to all the songs by heart.
Weather you have seen Annie before or not, having the opportunity to watch the show live on stage is an experience that will likely stay with you for the rest of your life. I am so looking forward to being able to share the show with my own children and am confident that they will love just as much everyone who has ever seen it does.
REAL LIFE. REAL NEWS. REAL VOICES.
Help us tell more of the stories that matter from voices that too often remain unheard.