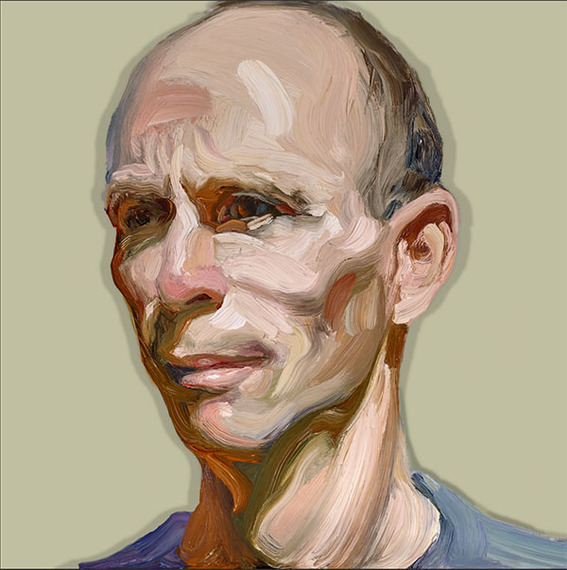 Vanity is the most popular of the seven deadly Sins. For eons, the only way to see oneself was by gazing into a pond of still water, then a metal mirror and, finally, through a drawing. In this age of ubiquitous digital images, the difference between selfies, photos, and portrait paintings becomes more apparent.
Experiencing oneself though the eyes of someone else is quite different from merely observing a reproduction of one's features. The photographer or painter must have empathy for their subject and their subject must feel comfortable when posing for the photographer or painter.
Ray Turner is a portrait artist who has studied the human head for decades and painted thousands of portraits. In 2007, Ray turned his attention to painting head paintings, oil-on-glass portraits executed in a naturalistic impressionist style. His Population Exhibition depicts residents of the cities in which the exhibition was displayed. Ray painted everyday people in a sketchy figurative style and exhibited his collections of portraits across the U.S.A. in museums such as Tacoma's Museum of Glass (2012), Huntington -- West Virginia (2013), Wichita -- Kansas (2013), Alexandria -- LA (2014), Peter Mendenhall Gallery (2014), Maryland (2015) and Bakersfield (2015).
I recently spent a morning with Ray in his studio, listening to fascinating stories about his long career and was struck by his ability to put me at ease, as well as anyone else that happened to drop by during our interview. Ray connects with the people he paints on a very personal level and his in-depth portraits show this quality of connection.
Until a few hundred years ago, no distinction was made between artists and craftsmen. The quality of a painting was then judged on the artist's ability to accurately depict the sitter, which included features, skin texture, hair, jewelry and clothes. No one could even imagine such a thing as an abstract interpretation of an object.
Portrait paintings of royalty, noblemen, historical characters and men of God have been produced for thousands of years, however, it is only within the past few hundred years that commoners have had their portraits painted. My great-great-great-grandfather, Gardener Petersen, was one of the first Danish civilians to have his portrait painted. My father, Dr. Carl Johan Ingomar Petersen, had his portrait painted by my grandmother who was the first Danish female artist to have her work displayed in galleries, and now, I have had the good fortune to have my portrait painted by the talented Ray Turner.

Upon seeing the final portrait I thought, "This is certainly not a Kodak moment." No forced smile gazed out from the canvas, but rather, a thoughtful gaze and an astonishing resemblance, executed in an honest and comprehensive way.
Family photo albums, computers, and smartphones are filled with memories that confirm their existence through photos and selfies. A painted portrait, however, becomes a far more deliberate personal statement for one's posterity. The experience and outcome will act as a conversation piece within one's family and also as a means of differentiation. Much like a diploma, trophy, or medal, a personal portrait creates a unique fingerprint in time showing that one has lived.
REAL LIFE. REAL NEWS. REAL VOICES.
Help us tell more of the stories that matter from voices that too often remain unheard.