As I'm getting older I'm realizing that a smart wardrobe is comprised of simple basics juxtaposed with accessories that add spark and interest. From tangled, heavy metal statement neckpieces to voluminous hot hued scarves to sculptural stilettos, I rely on my accessories to amplify my personal style. That having been said, I'm a firm believer in stockpiling comfortable and affordable foundation pieces -- layering tees, cardigans and curve-contouring jeans. Enter the Gap's Curvy Jeans in Saturated Dark Wash ($69.50). Although I'm petite, I've an hourglass figure and finding the perfect pair of jeans has been a daunting task. I adore the fit, cut and wash of these Gap jeans because they lengthen my silhouette, the high-rise backside provides ample coverage and the elastane lends a touch of stretch. Plus, no altering.
There's no stopping my affection for lavender. Bliss is hurling myself into a field of blooms. When I think of lavender I think of tendrils coiled around a slim finger, hot crusty bed with Irish butter, gossamer gowns and the feeling of being weightless and small. And this is what a covetable scent should do - evoke magical flights of fancy. From honeysuckle to nutmeg to amber and lilac, a scent should envelop you and take you on a journey. Perhaps I'm waxing poetic, but I do believe in the virtues of aromatherapy, how a candle or lotion can soothe and calm, and right now I'm pumping fists in the air while screaming: SERENITY NOW! My most revered lotion is Lavanila's Vanilla Lavender Body Butter ($25). Formulated with Spanish lavender, rose, violets, Madagascar vanilla, and a nourishing elixir of essential oils and shea butters, your skin will be left fragrant, clean and utterly moisturized.
While I'm guilty of having been seduced by haute scrubs in newfangled packaging -- salts from the Dead Sea and scarce oils from Indonesia, multi-syllabic blooms you never conceived having existed -- believe me when I say that there are always affordable dimestore luxe options when it comes to your DIY spa experience. I'm on a scrub-testing spree, and this morning I took the Bath and Body Works Aromatherapy Tranquil Mint ($16) for a proverbial test drive and it delivered! Suffused with muscle-soothing peppermint, and mind-awakening rosemary, oils, special moisturizing blend of sunflower, safflower, sweet almond and jojoba oils, and sweet exfoliating sugars, your skin will feel rejuvenated, clean, and cashmere-soft. And the price won't leave you poised with a jackhammer over your piggy bank. Believe me when I say that I nearly transformed into a Kafka-esque grape when lathering on Aveda's Caribbean Therapy Body Scrub ($39.50). A delicious combination of salt and Caribbean cane sugar provides deep exfoliation, while an inviting mix of coconut, avocado, and passion fruit oils soften and moisturize your skin. The hint of lime perfumes the steamy shower, inspiring images of bronzed bodies on an island getaway. This is an epic tub of moisture, one worth procuring. Molton Brown's Warming Eucalyptus & Ginger Body Scrub ($48) provides ultimate rejuvenation for the parched, flaky skin. The fusion of pure eucalyptus oil, root ginger and sea salts sloughs off dead skin cells while leaving your skin uber-clean, warm and fresh. The scent is astringent, strong and intoxicating. You will want this in your hot shower.
Over the past year I've fallen deeply in love ... with my hair. After years of Revlon relaxers, flat irons, product overload, relationships where boyfriends had never seen me with wet hair, and the torture I felt when I couldn't access my hair stylist, I finally let this perception of beauty, which involved pin-straight coiffed hair, go. I've embraced the curl. Two products that have enabled me to maintain soft, frizz-free and defined curls are Sam Brocato's Curlkarma Curl Energizing Cream ($12.25) and Hair Rules' Curly Whip ($20). Curly Whip is a must-have item if you've wiry, curly, ropy, or spiral hair. The protein-enriched formula ensures frizz-free locks, without the dreaded "crunch" factor. Whip leaves my curls shiny, articulated and full with sensational body. Although some may suffer sticker shock, I assure you that a small portion goes a long way and the product is worthy of the investment.
However, if you're craving an equally efficacious product that won't pound the proverbial piggy, I adore Sam Brocato's Curlkarma. Free of the ubiquitous Soho pretension, Brocato operates a salon equipped with incredible, hair-altering products and top-notch stylists. I was so floored by my experience at the salon, I've vowed to patron the spot as a repeat customer. Curlkarma transforms lifeless, droopy waves into perfectly defined, natural-looking swirls. Lightweight formula leaves hair feeling super soft and full of shine.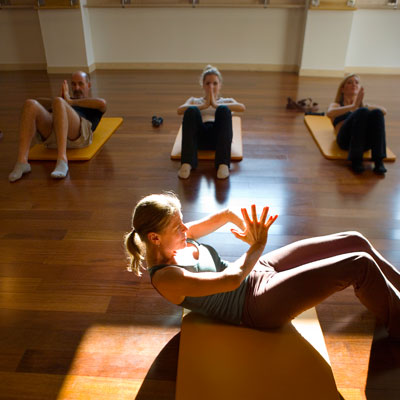 There was a time when I couldn't imagine prying myself away from a yoga mat. At the time I had a death grip, and I was committed to an alignment-based practice because I felt that yoga was the only way I could turn inward; these sequence of movements had to save my life. For ninety minutes, I would journey to the sublime, challenging myself to breathe through the dark spaces. However, for me, the New York yoga scene became catty, cliquish and haughty and I grew distasteful of the scene, although I never stopped loving the practice, and how clean and calm I felt after, regardless of the noise in the studio or the craziness in my head. But I'm particular and an anatomical arm imbalance requires me to practice yoga that is strict in terms of alignment. So when Core Fusion founder, and former Lotte Berke Method practitioner, Fred DeVito, invited me to sample a class my interest was piqued. Core Fusion at Exhale Spa is a tightly-focused class that fuses the disciplines of core conditioning, Pilates, the Lotte Berk Method, interval cardio training, and yoga. The fast-pace keeps you moving, but the attention to proper alignment, the holistic approach to stretching, resting and a final quiet (savasana) reminded me of how much I loved yoga, and how part of me, now that I'm in this wonderful place, wants to return.
From Fred's kinetic, nurturing energy to the seemingly endless plies on the barre to the grueling ab and arm work, I felt every inch of my body burning and I was challenged in ways I hadn't been since my yoga practice. Although the classes are a princely sum ($35/class, with monthly rates from $150 to $265), if you can afford it the classes are worth the investment. Also worth checking out are the DVDs, but I always recommend taking a few classes to learn proper form before the DIY approach.