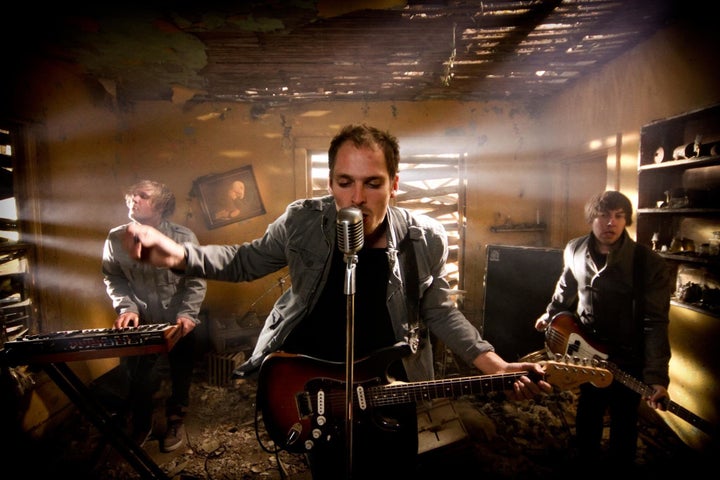 With their infectious melodies and emotionally-charged lyrics, Denver indie-rock fixtures The Epilogues are poised for stardom with their new album "Cinematics" coming out on Denver-based Greater Than Collective in November.
The Huffington Post caught up with The Epilogues and chatted with them about their upcoming album, making music without a major label and their favorite spots to hit in Denver when they aren't on tour.
Who is in the band and who plays what?
Chris Heckman – Vocals/Guitar
Nathaniel Hammond – Keyboards/Synth
Jeff Swoboda – Bass
Jason Hoke – Drums

How long have you guys been playing as The Epilogues?
With our current lineup, it has been about six years.

How did the band get its start?
Chris and Nate grew up together and have been playing together since high school. Jason joined the band in 2006, and then Jeff was brought in in 2007.

What's it like being a musician in Denver?
Denver has an incredible music scene. People really love their music here. We've played all over the country, and there are very few markets that compare to Denver. The talent here is ridiculous, and the artists are so supportive of one another. It really feels like a brotherhood.

Why "The Epilogues" as a band name? How did it come about?
We were originally just called "Epilogue," which was taken from the Death Cab for Cutie song, "Company Calls Epilogue." It turned out that another band had already trademarked the name "Epilogue," so this was our solution. Additionally, we all come from very different backgrounds. Our name highlights the way that we've kind of formed this singular unit that has been shaped by all of our individual stories.

How did you guys arrive at your sound?
When the band first started out, we were really into bands like Muse and The Killers. So we spent the first year or so trying to be those bands. I don't think that there was ever an exact moment, but as we became better musicians and learned how to really write together, we began to develop our sound.

Who would you cite as some of your biggest musical influences?
As far as other artists, Radiohead is a big one. Also, The Smashing Pumpkins, The Cure, Brand New, Nine Inch Nails, Circa Survive, Mew, and M83 just to name a few that come to mind. We've also been hugely influenced by movie scores (particularly John Murphy), and also video game scores.

How does the songwriting process work for you guys?
It all starts with Chris. When he starts writing, he records pretty much everything he thinks of. Most of the time it results in nonsense, but anytime he gets something he likes, he'll bring it to the band and we'll all piece the rest of it together.

When you set out to make your new album do you have a theme in mind, or perhaps a certain sound/feeling/inspiration you want to capture on record?
When we began writing this album, we used a lot of synths to write. As a result, most of the hooks sounded like something from a film score. I think the idea for "Cinematics" came from that. We really liked how things were sounding, so we embraced those tones and sort of built the album around that sound and that theme.

How did the recording of "Cinematics" go? And what did you want to do on "Cinematics" that you didn't do on "The Beautiful, The Terrifying??
The recording process stretched out a little over two years. After our label deal fell through, we started recording on our own, but we found ourselves bouncing around studios, tracking only a song at a time. To be honest, it was really hard to stay focused. I think we were averaging maybe a track a month and, frankly, the album began to sound like a bunch of arbitrary singles thrown together, rather than sounding like a cohesive unit. After we signed with Greater Than, we ended up scrapping a number of tracks, and writing new songs specifically to bring the album together. This album represents a very trying period in our lives, and I think that there's a depth to it that you don't see a ton of in a lot of music today. Chris opened up on this album in a way that I don't really know if he's actually even comfortable with yet.

How did you hook up with Greater Than Collective and how has that partnership worked out?
We've worked with Greater Than in the past, for SxSW and also a few benefit shows. Although during that time, we were in contract negotiations with Sony Music Group with one of their imprint labels. We were about a week away from signing the deal when Sony replaced one of their higher-ups, and he turned around and shut down all the imprint labels, thus nullifying about eight months of work on our end. We essentially had to start all over, and that's when Greater Than stepped in. We met with them a couple of times and decided to work together. It's been great. We have such similar mindsets and work ethic, so it's really been a perfect marriage.

You recently had your video music video "The Fallout" on both MTV and VH1 websites -- how was the response?
The response was crazy. I believe that after the first 24 hours of being on MTV.com, we were the third most shared video on the site. Pretty unbelievable.

Who did you work with on "The Fallout" music video and tell us about the making of that video?
We worked with a director named Dillon Novak, who also shot our music video for "Hunting Season." We also flew out Greg Ephraim (The Gaslight Anthem, The Sounds, New Found Glory) to be the Director of Cinematography. We had a crew of about 15, and we filmed it in Ordway, CO over a two-day period. The band actually became really sick after filming because it turned out that the old house that we shot in was actually covered in black mold. Also, that poor actress (Valeri Kimbro) had to film her outdoor scenes in a skirt, when it was about negative 10 degrees, so I'm sure she was probably sick for a few days as well.

When you're back from tour, where are the must-eat, must-drink spots in Denver you look forward to going to?
Obviously, Illegal Pete's. Even before we signed with Pete Turner and The Greater Than Collective, you could find us a at Illegal Pete's probably three or four times a week. We do a lot of drinking at The Stadium Inn. Other than those, we're also at Sputnik and El Diablo a lot. Oh! And Benny's. Benny's is amazing. As I'm reading this back, I've come to realize that apparently all we eat is burritos.

What's next for The Epilogues?
We have the album release show for Denver on October 6, and then it will be released nationally on November 6. That has really been our main focus the past few months, but we're starting to put some plans together to get on the road at the start of the new year.
LISTEN to The Epilogues' last album "The Beautiful, The Terrifying" below:
Calling all HuffPost superfans!
Sign up for membership to become a founding member and help shape HuffPost's next chapter
BEFORE YOU GO
PHOTO GALLERY
The Epilogues