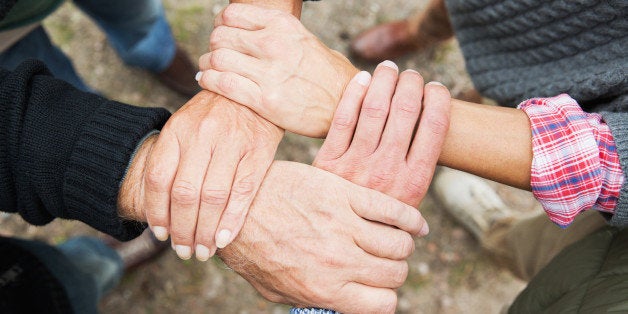 In May of 1974, New York Representatives Bella Abzug and Ed Koch introduced the "Equality Act" into Congress. Largely viewed as the first "gay rights" bill ever to be introduced at the federal level, the Equality Act would have barred discrimination against gays and lesbians in employment, housing and public accommodations. It's unfortunately a bittersweet anniversary; 40 years later -- in a year when we've seen the first openly gay player drafted to the NFL and same-sex marriage bans are falling across the country on a weekly basis -- we still lack federal anti-discrimination protections for LGBTQ people.
Of course, there has been some recent progress in the form of the Employment Non-Discrimination Act (ENDA). On November 7, 2013, the United State Senate passed ENDA, 64-32. This vote marks the first time since ENDA was first introduced into Congress 20 years ago that the bill successfully passed through the Senate, and through either chamber with provisions inclusive of transgender workers. The Senate vote also garnered impressive bipartisan support, with ten Republicans joining 54 Democrats in supporting the legislation.
The bill's chances in the Republican-controlled House, however, are very dim, meaning our 40-year fight for federal workplace protections may still be far from over. In a recent interview, House Speaker John Boehner stated he would not bring ENDA to a vote because such legislation is "unnecessary," claiming "people are already protected in the workplace." One not need look far into the research to disprove Speaker Boenher's claim. One recent study found that 21 percent of LGBT workers reported being unfairly treated in the workplace, or discriminated against in hiring, pay or promotions. The statistics surrounding transgender workers alone are even more troubling. According to a recent survey, 90 percent of transgender individuals have reported experiencing some form of discrimination or harassment in the workplace. This type of discrimination is essentially legal in most of the country. Today, 29 states still lack protections for workers based on sexual orientation, and 32 do so based on gender identity.
So what are the chances of bringing this 40-year fight for workplace protections to a close this year? Not great, with Speaker Boehner's refusal to bring ENDA to a vote. But all hope is not lost, either. Several LGBTQ groups, most notably Freedom to Work, are pursuing a discharge petition; if 218 signatures are collected from representatives in the House, ENDA will come to a vote, even over Speaker Boehner's objections. Currently, ENDA has 203 House sponsors, including seven Republicans, meaning at least 15 additional Representatives will need to voice support for the legislation if ENDA is to proceed.
Barring a Democratic takeover of the House this November, an extremely unlikely event, LGBTQ advocates will need to work towards making it politically safe for House Republicans to support ENDA if the legislation is to pass in the short term. This will prove no easy task. Currently, each of ENDA's seven Republican co-sponsors hail from moderate districts. Potential Republican supporters in more conservative districts could face a backlash from rightwing conservative groups if they voice support for ENDA. The Family Research Council, for example, has promised to work towards "produc[ing] one of the most conservative Houses in history" by unseating Republicans viewed as too moderate in the midterm elections. The Heritage Action Fund also plans to reprimand any lawmaker who supports ENDA by downgrading them on the group's influential legislative scorecard.
Support from powerful members of the Republican Party may provide some cover for potential ENDA supporters among House Republicans. Paul Singer, a Republican billionaire and hedge fund manager, recently founded the American Unity PAC, which devotes itself to "promoting and protection inclusive republicans." Singer recently announced plans to dedicate $375,000 towards lobbying House Republicans to support ENDA. Additionally, an 11-member bipartisan coalition of pro-LGBTQ groups, called Americans for Workplace Opportunity, which includes American Unity PAC, has formed to lobby House Republicans to support the measure. The group is targeting 48 House Republicans who are the most likely to support ENDA, and are conducting local organizing efforts in each member's district to shore up political support.
Any support from House Republicans, however, may come at the considerable cost of additional concessions in ENDA for religious businesses and individuals. Republicans, in fact, have already managed to extract significant exemptions in the recent version of ENDA passed by the Senate. These exemptions extend not only to houses of worship, but also to religiously affiliated hospitals and universities even though these institutions do not operate with a religious function.
Instead of entertaining further exemptions, LGBTQ advocates should look to best practices from the successful campaign to overturn the ban on gay men, lesbians, and bisexuals from serving openly in the military. As a part of this effort, LGBTQ advocates employed a strategic media campaign that publicized the stories of service members who experienced discrimination as a result of the ban. This strategy propelled individuals like Dan Choi, who was expelled from the military after publicly coming out, into the national spotlight, helping highlight the discriminatory implications of the ban for the American public, as well as lawmakers in Congress.
A similar strategy would benefit efforts to pass ENDA, and attract additional cosponsors, but has yet to be implemented in a large-scale way. For example, multiple news outlets reported on the story of Kylar Broadus, who shared his experience in front of a Senate Committee in 2012 of being "constructively discharged" from his job at a financial institution after announcing his gender transition. (Broadus also made history that day by becoming the first openly transgender individual to testify before the Senate). A media campaign featuring individuals like Broadus -- who have experienced workplace discrimination firsthand -- will help humanize the problem for the American public, and help influence potential ENDA holdouts in Congress.
The recent Senate passage of ENDA marks the closest we've come to achieving workplace protections for LGBTQ individuals since the fight began 40-years ago with the introduction of the Equality Act. However, whether ENDA's passage can finally be secured in the near future, without significant amendments, will depend on the ability of LGBTQ advocates, such as those involved in the Americans for Workplace Opportunity coalition, to outmaneuver rightwing opponents with robust organizing and pro-LGBTQ messaging frames.
David Dodge is a LGBTQ advocate and writer living in New York City. A forthcoming article with Political Research Associates will discuss the various messaging frames used by the Right in its 40-year fight to prevent passage of federal workplace protections. You can read more of his writing at www.bydaviddodge.com and follow him on twitter @dodged01
Popular in the Community