This is a story about a very unusual pet.
Some background first. A month ago 500 people were fans on Facebook of our brand new book, Bitches on a Budget . Today we have over 43,000 wildly enthusiastic followers and the numbers grow by the minute.
These fans are cool, funny, candid, supportive, interactive, and mostly keep it clean (not completely, what fun would that be?). Women with style who know that living a great life is about more than money and things. Our fans are women with strong opinions, give back to their communities and, best of all, have a great sense of humor.
Anyway, we're wild devotees of pets (we bitches love our bitches), and we just ran a contest asking for our fans to send in pictures of their favorite little creatures. After all, animals give us so much joy with so little expense.
We were delighted to receive dozens of contest entries from people with fantastic stories of mutual devotion (and unbelievably cute pictures). But there was one entrant who caught our attention, whose tribute to her pet named Horatio is so--uh, unique--we needed to share it with an even wider audience.
At first when B.G. Owens told us about her pet we thought she was joking. Nothing can be farther from the truth. A correspondence with Horatio's charming owner showed us just how serious she is.
We want to introduce the world to B.G.'s pet snail Horatio: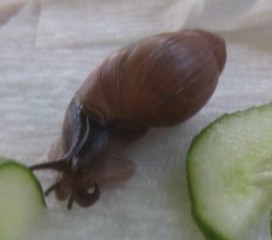 According to B.G. she found him loafing in her garden and is in negotiation with her husband to keep him off the dinner table. B.G. writes, "I have several pets but I really like my pet snail, Horatio. He's easy to keep. He eats very little. He doesn't make a lot of noise or pee on the carpet or tear up the furniture. I never have to walk him. He just needs a moist environment, some cucumber every now and then, and a little piece of cuttle bone or chalk for calcium. Horatio is a large snail and his shell somewhat resembles a piece of poo...but he was free. He is a wild snail (as in not domestic, as opposed to party animal). I captured him in my garden. There wasn't much of a struggle."
It's left us wondering, could Horatio be the beginning of a fashion trend in pets? Think about it: what could be a better pet for a gal on a budget? They're happy with a slice of cucumber. They require no expensive trips to the vet. How pricy can tiny Prada snail carriers and Juicy Couture for mollusks be? And, unlike the Chihuahua fad that resulted in a rescue airlift out of the state of California, when people tire of their snails there's always Mario Batali cookware.