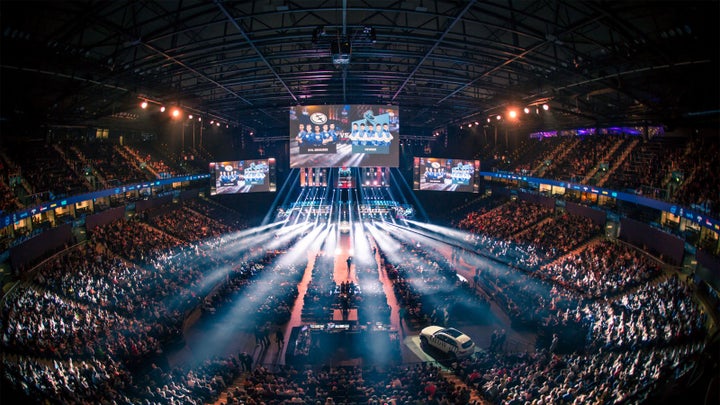 By Paul Brewer, Vice President of Global Sponsorships at ESL
The secret is out. Competitive gaming is both the world's fastest growing sport and form of entertainment. However, esports, as it is now known, is complicated and it is important for brands and agencies to understand the space before crashing the party.
Those among us who have never picked up a game controller may scoff, but the reality is clear for those who are paying attention to the numbers. SuperData reported that today, more people watch video games across platforms like Twitch, Facebook, and YouTube than consume content on HBO, Netflix, ESPN, and Hulu, combined. And it's not just viewership — the Intel® Extreme Masters World Championship 2017, one of the most renowned gaming circuits globally, had more than 173,000 attendees — it may not be a complete apples-to-apples comparison, but that's over 100,000 more butts-in-seats than the most recent Super Bowl. By all indications, esports is here to stay.
The Intel® Extreme Masters World Championship 2017, one of the most renowned gaming circuits globally, had more than 173,000 attendees — it may not be a complete apples-to-apples comparison, but that's over 100,000 more butts-in-seats than the most recent Super Bowl.
This is a new generation of professional athletes — individuals that may have never stepped foot onto a field or court, but they have travelled the world, signed endorsement deals, filled stadiums with thousands of fans, and connected, in stardom, with multi-millions internationally. As much as naysayers would like to discount the rise of the professional gamer as not being a true athlete, the NBA, the Olympics, U.S. colleges, and sports organizations across the globe say otherwise.
Advertisers and investors are finally taking notice of esports' access to key audiences, with contributions accounting for 85% of the worldwide market — which, by the way, reached $1.5 billion in 2017, according to SuperData. However, many marketers are still failing to see the enormous value of this large and growing platform. The "gamer" stereotype is outdated and this audience is one that brands should covet. According to Nielsen's latest Total Audience Report, average household income for esports fans is nearly $65,000, which is greater than that of some major sports leagues, including NASCAR and MLS. This consumer is educated, employed, incredibly savvy, and has no geographical limitations.
Additionally, very much like NASCAR fans, the esports consumer is highly supportive of brand activations and partnerships within the space — they understand that sponsorship support will grow and fuel the ecosystem. In fact, Nielsen Esports found that less than 10% of fans have a negative response to brand involvement in esports events and streams.
So, who has RSVP'd to the party? Blue chip brands; Fortune 500 brands; and, most interestingly, luxury brands. The brands and advertisers truly making headway in esports, like Mercedes, Intel, and Gillette, are steadfastly ignoring foregoing misconceptions, and through the process, learning how to properly navigate the space. Here's the breakdown: what are the tenets for brands to get it right in esports?
Choose a Lane. Successful brands don't say, "we know we need to be in esports." Esports is a broad umbrella which encompasses different sub-cultures, demographics, and psychographics — mostly separated by game title. That being said, do your homework, strategize, determine an identity, and then associate with a specific type of content. Fun fact: brands which focus on audience profiles that align with their identity create the most meaningful integrations. T-Mobile with Overwatch and Gillette with League of Legends are prime examples of brands which have done this correctly.
Don't Be Afraid. Stop hesitating. Don't fear "getting it wrong" or lacking authenticity. Admittedly, there is very clear line between endemic brands like Intel or HyperX and non-endemic brands like Pepsi and Geico. What is not clear, and, actually, proves to be nothing more than a myth, is that a brand's "inauthenticity" will drive rejection. Turtle Wax, a brand which has absolutely nothing to do with competitive gaming, has paved an organic path into the space by way of their team partnership and content creation, and continues to reside naturally. How'd they do it? The key is to work closely with esports experts to activate in a way that is appropriate for the property, audience, and game. So, be willing to learn and experiment.
Be Present. An esports-targeted media buy… those don't work. This is the proverbial wallflower of advertising in esports. The brands finding the most success step boldly by engaging fans in a way that is comprehensive and accessible. For instance, Pringles' activation (and overall presence) around a recent esports event in Hamburg, Germany is a perfect model for how to show up and connect with the audience. The combination of a social media ticket raffle, custom branded Pringles cans for players, strategic product placement, and an interactive area onsite became a very effective and well-received marketing mix.
Work with the Experts. Some marketers hold back due to the perception that esports is still a nascent and immature industry — the "wild west." Not anymore. Plainly stated, the esports ecosystem is made up of many publishers, teams, leagues, events, and media platforms – but beyond the noise, there are only a small handful of veterans who can shine a light on where the real, scalable marketing opportunities are and help guide marketers to the best path of participation. The most successful brands work closely with those who truly understand the space so that they can test and hone their approach.
As we begin 2018, it's clear that brands who seek scale and engagement with some of the most passionate sports fans on the planet need to join the esports party. Because it's just getting started. And no one is going home anytime soon.
Popular in the Community