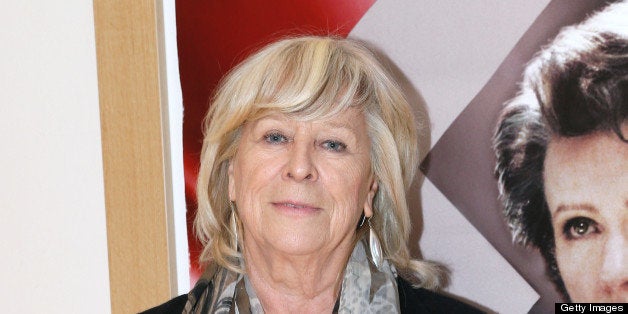 In her nearly 40-year career, German writer-director Margarethe von Trotta has tackled some challenging subjects. With The Lost Honour of Katharina Blum (a 1975 movie she co-directed with her then-husband Volker Schlöndorff, The Tin Drum) and Marianne and Juliane (1981), she examined terrorism decades before other Western filmmakers dealt with it. Her biopic of 12th century German playwright-scientist-musician-theologian-nun Hildegard von Bingen, Vision (2009) wrestled with sexism, religion and simple jealousy, and Rosa Luxemburg (1986) examined the life of the Polish-German revolutionary known as "Bloody Rosa."
Both of those movies and several others that von Trotta has directed starred Barbara Sukowa, who like von Trotta, acted in movies by Rainer Werner Fassbinder (the director of Lola, Ali: Fear Eats the Soul and Berlin Alexanderplatz). The two women have teamed up again for Hannah Arendt, which examines how the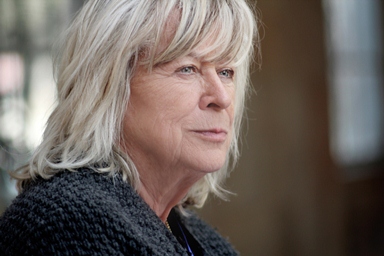 German-born philosopher became reviled for a series of articles she wrote about the trial of high-ranking Nazi Adolf Eichmann. The movie is currently playing at the Film Forum in New York.
Because she was a Jew who had to flee Germany when the Nazis rose to power, Arendt asked The New Yorker to let her cover Eichmann's trial in Jerusalem because she wanted to see the monster who was responsible for the deaths of millions and who might have killed her and her non-Jewish husband Heinrich Blücher if a visa to America hadn't come through in time.
The man she saw behind a glass booth, however, seemed so eerily ordinary and even mediocre (his sentences were littered with bureaucratic mumbo-jumbo) that she coined the phrase "the banality of evil" to describe him.
Because many people thought Arendt was soft-peddling Eichmann's crimes, close friends abandoned her, and legions of other writers pilloried her without taking the effort to read what she actually wrote (it was, after all the "banality of evil," not the "banality of the somewhat mean").
Arendt's complicated ideas wouldn't have worked well on Twitter.
Von Trotta's film vividly captures the impact Arendt's work had in both the United States and Israel and how Arendt's stubborn beliefs could be both a weakness and a strength. In a telephone conversation conducted the day before the movie debuted in the Big Apple (I've done some editing and abridging), von Trotta explained the obstacles toward getting a film about Arendt made and managed to get her point across despite a faulty connection.
"In between you are always breaking down with the sound, so I have to get to my imagination to understand what you are asking," she politely lamented. Somehow her dedication to her subject as well as her imagination came through the line.
You've made a movie that dwells on a woman who dealt with ideas and whose work can really only be experienced in print, but the film doesn't feel excessively talky or un-cinematic. How do you think you achieved this?
[Laughs] I don't know. It's all in instinct.
I was very afraid in the beginning. I was hesitating to make a film because it was not my idea. It was the idea of a friend of mine who is in the literary business. People who are writing can't understand the problem for a filmmaker to put thinking into images. But then I agreed to do it and to meet persons who knew her.
In New York, we had the chance to get in touch with four or five people who knew her personally and then to read all the correspondence -- not only her intellectual papers you had to read. In these times, people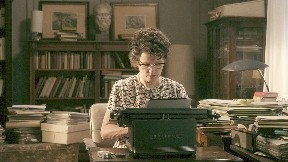 were still writing letters, real letters. Today, it's only e-mail. I don't think you can get a real description out of a person from these e-mails.
She wrote to the editors (of The New Yorker), to Mary McCarthy (the writer of The Group and Arendt's close friend, played by Janet McTeer) and to her husband and Martin Heidegger and to Kurt Blumenfeld (played by Michael Degen). To all these persons, she wrote in another way and in another style, so you really get a feeling for the whole complexity of a person.
Today, Eichmann in Jerusalem is taught in schools, but at the time it was published, it was incredibly controversial. How aware were you of how vitriolic some of the responses were?
Oh, yes. That was even one of the reasons to concentrate on this period. At the first moment of the film, the title was The Controversy instead of Hannah Arendt, so we were very much aware of it. That's Greek drama, if you want. I said that because the director of the Jewish film festival in Brussels, he made a speech before the film, and he said, "That's Greek drama!"
It's not only invisible thinking. It starts with a person (Adolf Eichmann) in a glass booth whom you can observe much as she did. You can come up with some of the same impressions and some of the same solutions that Hannah Arendt does. Mainly for a German person, you can understand how he is thinking, that he's using only clichés and bureaucratic terms. He doesn't use any sentences that you think are his own. He can't even speak a sentence that is right grammatically. That is an impression you cannot have not knowing German.
But in a way for me this film is also a duel, no? And in between the thinker (Arendt) and the non-thinking person, which was Eichmann, there is another third man, Martin Heidegger (played in the film by Klaus Pohl), who is a master of thinking. And nevertheless, he falls into the trap of being attracted to National Socialism. That is my triangle, no?
She says in the end that thinking might protect us from catastrophe. But then, in the middle of the film, is Heidegger, who was not protected by his own capacity of thinking. So it's not so easy for me. I'm not showing it all, but I don't say, "He's right; She's right." Who is right?
And that is the original black-and-white footage of the Eichmann trial, correct?
Yes, American television filmed it all. You see her sitting in the pressroom. She's sitting more in the pressroom than in the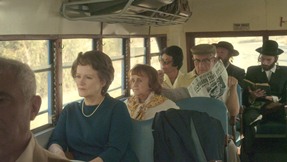 courtroom because in the pressroom you could smoke and not in the courtroom. There were all these televisions on the walls. You could look and follow the process in (real time) but in black-and-white.
I wanted to put the real material in. I chose to put her in the pressroom. I chose this opportunity, not to break my style. I couldn't set her in the trial room, and Eichmann is in front of her in black-and-white. That would really have been not acceptable, no?
From watching the trial footage, Eichmann is often the least interesting person on camera. That trial was very dramatic. People fainted on the witness stand, and people in the gallery are yelling at witnesses. Was it tough to go through all that footage and find what you needed for Hannah Arendt?
Before I even thought about a film about Hannah Arendt, I saw a documentary by an Israeli documentarian. The film was called The Specialist. That was only about the trial of Eichmann. So I was already very impressed with that film, so when (American screenwriter Pam Katz and I) wrote it, I said we have to see this film.
We already took out some excerpts we wanted to put into our film, but then 50 years after the trial, there were two exhibitions about Eichmann and the trial: one in Berlin and one in Paris. And there they had other excerpts of the trial. And there I found men who were fainting, and that was not in the documentary.
And then I said to a man in Germany who was looking through this trial footage because it was 260 hours. I couldn't look at all of it, but I said what I was looking for, and he took a look at it and came up with the other stuff.
Because (Arendt) is always writing from Jerusalem to her husband, it's so terrible to see all these people (Holocaust survivors) having to live out their own stories again (on the witness stand). It's (great) suffering for them. And why did they do it? These people had nothing to do with Eichmann, himself. Why did the prosecutor force them to go back to this part of their lives?
(Arendt) was suffering with the victims' testimony. So, to make that clear, that she was not without feeling--for so many people, she was arrogant, without feeling, to be cold and so on.
There you can see, she suffered with them. She wrote about this to her husband and to her editors.
The film is in at least three languages: English, German and Hebrew. What was it like working in three languages?
I wrote the script together with Pam Katz. And she's living in New York. She did all the dialogue in English, and I did the dialogue in German. We spoke about everything. We spoke every line, every moment of the film together. But the dialogue and all the wit in the English dialogue, that's coming from Pam Katz. She has a sort of wit like Woody Allen.
I couldn't have done it when Mary McCarthy or Hannah are speaking or when the woman in the New Yorker office who is always a little bit nasty. That is all Pam Katz. Every time you can laugh in the film, that's coming from her.
I was very pleased when we showed the film for the first time in Toronto at the Toronto International Film Festival, and there was a big cinema with a mass of people, and they laughed all the time, also. Oh, not all the time, but half the time. It was so wonderful to hear them laugh. It's not only a (her voice takes on a mock solemnity) very, very serious film.
It's a serious film. It's a serious subject, but it's also amusing to look at. Don't you think so?
Of course. To change the subject, we now have some information on Eichmann that Hannah Arendt didn't have access to. It's not that surprising that there's an interview with him where he's making these horribly anti-Semitic remarks.
That is out of another interview. It was with a Dutch Fascist who came after him while he was still hiding in Argentina.
He was an anti-Semite. At the time, to be a National Socialist without these beliefs would not be realistic.
(Eichmann) made up his part for this man. He thought this is a real Nazi coming up. He wanted to give himself importance again. Because he was hiding, nobody knew who he was. Nobody knew in Argentina that he was somebody from the bigger stuff (a high-ranking Nazi there). He was ambitious. That's for sure. He gave himself this importance in front of the other (Fascist), to finally have that role again. Hiding all the time was certainly not satisfying for him.
He made himself bigger than he was for this Nazi, and then he made himself smaller than he was for the trial.
You can really see where Arendt came up with the idea for the banality of evil in one of the clips you show because and when I first heard of Eichmann, I expected somebody who was intimidating and scary like Vincent Price or Conrad Veidt.
Yes! Yes! That was the imagination of so many people for a war criminal. And then you see this very mediocre bureaucrat sitting there, and you really can't think that' he's a monster.
I was terrified, but in a different way than I imagined. The way he said that he'd proceed if the Party told him to kill his dad, he'd do it.
And it was for me. When (Arendt) said, he's thoughtless. He couldn't really think on his own, and he really didn't know what he was really doing in a sort of moral question.
But when the judge, speaking in German with him, to make himself understood better, (the judge) said, "If there would have been more civic courage, it would have been different."
Eichmann responds, "Oh, yes! It would have been better if the civic courage could have been organized in a hierarchical way." To confront civic courage with hierarchy is so far away from thinking, that for me is proof that he really couldn't think.
This is one of several of your films that stars Barbara Sukowa. How is it you can have her play a 12-century nun in Vision and an exiled philosopher in the next?
She also played Rosa Luxemburg in the past in one of my films. And she played Marianne in Marianne and Juliane. She's able to play everything.
On one hand, she's a really talented actress. On the other hand, she's a real thinker. She's so intelligent, she can go into the depths of what she's telling that you can really believe that she's thinking it in the moment she is acting. And that is very exceptional for an actress.
You have her in an eight-minute scene at the end where's she's facing her accusers. That must have been challenging for her.
It was totally challenging. She was working on it months and months before she was shooting. To prepare herself for the part, she engaged a philosophy professor at Columbia University for three months to read with him Plato and Kant and Heidegger and so on.
I was also happy to hear that she still had her German accent...
But she speaks much better English than she does in the film. She's been living for 20 years in New York. She had to go back and listen to Hannah Arendt on YouTube. We decided to even put down the accent because the accent of Hannah Arendt is even worse than hers.
To get into this natural speaking, she spoke with this accent three months before we shot the film. She spoke with this accent to her husband, to her children, to her friends, and they were all horrified because this was so totally different from her normal speaking.
Then when we entered into the film, it was for her already natural to speak like this, to make you understand her preciseness of preparation.
In some ways, it's helpful that the movie is in German and English because in many ways language barriers made some of Arendt's ideas harder to understand.
Absolutely, and her accent was so like mine. It's like the Nazi accent. When you are German and you are speaking English, you have this accent. That might be unconsciously be a reason to be against her.
For me it was important to have both languages in the film. Normally, in Germany you have to dub everything in the film. You can't put it in the cinema with subtitles. Germans are not used to subtitles.
But this time, I insisted we have these two languages because I wanted to tell what it's like to be a stranger in a country and not be able to express yourself, if you are such an intelligent person like Hannah Arendt.
Coming to a country where she doesn't speak a word in the beginning. (She and her husband) came there in '41. They knew Greek and Latin and French because they passed through France. So she had to go like I went to Paris when I was 18 to learn French. She went to an American family to learn English there, and she was so much more intelligent than the people where she was staying.
You have to feel that as a spectator, too. Therefore, I insisted to have two languages.
And even when the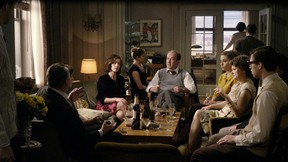 German intellectuals were with the Americans, when it came up to real pressure and they had to speak quickly to express their ideas, they forgot there were Americans around that couldn't speak German.
I met Lotte Köhler (played in the film by Julia Jentsch) who was a friend of Hannah Arendt and who was still alive when we were starting to make research, and she told us that.
Arendt was highly critical of the Nazi-appointed Jewish leaders or Judenrat, declaring that there would have been fewer deaths in the Holocaust if they hadn't been as cooperative with Eichmann and his peers. There's a new film (The Last of the Unjust) from the director of Shoah that just played at Cannes points out that some of these leaders did manage to save lives.
That was Claude Lanzmann. Her knowledge was based, not just on the trial but on Raul Hilberg's book, The Destruction of the European Jews.I don't know how much she knew herself, but her knowledge was based on this stuff.
That was the main controversy. On one hand because she portrayed Eichmann in a way that was different than everyone expected him to be, and on the other hand, it was because she criticized the Jewish leaders.
But as a philosopher, she thought it right, so she had to write it down. She couldn't, oh, hide it.
She said I am Jewish, so I have to speak about the Jews in this way. For her, that was the responsibility to write down what she thought it might be.
Are you surprised at the interest in the film, 50 years after Eichmann in Jerusalem was published in The New Yorker?
I was surprised a little bit with the interest because the public really went in to see the film. It was a really successful film. That for me was a real surprise in Germany and in France. To do the film and to get money for it, it was so long.
They told me, "Oh, it will flop, and it will not function. They will not want to see a film about a philosopher. Who wants to see that?" And then it worked, so that was a surprise.
You're dealing with a problem that hasn't gone away because if Adolf Eichmann was the only person who sent others to their death without regret, you wouldn't need to make the movie.
Exactly. He was the prototype.
Your movies also involve people who have strong but sometimes unpopular ideas. Not everyone thought Rosa Luxemburg was right.
For me she was the beginning of my voyage through the last century with my films. It started with Rosa Luxemburg and Rosenstrasse. That was about German non-Jewish women who were fighting for their Jewish husbands. They were really living in the dark times like Hannah Arendt puts it. And then Hannah Arendt is describing what happened in-between. It's a line in my films, to speak about the century. And then I did a film called The Promise or The Warriors, I talked about the start of the (Berlin) Wall till the ending of the Wall. So I describe a little bit of the whole century from the point of view of Germany.
Hannah Arendt is one of these stones, you could say, in this line. My aim is that people are going to the book shops and buying her books and going on reading her. That happened in Germany already with this film. In the book shops you can find all of what she was writing. That is for me a triumph because I wanted to prepare the road to go to her yourself and not only to see a movie but to continue. That is now happening also in France. That is my satisfaction.
In Germany, the editor told me that the book about Eichmann is now selling more than the moment it was published in the 60s because of the film. And that is fantastic.
The same happened when I did Rosa Luxemburg. All the sudden people started to read her speeches, her books, her letters and so on. They were interested in the person, but they were also interested in her intellectual heritage. I always say I'm the eternal student, and with every film I want to learn something.
Do you think that the fact that these films have been about women gives us a different perspective on how the previous century has progressed than if they had been about men?
I think so yes. But I'm a woman, so it's normal for me to speak about women. I'm not always conscious about it. I'm just dealing with it. It's in my situation. It's in my own life and my own experiences.
What was it like to shoot in Israel?
For me, it was fantastic because I had a wonderful Israeli producer David Silver, who liked the idea to make a film about Hannah Arendt very much, and then I got subsidies from the Israeli state. I got subsidies from the Jerusalem Film Fund, so I was surrounded by people who liked Hannah Arendt, and they were willing to co-produce.
The only (challenging) thing was all the extras I had in the courtroom and the pressroom. They were all Russian Jews. They didn't even speak Hebrew. They didn't speak English. They just spoke Russian, so we always had to have translators to make clear to them what I needed and what I wanted of them.
So, that was a little bit difficult for me.
You started out acting in Rainer Werner Fassbinder's films. What was it like to work with British actors like Janet McTeer or with American actors?
I had some Americans in my film who were living in Germany, but real American actors, we couldn't afford to pay them. So we had to take English actors who are playing Americans.
At the beginning, my producer wanted to have American actors, but we couldn't get one. They didn't even respond to us because they knew we can't pay so much money. That's probably not even the actors, but the agents (laughs).
That's true because in your earlier film Vision, we see Hildegard von Bingen making what would be regrettable decisions. Even though you've made movies about historical figures that people have larger than life images of, you present them as we say in English, "warts and all."
That is my interest in them. I don't want to make heroes out of them.
All photos © 2013 Zeitgeist Films. Used by permission.
Official Trailer for Hannah Arendt.
REAL LIFE. REAL NEWS. REAL VOICES.
Help us tell more of the stories that matter from voices that too often remain unheard.