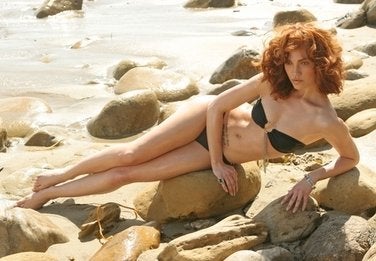 For those of you unfamiliar with the makeover episode of America's Next Top Model, know that it typically brings out tears, and I'm talking Niagara-like lacrimation. When Cycle 11's aired last week, the person who did the most crying over her new look was Elina Ivanova, a 19 year-old originally from Ukraine, to whom the show inexplicably gave the hair of the creepy, 'roided-out comic Carrot Top. Elina hated her fiery weave--which was heralded as a first in "Top Model History," undoubtedly for its aggressive fugginess--but she managed to move past that and win the swimsuit photo shoot in the end anyway.
As a rule, the previous week's winning shot goes up in the contestants' house the following week to motivate the other girls. Elina's photo was shown several times over the course of last night's episode, with some flattering quotes from the judges captioning it, one of which was "ethnically ambiguous." Tyra had told the aspiring model the week before that that was how the new hair made Elina look, and she meant it as a compliment.
The phrase "ethnically ambiguous," however, strikes me as praise of the backhanded variety. Often, it's really just a gentrified way of saying "not too ethnic." Or "not too dark." Or "not too slanty-eyed." Or "not too flat-nosed." In August, before New York Fashism Week, a top casting director for the shows told Models.com that one thing the fashion world is embracing right now is precisely that imprecise look:

"Another thing this season is trying to discern from all the girls out there the ones that are ethnically ambiguous. Girls and boys that have faces that you can't just put in a certain place or race or geography. I think it's very helpful to see those types of faces in our conflicted world because you can see that we're still evolving as humans and they are the results of people willing to go beyond the socially constructed notions around race..."
And, you know, he may be onto something, in terms of "socially constructed notions around race," but what about our socially constructed notions around beauty? Is this latest notion of beauty a reflection of globalization and the world getting smaller or is it spin on an old idea, that "ethnic" faces are beautiful so long as they still conform somewhat to Western standards of beauty (i.e. so long as they still look kinda white)? If faces that can't be put in a certain place, race, or geography are desirable right now, what about faces like mine that most certainly can? Are they yesterday's news? Are they a bit played? Should I stow my face for a few seasons like all those smock dresses I wore in 2006 until ethnic specificity makes a comeback? This comment about ethnic ambiguity was cited as the second key fall trend; the first was "the tomboy look." Now it's easy to go out and get a bowl cut and boyfriend jeans and copy Katie Holmes, but it's not quite so simple to change your ethnic makeup. And since ethnic ambiguity is considered a "trend," that means it's only a matter of time before people tire of it and it will be replaced by something else. What will the "ethnically ambiguous" do then? Make themselves "more ethnic"? Play up the racial drag--kink that hair, chink that make-up? Go into hiding?
I think I have some space for the ethnically ambiguous in the back of my closet when that time comes, somewhere alongside all of my pointy-toed flats, boot-cut jeans, knee-length A-line skirts, those smock dresses that made me look preggo, and that pair of purple McQueen corset boots that would look killer on a pirate moonlighting as a hooker. In the meantime, it's here in the dark, cluttered recesses of my closet where you'll find me and my ethnically unambiguous face, as we wait for everything old to become new again.