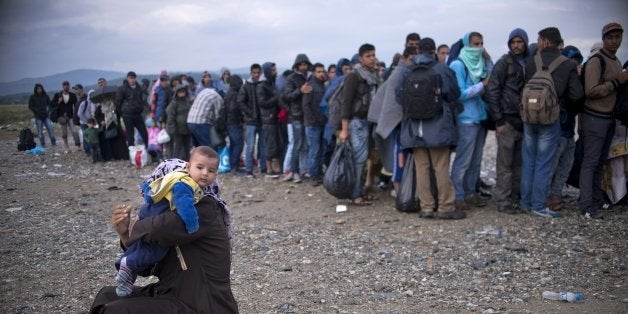 Considering that we are faced with a situation which is totally unprecedented since the Second World War,
Considering that more than two million Syrian refugees are now based in Turkey, many of them in dire conditions pushing them to flee to Europe, including 600,000 children most of whom have no schooling,
Considering that 50% of the migrants are not fleeing from war but from extreme poverty,
Considering that certain countries of the European Union are coming under overwhelming pressure, notably Italy, Greece, Hungary and Austria,
We call on the states of the European Union to come to an agreement and take action. An adequate response is urgent if we want to prevent a dangerous rise in racism and xenophobia.
Considering that in 2014 eleven European countries (France, Austria, Germany, Italy, Spain, Belgium, Portugal, Greece, Slovakia, Estonia and Slovenia) accepted the principle of a microscopic solidarity contribution on the financial transactions.
We appeal to the states of the European Union to set up a tiny tax between financial institutions charging 0.1% against the exchange of shares and bonds and 0.01% across derivative contracts, if just one of the financial institutions resides in a member state of the EU FTT. According to the European Commission, if the 28 countries of the European Union agree to implement this tax, it would raise 59 billion euros.
We call on the European Union to allocate: - 25% of the proceeds of this tax to countries receiving migrants, in the form of financial and technical assistance, as proposed by the OECD - 50% of the proceeds of the tax to developing countries in the form of Global Public Goods (food, drinking water, health care, sanitation and education).
This mechanism of innovative financing is the only solution making it possible to
1) receive political refugees with dignity and integrate them into our societies, in conformity with European values and in conformity with international law to which all European countries have subscribed
2) to avoid the enormous wave of migration which is looming because of the widening gap between the rich and the poor at a time when communication is more and more globalized.
Philippe Douste-Blazy, Under-Secretary-General of the United Nations, and Giuseppina Maria Nicolini, Mayor of Lampedusa
Calling all HuffPost superfans!
Sign up for membership to become a founding member and help shape HuffPost's next chapter