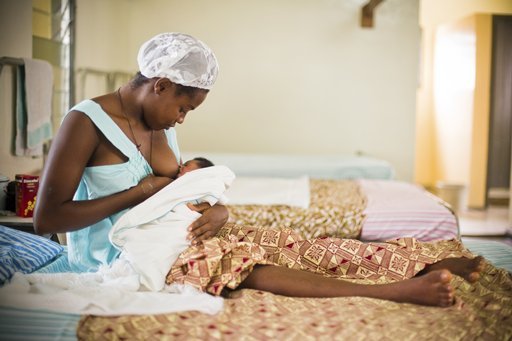 © Bill & Melinda Gates Foundation/Olivier Asselin
We have known for many years that breastfeeding changes lives for the better. So what is the latest evidence on breastfeeding telling us? According to a series of papers released on January 28th in The Lancet, breastfeeding has substantial benefits for all mothers, newborns, and children everywhere, and may produce economic gains for countries across all income levels. Increasing optimal breastfeeding (including early initiation, exclusive breastfeeding for six months and continued breastfeeding) could save nearly 820,000 lives - 87 percent of which are infants under six months of age - and add hundreds of billions of dollars to the global economy each year.
Not only does exclusive breastfeeding reduce deaths from pneumonia and diarrheal diseases in infants, it could prevent nearly half of all diarrhea episodes and one-third of all childhood respiratory infections in low- and middle-income countries. The protective effect also extends to wealthier nations, with a growing body of evidence supporting the health benefits of optimal breastfeeding in reducing obesity and the risks of developing Type 1 diabetes.

The Series shares new results on the economic benefits of breastfeeding and notes a correlation between breastfeeding and higher performance on intelligence tests among children and adolescents. We also now have a better understanding of breastfeeding's significant impact in protecting women from certain types of cancer, including breast and ovarian, and how the duration a woman breastfeeds throughout her lifetime influences risk. Studies show that for each year a mother breastfeeds, her risk of developing invasive breast cancer decreases by six percent. With improved breastfeeding practices, annual deaths attributed to breast cancer could decrease by 40,000 - a halving of the current number.
Though I am heartened by these findings and their profound significance, our work is still ahead of us. In the past 20 years, global rates of breastfeeding have not increased in spite of solid evidence of its benefits on survival and health. Most countries continue to collectively fall short of the global target of breastfeeding for 50 percent of all infants. The Series estimates that slightly less than 40 percent of infants in low- and middle-income countries are exclusively breastfed for six months - the recommended period for healthy development - and even fewer are breastfed in high-income countries.
Now that we have grasped the importance of breastfeeding across income levels in real-world terms, many might ask "so what?" How will we reverse this trend given our poor track record and lack of leadership to date in translating evidence on breastfeeding into action globally? Rapid progress is possible, but it demands that breastfeeding is protected and supported. The Series recommends several social, legislative, and policy actions that tackle the sociocultural, health services, family, and workplace barriers that continue to hinder optimal breastfeeding. These actions include behavior change communications, counseling and support, and lactation management.
It takes a village. These actions require the collaboration between the health and nutrition communities. We know the health and well-being of mothers and their children are intrinsically linked. Everyone stands to benefit when mothers and children have adequate access to integrated care which addresses reproductive, maternal, newborn, child and adolescent health. So we must increase our commitment to invest in scaling up proven solutions that save millions of women's and children's lives: access to skilled birth attendants, breastfeeding counselling, education and lactation support and childhood immunizations - breastfeeding being one of the most effective "immunizations" that mothers can give their newborns. In doing so, we may ultimately prevent the deaths of 147 million children (including 60 million newborns), 32 million stillbirths and 5 million women.
If we continue to prioritize investments and political will to support women's and children's health, we will be more likely to achieve the Global Strategy for Women's, Children's and Adolescents' Health and achieve the health targets set forth in the Sustainable Development Goals. We will also be in a better position to engender the change necessary for a more prosperous and sustainable future for all.
Related
Popular in the Community