I watched UFC 194 for the same reason that everyone else did, to see Conor McGregor take the crown from Jose Aldo, that he boldly predicted he would get. The Notorious One was the draw that night, but as it inched toward pay-per-view time I flipped on the TV for the preliminary bouts on Fox and found myself watching Tecia Torres, aka the Tiny Tornado, fighting Jocelyn Jones-Lybarger, who was clearly the much larger woman in this strawweight bout. At first glance I thought the little fighter had no chance. I mean she was tiny.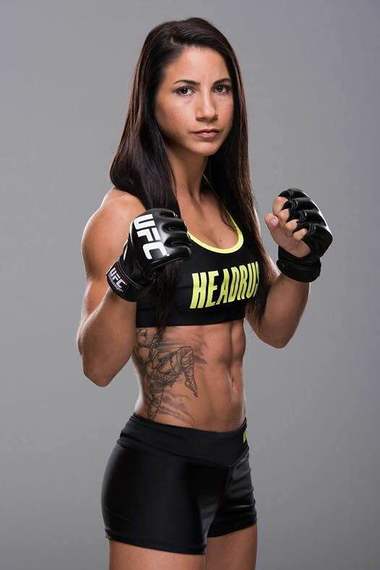 In fact, Tecia Torres stands at about 5-foot-1, if that, but she is a flurry of pure force and motion as I found out. The first two rounds were back and forth, with neither fighter asserting herself. The Tiny Tornado got the better of Jones-Lybarger, who took the fight on short notice, with little flurries here and there, but she wasn't overwhelming her. But then in the third round Tecia clicked it up a notch and the full primal assault of the Tiny Tornado was unleashed. As I watched mesmerized I thought to myself, who was this Tasmanian Devil like whirling dervish of a fighter?
Tecia Torres is a 26-year-old Massachusetts born fighter who pretty much grew up in Florida and started her martial arts journey at the tender young age of five, learning karate and tai kwon do at a local academy, building the foundation that her MMA skill set rests upon. She started fighting professionally in 2012 and after a successful run in Invictus, she was one of the first fighters signed by Dana White to launch the new women's strawweight division that featured prominently on season 20 of The Ultimate Fighter. Tecia hasn't disappointed. Keeping her record unblemished and battling through the completion to earn a Top 5 ranking in her weight class.
I caught up with the American Top Team fighter by phone after her latest victory to talk about why she fights, how she got the nickname the Tiny Tornado, her evolution as a fighter, going to graduate school and if a fight against strawweight champion Joanna Jedrzejczyk is in her future.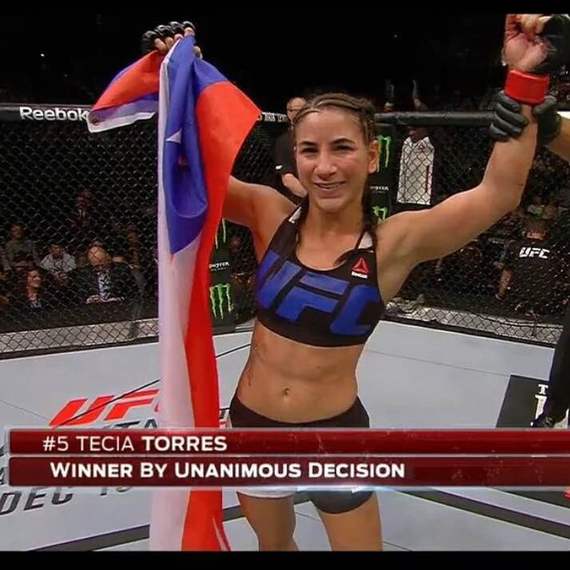 Why did you start fighting?
When I was five my mom brought me and my sister to martial arts school for karate and tai kwon do. From the first lesson I fell in love. My sister actually hated it and she never went back but I stayed until I was 17. Then I went to college and took a year off, but I decided that I wanted get back into something and I found muay tai kickboxing, so I started fighting. After I had about 20 fights I started doing ju jitsu too and the next logical thing was MMA. I went from karate to kickboxing to MMA. That was the transition. The big people back then were Gina Carano and Chris Cyborg. I would watch them and I was like, hey, I should try this out. I did real well as an amateur. I became the number one amateur in the U.S. There's another promotion called the Invictus Fighting Championships, an all female based promotion, they called me up to make my pro debut. I had four fights with them and went undefeated and then the UFC called me to do the Ultimate Fighter.
I had heard rumors about them adding another weight class to the women's division that was probably going to be 115. One night I was in bed watching Superman or Iron Man or something like that and a call came from Las Vegas on my phone and it was Dana White saying welcome to the UFC you'll be on the next season of the Ultimate fighter, so it was pretty amazing. It pretty much changed my life.
What was The Ultimate Fighter show and competition like?
Being on The Ultimate Fighter is definitely something that is a once in lifetime opportunity. It's on national TV and the fans that I had from Invictus watched plus I got a bunch of new fans. Fans of the sport were able to see 16 women in the house, it shows our home life and shows the person that we really are outside the cage. It was really amazing and the amount of notoriety that you get coming from the show and being a UFC fighter. It's like the people already know a lot about you. They get to follow your career from there and you come home and people notice you more in your own hometown. Being on the show was pretty crazy and surreal. In the beginning everybody was happy and we got along for a little bit, but once the fights started and people started losing the cliques started and it was like a little high school again. There was a lot of drama, but it was fun and the experience of a lifetime and something I can share with my kids one day.
I was watching the UFC 194 fight and it seemed like you didn't turn it up until the third round, what's up with that?
I don't know if I'm a slow starter, but I get better as the rounds go on. After the third round I want to go another fourth and fifth round. I'm actually like the most tired after the first round so its really weird. I get stronger as it goes. Each fight I'm learning more. At that UFC 194 fight I was able to see some things that I hadn't seen previously in my other fights that I could have capitalized on. Hopefully in my next fight I'll start off like my round three and it will go from there.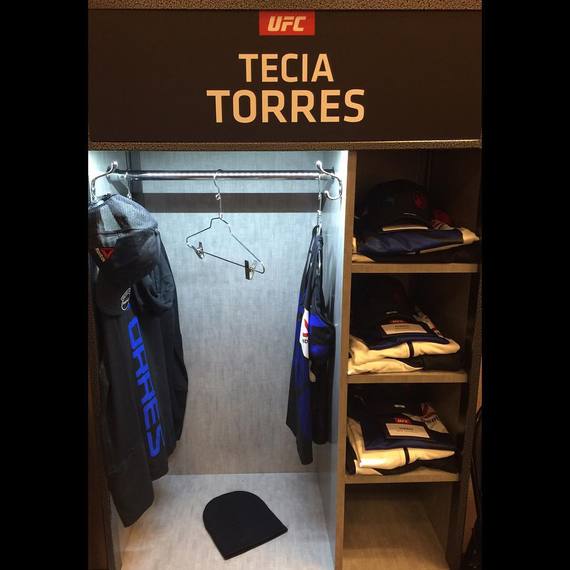 How is your skill set evolving and where do you see yourself going as a fighter?
As a fighter to be on the level that I'm on right now you always have to be constantly learning and evolving and have an all around MMA game. In the past, maybe 10 years ago you could just be one sided. You could be e a very good striker, a very good ju jitsu player, but nowadays everybody knows a little bit of everything so you have to be well rounded. I practice everything my ju jitsu, my boxing, my wrestling, my conditioning so that I can keep evolving everywhere. You are never done.
I was with a different gym in the beginning of my MMA career, but I made the transition to American Top Team about 4 years ago. In the beginning we didn't have very many girls here. It was just Jessica Aguilar. She's still with our gym and she is one of the reasons why I came to America's Top Team. Tt was just me, her and a few other girls, but now we have about 10 girls that are competing all the time. I think 6 in the UFC and then many others that are coming up as amateurs or just ju jitsu players. I'm very proud to be a part of America's top team and have an awesome team of women to train with.
The level of talent that my teammates have is awesome. If not at my level, then better than my level. It's always a challenge. Whoever your opponent is we have somebody to showcase that type of work. If I need a striker, I have a striker that can help me. If I need someone who is really good at jiu- jitsu I have a girl that can help me with that. It's pretty cool having this amount of girls to train with. Especially girls around your weight.
How did you get your nickname the Tiny Tornado?
It goes back to my amateur career in MMA and kickboxing. I was doing both when I was an amateur. I got it around 2011. There was this other guy at the gym and we were trying to come up with nicknames and someone was like the Tiny Tornado and I was like that goes really well with my name, Tecia Torres, with the double T's. I'm short, I'm fast, I'm energetic and back then in kickboxing I would do a lot of spin kicks and stuff, not so much in MMA, its very hard to pull them off, but the name just went really well with everything that I'm about.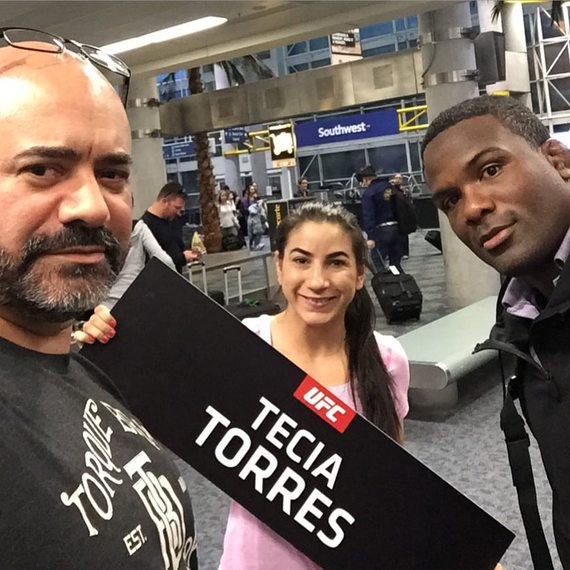 What did you think about Ronda Rousey's recent loss?
I thought Ronda Rousey was going to be invincible. It was shocking that someone was able to do that to her and it really showed holes in Ronda Rousey's game and showed me that nobody is invincible. You always have to be on your toes.
You are going to graduate school and you're straight edge?
Education is something that's big for me. Next month I am starting graduate school for my Masters in Criminology. I got my BA in Criminal justice and sociology a double major. I'm pretty much open to my fans and I'm on social media a lot. But one thing about me is that I'm straight edge. I've never had any alcohol or drugs in my life. That's something that I am dedicated to putting the word out there. It's not something that you have to do. With peer pressure and all that.
What is next for you? Is Strawweight champ Joanna Jedrzejczyk on your radar?
I think I am within two fights of a title shot. Whoever has the belt at that time whether it's her or somebody else I'll be gunning for them. But I'm in no rush. I'm young enough that I can still have a few more fights and get more experience before I go for that, but that is definitely a goal of mine. Anybody that does this sport wants to be number one. I definitely want to fight with someone in the top five because I'm in the top five so I can get closer to that title contention shot. There are some things in the works. We are talking about stuff. I think it's going to be a quick turnaround. I'll fight in the next couple of months.
REAL LIFE. REAL NEWS. REAL VOICES.
Help us tell more of the stories that matter from voices that too often remain unheard.