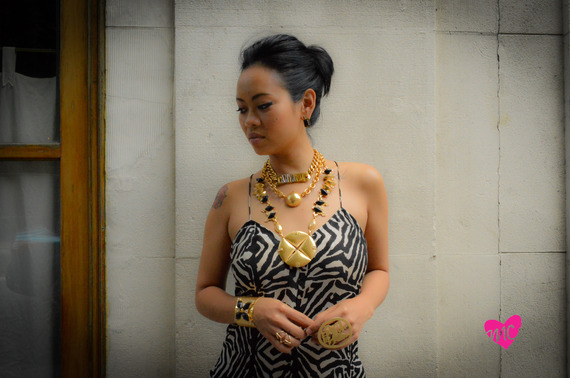 Anya Ayoung-Chee. NYC. September 2014. Image taken by Annalise Murphy.
She glided into my co-working space. Without saying anything, you know: Anya Ayoung-Chee is in the building. Her presence is undeniable -- as all eyes turn to her in intrigue. Dressed in a zebra print jumpsuit (her own) and Gerard Yosca jewelry, a New York born and raised designer, the amalgamation of an island queen with a city chic cool style is here.
Before NYFW, the last time I had seen Anya was over two seasons ago. As both of us are each one of few Trini's in the fashion Industry -- we have known of each other. We have said hello's at events in both the US and Trinidad, casually hung out with mutual friends in our NYC neighborhood (ironically, we live 10 blocks away from each other), but never sat and had a real one-on-one....
It's the middle of Mercedes Benz Fashion Week. She has meetings, shows and more, and I request a lunch Interview. Surprisingly, she obliges, during one of her busiest times of years. Instead of two hours, without my knowledge, she blocks out five. Even though the interview is about her, an engaging woman, she gives herself enough time to also learn about me. Conversation flows as if we are old friends and we quickly forget that it's even being recorded.
I begin with Under The Gunn -- a show on Lifetime where she is one of three mentors, mentoring new designers that are competing to win $100k, prizes, partnerships and more. Tim Gunn presents weekly challenges that test the mentors' ability to guide their designers and bring out the best. Each team competes in a series of challenges until one designer and one mentor remain.
"It was an honor to work with Tim Gunn and such a fulfilling experience to be able to mentor new designers that were in the same place I was just 3 years ago," Anya recalls.
Under The Gunn was also a personal challenge for her,
"When you are the designer, you have all the control. When you are a mentor, you give your advice and come back the next day either really pleased or like what the..."
Even before Anya was on Under the Gunn she was mentoring through her fresh venture, cANYAval, which I had the opportunity to experience at Miss Lily's Variety during Mercedes Benz Fashion Week. Anya explained,
"There is so much talent in the Caribbean and I wanted to provide a platform for it. I have so much support from my fans and followers, and they were eager to have more access to my Caribbean culture and lifestyle. While I don't design for cANYAval (yet), I do mentor each of my designers and guide them through the process of developing a successful line."
cANYAval is Anya's Fashion House, but she explained it was so much more:
"cANYAval is a movement. It has no boundaries. It opens my brand to a larger audience and allows them to grow and evolve with us."
For those that can't afford ANYA, they can still capture the essence and feel the movement. cANYAval has everything from fun t-shirts by 1ndividual to sexy swimwear by Keisha Als to womeswear pieces created by Anya's mentor, Meiling. cANYAval is more than clothing. cANYAval is a lifestyle.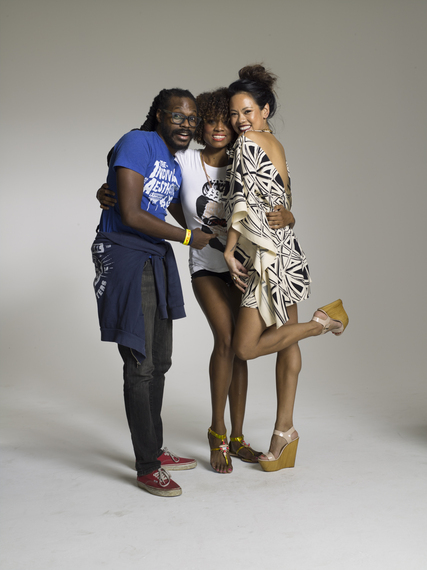 1ndividual designer, Keegan Simon with Anya Ayoung-Chee and model wearing 1ndividual x ANYA tee. Image shot by Jonathan Mannion at MILK Studios in NYC.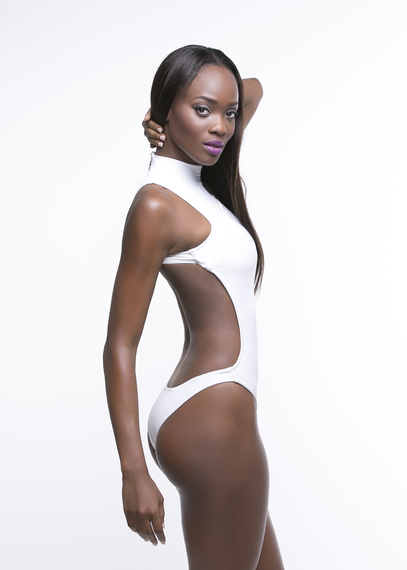 Keisha Als for cANYAval. Monday Wear Collection. Matte white zipper monokini available for $165 at cANYAval
"It's all about experiential fashion with me. My show at MILK Studios this year resembled a Trini fete with interactive fashion. The event I hosted for cANYAval this year was also an experience. I don't want people to just own clothes -- they should be able to experience the clothing and its inspirations."
Anya is one of the few designers playing with experiential fashion off the runway. Her event at MILK had vibrantly dressed masqueraders dancing through the crowd, towering stilt men in Caribbean attire and a live photo shoot showcasing all of the latest colletions from designers in cANYAval. In partnership with Miss Lily's and Red Bull, guests had their palates tantalized by Caribbean food and drinks. Her line, ANYA starts at $500 and goes up to $2,500, she explains,
"Not all of my fan base can afford ANYA. That bothered me. Through cANYAval I have become more inclusive and my fans can interact and connect with me on a more personal, experiential level."
It's thrilling to see a designer taking such fashion risks.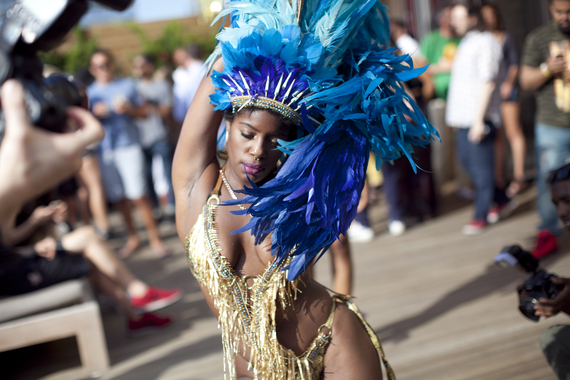 A masquerader dancing at cANYAval's NYFW show at MILK Studios in 2013.
cANYAval is full of Trinidadian culture, which is a melting pot of diversity and experiences. Trinidad has such an interesting culture: the Spanish, French and British colonized the country before gaining its own independence in 1962. Because of this, you see the European influence throughout the country and within the culture. The Chinese, Portuguese and Indians are descendants of indentured laborers; their food, beliefs and culture have become influential in the overall Trinidadian culture. There are a large number of ethnic identities and traditions influenced from West African, Creole, Indian, Chinese, Irish, German, Russian, Portuguese, British, Swiss, Spanish, Italian, African American ancestry, among others. This small country has only 1.3M individuals. Almost 25 percent of the people identify as mixed, but the number is actually much higher. For example, while a person may self-identify as Black due to physical appearance, his or her genetic composition might more closely be that of someone of Indian decent. About 22 percent of the nation is Roman Catholic while 26 percent are Hindu.
Anya and I talk about race, religion and life in Trinidad as she is currently living between NYC and Trinidad.
"When I came to the US, everyone was trying to 'place' me. Was I Filipino? Chinese? I'd respond, 'I'm a Trini.'"
Trinidadians have pride for their culture, placing their culture first and race second.
"We're a cosmopolitan of people," Anya passionately continues, "Trinidadians celebrate everything from Eid, Diwali, to Emancipation, to Shouter Baptist...like it's ours. Because it is... and that is a rarity. Our culture is so big and beautiful and diverse."
I begin to get teary-eyed about the culture I love so much.
"It's hard not to get emotional, right?", she says as she grabs my hand, "It's a blessing to come from a country where race is not a conversation unless it's political. I sometimes think that Trinis can be unaware of just how special we really are. We are a representation of the new world and I don't want to see us continue to move in a direction where racism and classism have loud tones in our country."
Anya is very adamant of being Trini first, but defines herself as 'Chinese-Indian',
"I don't shy away from any part of Trini culture because I'm a genetic makeup of all of it."
While race isn't perfect in Trinidad and the country does suffer from forms of racism and oppression, during Carnival, the country is unified.
"Carnival is celebrating life in this way," Anya begins in a tone of excitement, "where you see no boundaries, have no qualms about who is standing next to you, who's in front of you, *who yuh wining on [*Trini slang for who you are dancing seductively with] (laughs)...you embrace it. To me, to some degree, that's what it's about...true equality."
Anya loves Carnival. She plays mas every single year.
"I played in the womb. My mom is a real Carnival person. She was jumpin' in February and I was born in October," she laughs. "My first memory was playing kiddies carnival before I could even walk. I was playing like an Asian Wok, we were hot shrimp and hot peppers...in a wok! We were babies, so they were jumpin' and pushing us in a wok!"
I proceed to laugh while visualizing baby Anya as a hot pepper. She gets even more passionate,
"Carnival is the ultimate form of art. It's fashion, it's performance, it's architecture, it's engineering, it's theater, it's togetherness -- with diverse people...it's purely visual and purely visceral all at the same time."
Anya designs costumes for a section (her own) in the most popular mas band, TRIBE, in Trinidad & Tobago. I make the mental note to tell my friends we are playing TRIBE, in Anya's section, for 2015. I don't just want Carnival. I want the Anya experience of Carnival.
"It's been an evolution," she states, "I've gone from playing mas to designing for mas and cANYAval is one step further."
cANYAval has lots of Carnival influences and trends for customers to experience.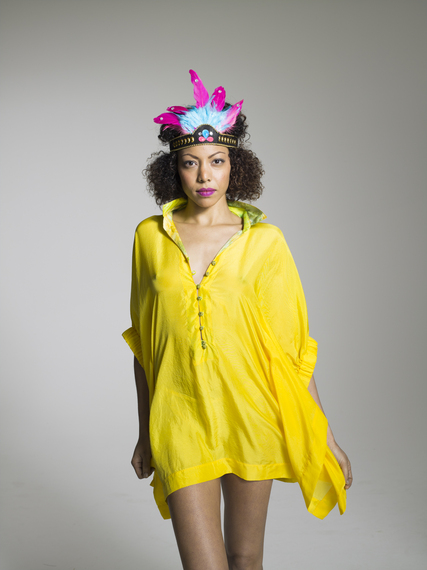 Meiling for cANYAval. Image shot by Jonathan Mannion at MILK Studios in NYC.
When I saw Anya last, I felt she was in a place of contentment. She was happy and working. During our conversation, I see that she is always evolving -- experiencing a transformation, in a space of creation. From the outside, it's so interesting to watch. Anya is confident, fearless and open. I was curious as to what was going on in the inside. "It seems you have really taken on the responsibility of not only being a mentor, but a role model," I inquire. The striking beauty looks back at me with her dark eyes and responds,
"I'm okay with being a role model -- it doesn't bother me."
A lot of public figures don't want that title. My mind goes Charles Barkley and his Nike commercial where he states, "I am not a role model. I am not paid to be a role model. [...] Parents should be a role model." The title of "role model" is one that many celebrities run from.
I think of about the not-so-great moments that have been highlighted during very major points in Anya's life. Her sex scandal shortly after winning Miss Trinidad & Tobago. Her lack of sewing skills, compared to her competition, on Project Runway. I continue to think and as if she is reading my thoughts she replies,
"You're pondering on the sex tape?"
I respond, "I wasn't going to bring it up and honestly, I'm surprised you even mentioned it." She nods,
"Role model to me in this age is embracing all the shadows. What do you do with your humanity? How humane are you towards others? This idea of perfection is false. I'm not perfect, I'm real. I make mistakes. I've been obsessed with being perfect my whole life. I'm so much more comfortable just being me."
We all make mistakes. It's just that we hold those in the public eye to greater demands. I'm instantly impressed by her directness. The shadows. The light. Anya embraces and learns from it all.
"I went through a period when I crafted an image to live up to the expectation. That type of pressure increased when I won Miss Trinidad and Tobago and just escalated when I won Runway. I just wanted to be perfect. It was such a euphoric experience, all eyes on you..." she trails off.
"And now?" I inquire, "What do you want now?" She replies without missing a beat,
"To remain open and honest, because that's how I grow. It's easier for us to focus on where we are great. For me, the honesty keeps me growing and evolving in the areas where I can learn."
She's living in her truth. The girl from Trinidad, who could once barely sew, is now a well-known fashion designer. I think of her fan base, that just keeps growing with each new endeavor and step she takes.
"My nature is, 'I must know everything before I start'. My experiences with Runway and learning to sew taught me so much about taking risks, throwing yourself into things, trusting in yourself and figuring it out. Because of that experience with Runway, it's how I run my businesses. I take more risks."
The risk-taking is working for this Carnival-loving, Trini Queen. Making a 180 -- she's listening to her customers and fans, not necessarily the Industry. She's trailblazing with experiential fashion. Anya is more than a fashion designer. She is an entrepreneur, a trendsetter and a vibrant force all rolled into one. This strong voice and presence within the fashion industry will continue to defy the odds, set the trends and rise to the top as a winner.
**Anya agreed to a Twitter Q&A with her fans and followers...read the exclusive Extended Interview (and see if your question was chosen!) at Model Citizen