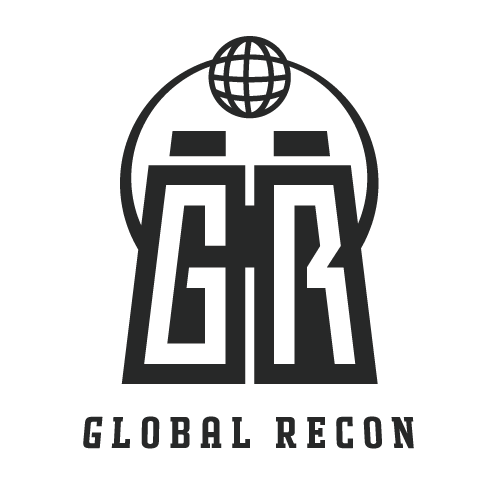 As a student my daily activities are filled with learning as much as I can, through classes, internships, jobs, mentors, etc. But that is a process of me taking rather than utilizing my position, experiences, and knowledge to give back, especially. Especially to the group that made my learning experiences extremely memorable. Thus, I have been looking to figure out a methodology to spread some of my experiences and learnings. After all, life is simply a give- and- take. As I stumbled through my daily grind of classes, working on my startup, venture capital internships and jobs, and other positions and events, I ended up meeting the team from Machine Shop Ventures (Linkin Park's VC arm), Kiel Berry and Michael Seversky, at a Greycoft VC event in LA. Both of them have grown to become amazing mentors, and together we began developing a program called Global Recon.
Through my student group Venture: The Entrepreneurial Society, StartupUCLA and Blackstone Launchpad, we developed and implemented a (5) part lecture series to discuss global business and entrepreneurship at my school and Michael's alma mater, UCLA. This has been one of the most fulfilling programs I have been able to be a part of in my years as a student. This aspiration to pay-it-forward and spread both experiences and knowledge led to an unreal experience.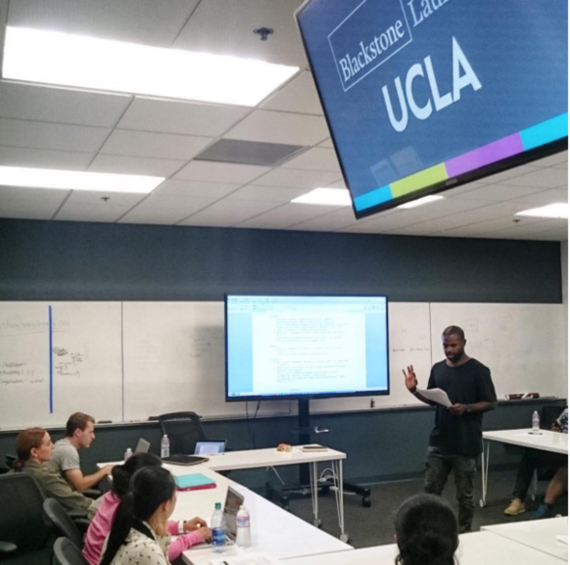 The build up
I stumbled through my first year of University fortunate enough to know where I wanted to end up in 30 years. But when I got to university, I was ripped back. I realized that the ecosystem here was not conducive to having dreams of pursuing venture capital, startups, and entrepreneurship. I recall having to sneak into MBA student-only events, since undergraduates were not allowed in the Entrepreneurs Associations events at the school. It was not the environment I thought it would be at UCLA. My classes rarely transferred and applied over to the work I was doing for a variety of VC firms, startups, as well as my own company. I recall being denied admittance into startup initiatives and programs since my startup (Pyur Solutions) was geared towards agriculture and did not having a tech element. However, things slowly progressed over the years and the environment is blossoming now with a variety of undergraduate/graduate entrepreneurial groups and even more external organizations that fuse in as well. Even with having all of these things happening around me, I realized there was still a central element missing. Our classes did not apply to the real world. For example we do not have an international business major nor an entrepreneurship major here at UCLA. I became fascinated with curating content and programs on how to immediately transfer our class studies into " the wild."
This understanding of the "real world" occurred because of a set of key experiences in my upbringing:
I grew up in a dual national household. My dad was born and raised in India and immigrated to the US in his bachelor years. My mother on the other hand lived all over the world including Africa, UK, and India. This led to an infusion of different viewpoints, ideas, and most importantly an infusion in the day-to-day lives of people in different countries. It was truly eye opening. During summers, instead of going to different cities and taking the average guided tour, we would travel and spend entire summers in different countries throughout Europe and Asia and live with family members or host families. This allowed me to see the world through the eyes of other people with different stories. It allowed me to garner international experience, when I shadowed various CEO's of publicly traded firms in India. Even more so it showed me how different the rest of the world is from what I experienced in America, d. Down to how people decide what to purchase at the grocery store. It was all different.
I had some of the greatest High school teachers. They were simply prophets! Rather than just teaching theory and making us take mindless memorization tests, they would use tactics of real world case studies in our classes. They would either bring in newspapers or bring-to-light key trends that were happening in various regions around the world. We played academic Jeopardy on Fridays in Mr. Plinski's AP World History class, had questions on religions, business, sports, literature, etc. on everything that pertained to the class and more. Mr. Smith would use SNL skits to introduce historical concepts that were referenced in our AP European History class. If we had to memorize something we were allowed to act it out as well. For example in Mrs. Snow and Mr. Rossi's AP English courses we had to memorize portions of Shakespeare's works and act or recite the soliloquies. Which even helped me a lot with public speaking. In Mrs. Bryers AP English Course and Mr. Walsh's AP computer science & AP art history courses we were activley encouraged to think outside the box and not settle for the base standard. To be frank, it was fun! Instead of using textbooks in our day to day the way standard classes did, our textbook theory would be used to expose wisdoms, learning's, and most importantly lead discussions amid the students.
Now I knew what I wanted to be when I grew up, I just didn't know my major. I came into UCLA as neuroscience major but I knew that was not going to be what I left with. I knew it would be something in business, but what wasn't clear was what that equated to. Especially since our business major is not business but rather economic theory classes with a few accounting courses. I simply hadn't seen or learned enough yet. I was hungry to find the answers though. Interning and working at VC firms such as Science Inc, Space Angels Network, and Anthos Capital, throughout the school year and every summer from freshman year, I gravitated toward Venture Capital and Startups.
At the same time, I began to cold call and request to meet and chat with various entrepreneurs, business professionals, and venture capitalists, pretty much anyone who was successful in their own pursuits, to be able to learn and garner some advice and mentorship through their experiences. Somehow, I always found those talks to be the most applicable to my life and the most captivating. It was through these lunches and calls in combination with my experiences in my upbringing, which would allow me to get a more complete view of what the world had to offer...from people "in the wild." During those talks, I was asking tons of questions about their journey.
How did you curate your university experience to match your professional dreams?
How were you able to determine a pursuit of (x) industry over another?
What would be the most effective way for me to solve some of the issues I'm facing through my experience trying to navigate this world?
I'm now finishing my years at UCLA, and I'll be leaving it soon. I can start to see where these entrepreneurs and young professionals were coming from. I'm turning into one of them now. And so it's only natural to want to give that gift of perspective to a student similar to whom I once was.
Kiel, Michael, and I wanted to create a series of lectures that would use real world trends and current events to lead discussions on global business and entrepreneurship. That insight culminated in the lecture series, Global Recon.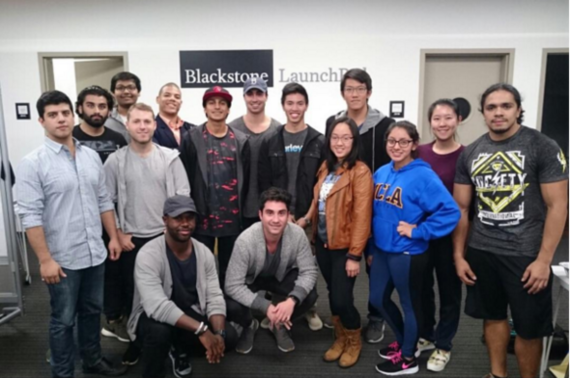 The Recons
As mentioned before, UCLA doesn't have a specific global or international business major. Thus we identified with this being a unique project worth sharing. Living and working in the US, and having traveled and worked all over the world, we recognized the significance of being a global citizen and sought to design a program that accentuated this.
We designed the program to contain case study discussion/lectures. We called them 'Recons'. In the Recons we discussed multiple industries and their global trends.
Recon #1 -- Global Expansion in Technology
Recon #2 -- The Democratization of Fashion
Recon#3 -- Creative Content and the Changing Media Landscape
Recon #4 -- The Evolution of Social Entrepreneurship
Recon #5 -- Graduation & Student Presentations
The class was full of international students as well. Students from the US, Dubai, China, India, Australia, and parts of Europe came to the class. Each of these students provided such a unique and varied perspective.
We encouraged the students to leverage their intelligence and curiosity. By doing so we absorbed quite a bit from them as well. The classes were full of heated discussions, which allowed and taught them to think critically and defend their arguments with "supporting facts and references to their peers."It was amazing! We brought in other young successful professionals and entrepreneurs such as Ann Wang of Enrou a social-purpose startup that originated at UCLA! They were part of StartupUCLA at their beginning.
Enrou is a global social impact fashion platform that empowers communities in the developing world by selling their goods online. Her voyage assisted in humanizing the students understanding of social entrepreneurship.
We received amazing feedback and were able to then use that insight to expand on Global Recon. This spring, we ran the program at USC and that was phenomenal! We had amazing lecturers such as Lisa Filipelli (VP of Talent @ Big Frame), Billy Naveed (Head of Hedge Fund Sales @ Credit Suisse & Head of Partnerships at Nest VC). We even had Josh Madden come down and share his experiences to help the kids scale their journeys and on becoming global thinkers! It bridged the gap between the young professionals who we admire/respect in their various industries and students.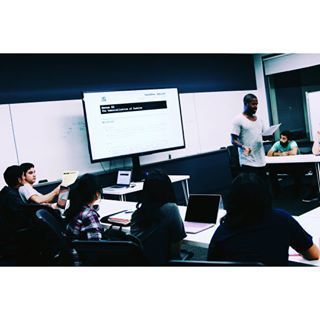 Global Recon presented us an opportunity to play a role in the development of our forthcoming leaders and entrepreneurs, helping them gain invaluable knowledge and experiences.
#GLOBALRCN
INSTAGRAM: @GLOBALRCN
FACEBOOK: GLOBAL RECON
WEBSITE: http://www.globalrcn.com/
Blackstone Launchpad UCLA: https://blackstonelaunchpad.org/campus-page/ucla
Calling all HuffPost superfans!
Sign up for membership to become a founding member and help shape HuffPost's next chapter