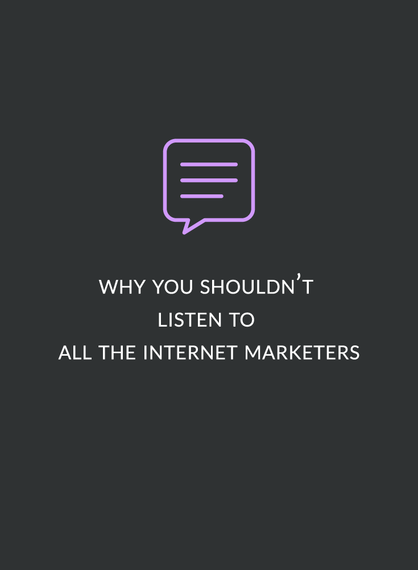 You're setting up an online presence for your business. After a few Google Searches and Facebook Group stalks the internet noise is giving you the recipe for success:
1 Million Instagram Followers.
Constant presence in at least 400 Facebook Groups.
A hilarious and well manned Twitter Account.
A Pinterest account with boards to rival Vogue itself.
A huge opt in banner with a well coiffed, beaming photo of you, pointing towards a highly converting, beautifully coded opt in form.
A free opt-in bribe that if asked, anyone would pay $1000 for.
Testimonials that say how professional, beautiful and good in bed you are.
A blog with daily posts that are inspirational, informational, motivational with a Pinterest worthy image that's both relevant but gorgeous.
An exclusive mastermind group where everyone laughs, flicks their hair and shares the inside secrets of how they made their first billion in a week.
Guest posts in every orifice of the internet.
Email subscriptions to all online marketing guru's that breathe, which you should read and expertly implement by the time you have your morning green juice.
So as you can see... It's never been easier to publicize your business online.
But here's the thing.
If you don't like it, don't do it.
Don't painstakingly grind your way through highly converting blog posts if it ain't your jam. Don't Instagram everything you encounter for fear of missing out on an opportunity to market something. Don't hire a photographer to shoot your opt in banners if the idea of having your face so... There... Makes you feel like hiding in a broom cupboard.
Most of the advice that exists is lovingly served up with the best of intentions to help other people make their business shine online.
But just like every piece of advice that exists, we take it from a well intended suggestion and turn it into a make or break 'should'.
The to-do list gets longer and the anxiety stacks up.
I'm here to give you permission to look at that to-do list and if something on it feels like it's weighing you down or turning your stomach into a Circle Du Soleil performance, then...
You. Just. Don't. Do. It.
I've poked fun above at a lot of the mainstream marketing advice, and to be honest, I've tried most of those things on myself, some of which I adore to spend time on and a lot of which just didn't fit. So I'm encouraging you to do the same. Look at what actually brings you joy. Look at what you're excited to do to market your business and everything else, either drop it or delegate it.
Because life is too short to be optimizing opt ins when you would rather be... Well... Sane.
Naomi Liddell is a Life affirming designer, blogger and aspiring speaker. She works with incredible businesses and entrepreneurs from all parts of the globe to design brands built on values, love, honesty and above all else integrity. She always feels cold, drinks too much tea and loves grungy, bass heavy rock. For more over sharing about life, the universe & everything business and branding related, and to get free desktop and device wallpapers, sign up for updates here.
She also Tweets and Instagrams @naomiliddell