Here's an oddity -- "Symbiosis," a show of work by one artist I've written about already, and one artist I'll have more to write about later. But that's life: you don't get to pick the timing. Lauren Levato Coyne and Rory Coyne are a married pair of Chicago artists with relatedly fantastical sensibilities. I like their work very much, and I hope you'll drop by their show if you're in Chicago.
I've written about Levato Coyne's mysterious self-portraits here. Levato Coyne works in colored pencil. The drawings I described before were simplified and highly graphical. In her new work, she continues to explore the symbolist self-portrait, but she introduces high color and full rendering to more parts of her images, gradually expanding her formal ambitions as her skills develop. As with so many elements of her work, she is icily methodical about her expanding grasp. Nothing slips past her. The new pieces disturb (as in the "Self Portrait as Spontaneous Combustion") and delight (as in the "Self Portrait as Mary Go Round") in dimensions beyond the reach of her older work. This is such a pleasure in an artist: she matches her progressing abilities with an expanded range of meaning. Her meaning scarcely exceeds her vocabulary, nor does she pursue technique for its own sake. They mature together. Wherever she is, she makes complete work.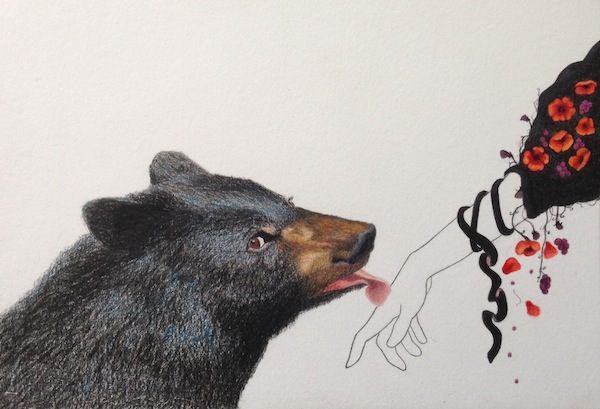 Lauren Levato Coyne, "Family Man," Colored Pencil on Bristol, 5" x 7"
Rory Coyne is primarily an oil painter. He has always worked in highly rendered imagery. He is creating a myth world, and I had thought I'd cover him later on because he is only partway through this ambitious project. When I first saw his work, he was painting individual figures with fused human and animal anatomies. The show features some of the studies in which he works up such figures ("Questionable" and "Birthday Gift," for instance). Having largely mastered the intricacies of these fusions, he is starting to construct scenes where his chimerae interact (the figure from "Birthday Gift" reappears confronting a herd of man-pigs in "Turning Seven," for example). The proscenium takes shape, the characters make their entrances, and the play begins. We have glimpsed the set and costumes, and they are very colorful and exciting, but we do not know the story yet. That was why I thought I'd write about Coyne later. But this show is now, and what he's up to is worth celebrating now, even if the play is still in its first scene.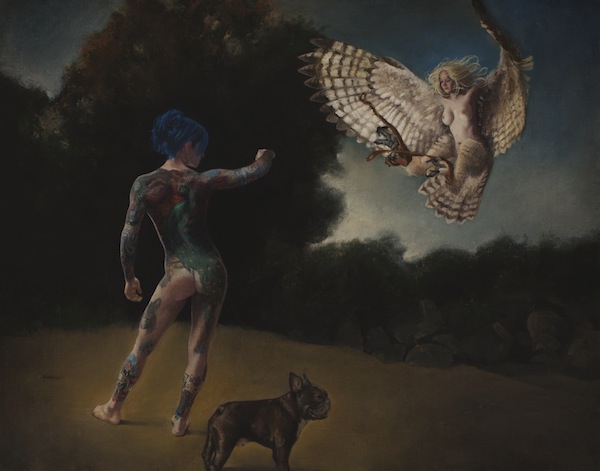 Rory Coyne, "Embracing the North Winds," Oil on Linen, 22" x 28"
I have an enormous soft spot for the work of Levato Coyne and Rory Coyne. Where I'm coming from on this is as follows: as a child, I was what you might call imaginative. Among the consequences of this were a taste for science fiction and fantasy book covers, and an interest in dreams, which I trained myself to remember.
As marvelous as these materials are, they often suffer from a flimsiness, a detachment from any real concerns. This flimsiness threatens to alienate the adult mind from the parts of science fiction, fantasy and dream imagery which are really vital: the ongoing sense of possibility, of magic, of the excellent unreal. The excellent unreal, it goes without saying, may well be truer than the humdrum empirical. But investing it with moral substance and personal meaning is not easy.
I hang out with a lot of figurative painters. As you can imagine, many of them paint nude models in studios. I've done my own fair share of that, and still do. It's awesome. But in the past few years, I've been seeing the figurative impulse turn increasingly toward the mythological and the magical -- John Seed has just gone into this a bit with Adam Miller in these very pages. Miller has been working stalwartly on his own mythological project, with impressive results that you ought to check out.
I think we, we of this school, who grew up on science fiction and fantasy pictures, are seeking out older mythological and magical material because it often comes from makers skilled at endowing their fantastical images with human mass. We are turning to their idioms in our attempts to reclaim this heritage.
It's difficult work, and most of the time the results are stilted and fetishistic. They belong on the cover of a yellowing paperback. But some of our lot are making good progress. In my humble opinion, Levato Coyne and Coyne are doing it well. So that's where my soft spot comes from. I like what they do, and I like how they're doing it. I hope they have many years of happy work ahead of them, and I look forward to seeing where they go.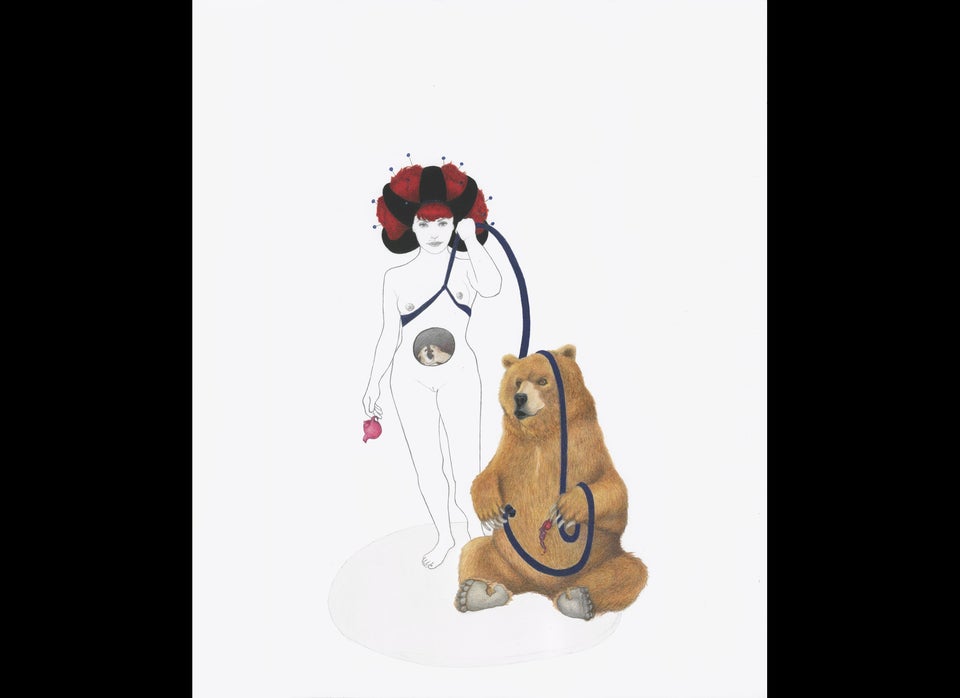 Symbiosis
Symbiosis: Lauren Levato Coyne and Rory Coyne
Century Guild Chicago
2136 W. North Ave., Chicago, IL 60642 (312) 617-8711
October 12 - November 24, 2013
Opening Reception October 12th, 7 pm - 10 pm
(drinks provided by New Holland Brewing)
all images courtesy the artists
Popular in the Community