What do Adele, Foster The People, Hozier, Norah Jones, Arcade Fire, Lorde, Beck, Coldplay, The Black Keys and Sia all have in common? All were unknown to the mainstream until Los Angeles' KCRW (89.9FM) embraced their debut records teleporting them into the public's consciousness and, ultimately, the pop stratosphere. Playing a central part in the cultural pulse of the City of Angels for 70 years now, KCRW is one of America's best public radio stations, and their music director Jason Bentley, is living proof that video didn't kill the radio star after all.
Though Los Angeles is his beloved home, Bentley has developed a strong reputation and following as a DJ nationwide for such music meccas as Coachella, Sundance, South x Southwest as well as music supervising for films (The Matrix, Tron) and video games. Bentley's musical tastes play a part in shaping what the world hears, loves and buys. The #1 debut of Alabama Shakes on Billboard's Album Chart this past week have Bentley and KCRW to partially thank. He's a fan of all music, but Bentley's specialty has been electronica/dance, and his activism with the genre is a big reason why The Grammies have Dance Music categories. If Jason Bentley gets behind your record, it's a good thing - a very good thing.

Xaque Gruber: Did your passion for music begin with your parents' music collection?
Jason Bentley: Both of my parents had great record collections. My Dad and I had a ritual of going to record stores on weekends and pick out albums. Part of the fun was taking a risk buying an album in the dollar bin that we didn't know - maybe just based on the cover - and the discovery process in that was so joyful. My Dad was a great vinyl and book collector, and that rubbed off on me.
XG: Tell us about how you became obsessed with radio.

JB: From a young age, I loved that radio was this 'theatre of the imagination.' I moved to Santa Monica when I was in Junior High and back then KCRW was doing unconventional, weird, dark shows. Joe Frank was producing his amazing radio stories and you felt like you were eavesdropping on a conversation you shouldn't be listening to. Check out https://www.joefrank.com/ if you're unfamiliar. Both Joe and KCRW's first music director Tom Schnabel's ambitious world music program completely blew my mind about what was possible on radio - I was hooked.

XG: I read that the first concert you went to was The Go Go's.
JB: (laughs) Yes. Sometimes you talk to people and they brag that their first concert was The Clash or Joy Division - and you go "yeah right." (laughs) First concerts always have to be, from a parent's perspective, something safe and poppy.
XG: Do you credit the new wave electronic acts of the early 80s like Human League, Thomas Dolby, Eurythmics, Gary Numan as forming the foundation for your love of electronic music?
JB: Absolutely. There were a lot of interesting, progressive musical ideas going on at that time. I was always drawn to the unusual aspects of a new wave record. Take for example Do You Really Want To Hurt Me by Culture Club - somewhere about three and a half minutes in, the music takes a trippy dub turn and for a moment you lose yourself down the rabbit hole. These musical departures within a song were for me the birth of DJ culture, which includes sampling, experimentation, and mixing different music styles in clubs.
DJ Jason Bentley spinning at the Santa Monica pier (photo by Dustin Pearlman)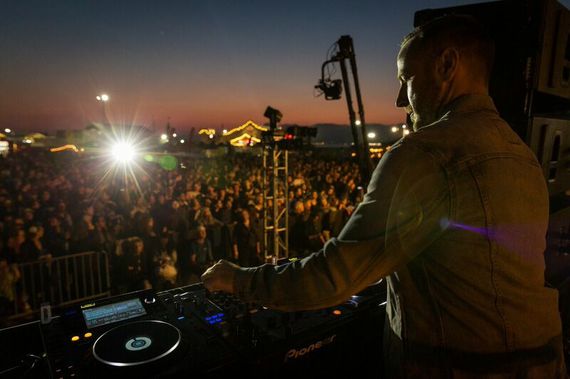 XG: I have to thank you for sprinkling a nice amount of Kate Bush into your weekly playlists.

JB: Hounds of Love is one of my all time, maybe top five, favorite albums. I am quietly hopeful that playing Kate Bush will cause her to consider taking her amazing live show, which she did last year in London, to the west coast.

XG: In one fell swoop this morning I heard Pink Floyd, St Vincent, Toro Y Moi, T Rex, Los Lobos and Grace Jones. Your daily KCRW show, Morning Becomes Eclectic, has become more cross-generational and eclectic over the years.

JB: It's about striking a balance between curation and expression of what's going on in the world. A couple days ago I played Inner City Blues by Marvin Gaye which has the line "trigger happy policing/panic is spreading." He wrote that more than forty years ago. As a DJ I want to tell a story that people can identify with through music. The set you mentioned connecting Pink Floyd to Toro Y Moi - there is a dreaminess to the Toro Y Moi song that reminded me of Pink Floyd. When you support creative ideas, that's when magic can happen.
Jason Bentley and electronica artist JB Trentmoller (photo courtesy of KCRW)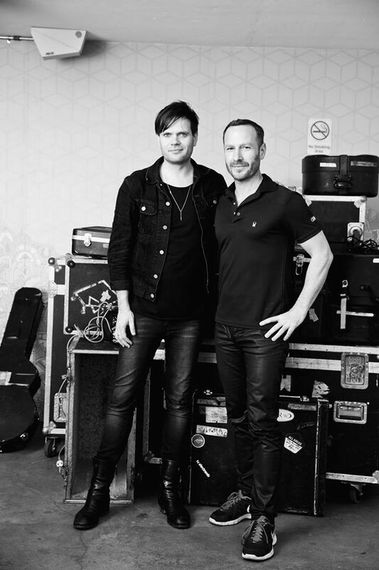 XG: And now for some lightning round questions. What is your must see TV series right now?

JB: Game of Thrones. And by the way there's no way that Lady Sansa Stark will marry Ramsay Bolton. It's just not gonna happen. Sorry if that's a spoiler for anyone not caught up.

XG: A documentary film from the past year that has haunted you.

JB: What Happened Miss Simone - about the life of Nina Simone. I saw it at Sundance this year.

XG: Favorite place for vinyl.

JB: Amoeba Music in Hollywood.

XG: The band that most surprised you at Coachella this year.

JB: Glass Animals

XG: A U.S. city with a vibrant music scene that is exciting you.

JB: People's expectations for Nashville, Tennessee is country music, but it's a lot more than that. There's a ton of great electronic music and all kinds of music coming out of Nashville right now.

XG: Three deceased musicians you would most like to have return.

JB: I'd love to have Mozart come back. Also Michael Jackson and Bob Marley.

XG: Favorite Broadway musical?

JB: I enjoyed Fela and Wicked.

XG: Any early favorites for Best Album of 2015?

JB: The Alabama Shakes' Sound & Color is the first essential album of 2015.
XG: Chris Freedman, a Freshman at Syracuse University, wants to know - is there a new or emerging label that you are excited about right now?

JB: True Panther.
XG: Okay that was the end of the lightning round. Last question, you began as a phone volunteer in your 20s at KCRW and worked your way up. For kids just coming out of college who want to do what you do - what advice would you give?

JB: Find your community. When you find like-minded people who bring a skill or idea or energy to the table it can be really important. Find those places where you will click with the right kind of creative people. I found that in KCRW. Don't underestimate your own interests and passions. I just followed my instincts of what felt good and what was rewarding and what drove me, I had no idea if there was a career there, but if you trust your interests, stick with something, and you are dedicated at a high level, then the universe will bend your way.
Popular in the Community