Travel is more than the seeing of sights; it is a change that goes on, deep and permanent, in the ideas of living.— Miriam Beard
How To Do Exceptional Things Inexpensively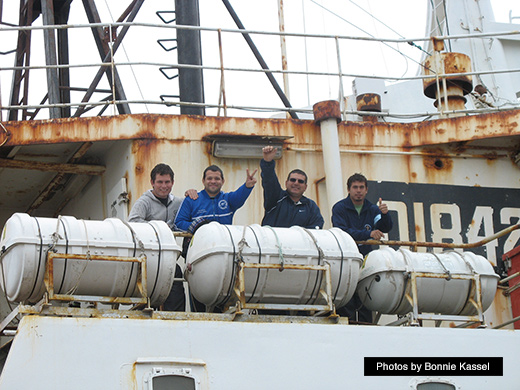 Fishermen Ramón, Cristían, Antonio and Roberto welcome me to Ushuaia
At the tip of South America where the last sliver of Argentina meets the sea, lies the town of Ushuaia. Once small and rustic known primarily to backpackers visiting Patagonia and Tierra del Fuego, Ushuaia has evolved. Smack at the entrance to the Drake Passage, it's become the jumping-off point for more cruises to the Falklands (or Malvinas depending upon where you're from), South Georgia, and Antarctica than anywhere else in the world. The majority of passengers fly in directly from Buenos Aires and spend one night at most before boarding their ship. But I recently had the opportunity to spend several days in Ushuaia and in less than twenty-four hours realized that it's being short-changed. Ushuaia has a distinct charm and level of sophistication that surprised me.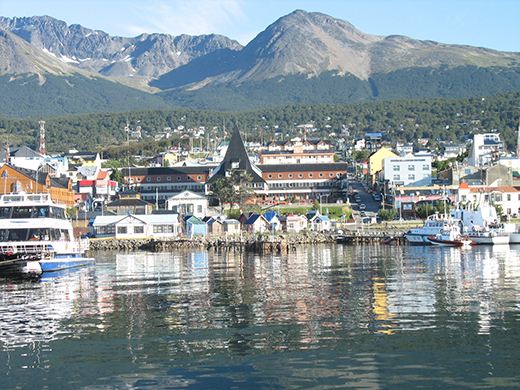 In addition to plentiful hotels and resorts, the tourist office has a long list of comfortable B&B's in the $100-a-night range, and they're happy to book lodging for you. Ushuaia is small but hilly: if your bags are heavy, the taxi stand is just outside the tourist office back door. I hadn't organized anything for my stay, and within an hour of arrival was unpacking in a squeaky-clean room with queen-size bed and large picture window overlooking a swath of evergreen trees. I stayed at the modern La Casa de Tere on Calle Rivadavia where the owner Tere couldn't have been more attentive. Sitting together in her bright glass-walled living room, Tere shared Ushuaia "insider" information with me and mapped out her favorite walks in the hills behind her house. The lovely Posada Fin del Mundo on the same street is a larger, traditional-style home filled with art work. The Posada is more expensive, but an elaborate breakfast and afternoon tea is included in the price.

Lush gardens thrive along Calle Rivadavia
When you follow Rivadavia back into town, you'll pass Café Tante Sara whose chic décor is more typical of a cafe one would expect in a large capital city. There's another branch further near the pier on Juana Fadul, but the Ravadavia location has a bakery with large assortment of breads and pastries on the premises--hands down the winner. Going west past the pier on Calle Maipú, finding a basket of crusty olive baguettes in the offbeat Ramos Generales was unexpected. Ramos Generales is part restaurant/panadería/bar; the shelves stacked with old scales, irons and the type of canisters one would have seen in a 19th-century general store. The atmosphere is a complete opposite from Tante Sara, but just as enjoyable. A pair of woman's undies and man's long johns distinguish the restrooms.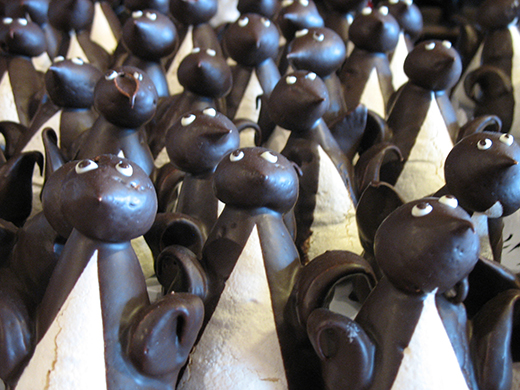 Chocolate-covered meringue cookies in Ramos Generales
I mention Quelhué @235 San Martín only because what looks to be simply an upscale wine shop on main street has a nice selection of gourmet cheeses inside. Dining out, many restaurants specialize in freshly caught seafood. Fishing King Crab is big business in the cold waters off Ushuaia, and the area is particularly known for outstanding crab dishes. Huge tanks crammed with the magnificent, giant creatures stood outside of several establishments.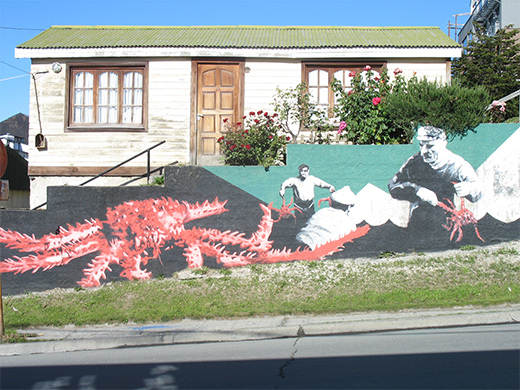 The crab even influences Ushuaia graffiti!
The Museo Marítimo housed in a former penal institution is usually first on everyone's list of museums to visit. Several cells have a photo and name of the convict who'd occupied the space posted on the wall--often sentenced for a lifetime. It was a damp rainy day when I visited, and trying to imagine surviving in one of the tiny concrete cells or using the showers in the "bathroom" was ultimately unimaginable. At the entrance to the museum was a small interesting exhibit about the indigenous Yámana Indians and, my curiosity peaked, Museo Yámana became the next stop. I read the ways in which a people withstood freezing winters without clothing; how they managed campfires in wooden canoes; and that their numbers dropped from 3000 to 100 with the arrival of Europeans. This is one of the things I most love about travel. I'd never heard of the Yámana when I arrived in Ushuaia.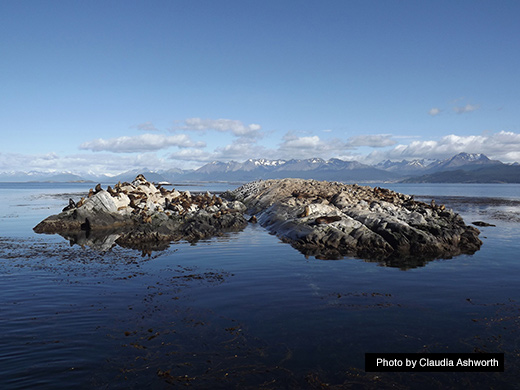 A day trip in the Beagle Channel
Ushuaia offers a variety of one-to-four-day cruises for viewing birds, penguins and fur seals; Tierra del Fuego National Park for trekking, kayaking, camping, ice-hiking (on glaciers), and short easy walks for people like me! Information and maps are available at both the helpful Tourist and Antarctica offices and several travel/tour companies in town. Inexpensive mini-vans leave every hour for the 40-minute drive to the National Park. (Note: it's not apparent and no one tells you, different companies run the mini-vans. It's important to remember the name of the company as it's the only one you can take to return.) Three hours was my hiking limit, and I chose a shaded, vista-filled path crossing peat bogs that ended at a former beaver dam site before circling back to Alakush restaurant in time for lunch.

Every table in Alakush has a view
I never would have expected a restaurant like Alakush in the Tierra del Fuego National Park. Nearly everything from pasta to pastries is made on the premises and it was here I ate the flakiest empanadas of my trip and discovered Pasta Frola--shortbread cut into squares, topped with pureed membrillo (quince) that turns red when cooked. I learned this (and how to prepare Yerba Mate, the tea-like Argentinian national drink) from Laura and Claudia, two warm hospitable girls vacationing from Buenos Aires whom I met when they pointed out the correct path to take. (I have no sense of direction). Laura and Claudia graciously invited me to walk with them and later the three of us had a delightful lunch together. Both women have a terrific sense of humor.

(left) Hikers Luis and Cristina drink mate from a traditional gourd
(right) Claudia and Laura
In the most far-flung corners of the world I've encountered individuals who almost single-handedly have protected a species of bird, fish, mammal, plant or the land itself, and Ushuaia was no exception. Back in the 1940's, one determined woman saved a city block of native lenga trees from development and her daughter, the artist Monica Alvarado, is continuing her mother's mission. Monica is the Director of what is now named Parque Yatana. The parque is open Tuesday-Saturday afternoons for a few hours and should be visited. In addition to the importance of supporting these people and projects, the personal reward of a renewed faith in the individual and possibility is a priceless bonus. If you take it slow without an agenda, and think of even short vacations as an opportunity for travel, chance discoveries like these become memories for a lifetime.
Click on the green comment box to the left of the article as you read. Let me hear about your experiences. Ask questions. I'm happy to offer suggestions and look forward to solving challenges together. And check back every month for my latest travel tips. Next blog: Something Old, Something New (Two Distinctly Different Food Stores in New York City)
*Disclaimer: I receive no compensation for my recommendations.