"Travel is more than the seeing of sights; it is a change that goes on, deep and permanent, in the ideas of living." -- Miriam Beard
How To Do Exceptional Things Inexpensively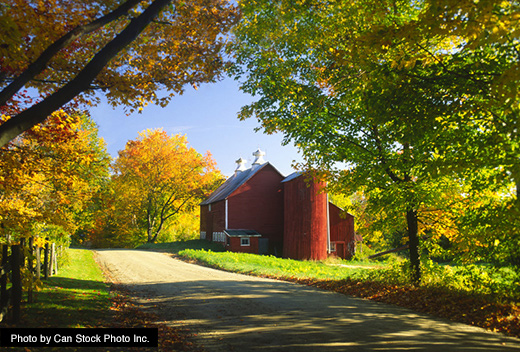 A recent Huffington update in my inbox featured the article "This Is The Best Place To Go Leaf-Peeping." Having recently returned from my own pretty spectacular "leaf-peeping" trip, I was curious and clicked on the link which opened with photos of Hokkaido Island in Japan. I've been to Hokkaido--it is indeed gorgeous--but if you're willing to swap fish who've never seen a freezer for farmhouse Cheddar wrapped in chestnut leaves and warm maple syrup, Vermont is just as remarkable for a fraction of the time and cost.
Being a typical New Yorker, I don't own an automobile. Long trips trapped on a bus or renting a car to fight traffic is not my idea of vacation, so I checked Amtrak. There is an express train called the Ethan Allen that goes directly from Penn Station in New York City to Rutland, Vermont--with a stop at historic Castleton where I'd be staying--five minutes before Rutland. In 5 ½ hours, less time than driving, one can comfortably take in views of lakes and mountains for $120 round-trip.

The 1850 Castleton station is one of the oldest in America, so the picturesque Vermont experience begins the minute you step off the train. A scale nestles in slightly uneven wooden plank floors; coffee/tea/hot chocolate is available at the door; a large incomplete jigsaw puzzle sits on a table. (In the 15 minutes I waited in the station on my return, I couldn't fit in a single piece and was annoyed that the train was precisely on time.)
Nancy from the Applewood Manor B&B came to pick me up. The 200-year-old home she owns with her husband Ralph epitomized New England charm and sparkling clean perfection, with attention paid to the smallest details. No matter the time of day, fresh ice cubes bobbed in the pitcher of ice water left for guests on a dining room credenza; there wasn't a brown leaf on a single indoor or outdoor plant (how does one do that?); even the resident Golden retriever, cat and parrot were all perfectly trained (again, how do you do that?). The cheerfully inviting back porch with comfy chairs ran the length of the house overlooking a vast tree-lined property. I was impressed to learn it was Ralph who designed the outdoor space. There wasn't one thing to improve upon. Rooms range from $100-$150 a night, including tax and hearty breakfast.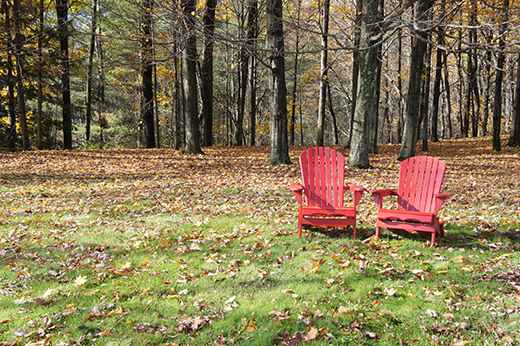 View from back porch of Applewood Manor
Eggs Benedict were served the first morning; the aroma of pancakes got me out of bed earlier than usual on the second. Nancy directed me to a path that led to a two-hour walk past farmland already dotted with massive bales of hay prepared for winter, a cemetery with 200-year-old headstones all askew, and along the Castleton River, until I was back in town passing several buildings listed in the National Register. I walked the railroad tracks as if in a 1950's small-town movie (there are only two trains a day, early morning and late at night), and stopped once to lie on a cushion of pine needles in a silent forest, the only sounds an occasional cracking branch or small animal scurrying in fallen leaves. The calling back and forth between a large flock of migrating geese filling the sky brought tears to my eyes. Is there a sound more primal?
I put off renting a car. Before visiting the Shelburne Museum, Shelburne Farms, and charming town of Middlebury, I wanted to see the nearby Hubbardton Battlefield from American Revolution days and Hudson Rail Trail tracing the former railroad. (The Trail can be covered by foot, bicycle or horse.) The Appelwood has a TV room with a selection of movies and board games for the evenings, but I chose to read snuggled in a cozy bed before going to sleep--waking naturally without an alarm. If it wasn't for the aroma of those pancakes seeping under my door, I'd have slept even longer. All the guests staying at the Applewood were unusually considerate of each other.
Finally ready to explore further, I went to Enterprise Rent-A-Car in Rutland which I couldn't recommend more highly. The car was new and immaculate; the transaction quick with no surprise fees. Best of all, an ideal new option for people like me who don't want to pump their own gas. Upon return, you pay only for gas used, at the exact price offered in the gas stations! If you're renting for a few days, Enterprise will bring your car to the Applewood. Speak with Brendan.
If you're renting for a single day or two as I was, there's a bus between Castleton and Rutland that takes 25 minutes and cost $2 ($1 seniors). It only goes 5 times a day, but with 8:43 being the first in the morning, and 5:30 the last return, the hours were easy to work around. Brendan will arrange for you to be picked up/dropped off at the bus station, but the 10-minute walk allowed me to see a bit of Rutland and check out some of the better restaurants--plus sample the truffle chocolate chip cookies at Gill's, a 50-year-old deli.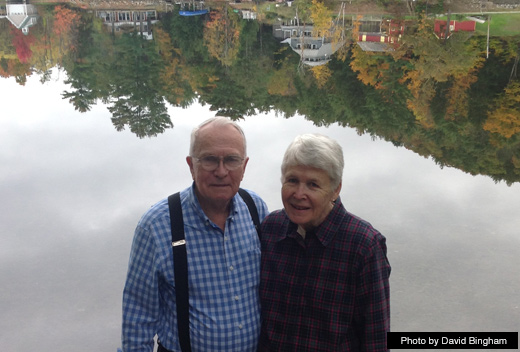 Sylvia and Harry on Lake St. Catherine
I drove directly from Rutland to Castleton, then through Poultney and on to Lake St. Catherine. As a child, our family spent several summers in a rented cottage on that lake. When I stopped on a dirt road trying to locate the area, a couple asked if they could help and invited me into their home to make a few calls. Harry and Sylvia were in their eighties and both still strikingly good-looking. We sat in their living room in front of a large picture window overlooking the lake and ended up talking for more than an hour. They had led interesting lives (Harry had been in the Peace Corps in Ethiopia back in the sixties), and clearly loved each other. As I left, they asked if they could hug me goodbye and I replied that it would be my pleasure. And indeed it was.
I marvel at the times when everything simply falls into place. The truth is, I hadn't known Amtrak stopped in Castleton when I bought my ticket and made a B&B reservation, I had no idea the Applewood would be that lovely and a convenient 6-minute walk into town. The graciousness of Harry and Sylvia topped off a perfect "why we travel" weekend in one of our most beautiful states. I plan to return this winter and experience some of the very same things in the snow.
Click on the green comment box to the left of the article as you read. Let me hear about your experiences. Ask questions. I'm happy to offer suggestions and look forward to solving challenges together. And check back every month for my latest travel tips. Next blog: The Delights of Puerto Vallarta Off Season
*Disclaimer: I receive no compensation for my recommendations.