"Travel is more than the seeing of sights; it is a change that goes on, deep and permanent, in the ideas of living. -- Miriam Beard
How To Do Exceptional Things Inexpensively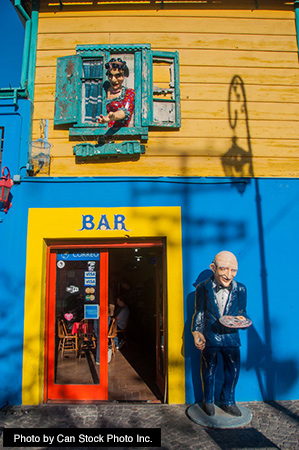 The funky, colorful neighborhood of La Boca
This was a rough winter for many of us, and I found myself dreaming of countries on the other side of the equator basking in summer. A diverse country like Argentina, with a capital city renowned for great food, wine, music, tango, art, and outstanding parks. I already knew Argentina's high inflation made travel dollars go far. When I researched and saw that Aerolíneas Argentinas (a Delta SkyTeam partner) had frequent direct flights into Buenos Aires Ezeiza International Airport arriving conveniently in the morning, the decision was made. My first evening out, I almost felt guilty dining alfresco under a striped umbrella knowing loved ones were struggling through single-digit temperatures back home.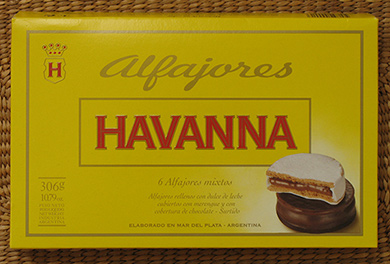 If you're like me and enjoy the adventure of discovery, I won't ruin the many surprises in store for you. You'll come upon your own equivalent of alfajores (dark chocolate-covered cookies stuffed with dulce de leche) or an artist like Antonio Berni, whose woodblock prints at the Latin American art museum rival Gauguin's. Fodor's outstanding 2015 travel guide has detailed maps for each neighborhood and extensive lists of boutiques in all categories. Still, there are a few personal tips we travelers always like to share . . .
When you arrive at Ezeiza International, the regular metered taxis lined up outside the terminal cost less than the fixed-priced "official" Taxiezeiza inside the terminal, though you will be told otherwise. Charge will be 300-350 vs. 400 pesos into town; 250-300 vs. 350 coming back. (The return is less expensive as there are no government airport fees.) You can change some money before you leave for Argentina at a currency exchange office similar to Peoples Foreign Exchange in New York (212-883-0550) whose rates are far better than any major bank, or at Banco de la Nación within Ezeiza Airport. Only at Banco de la Nación. If you don't have pesos, Taxiezeiza will accept dollars (though at a higher fee) and plan to change money as soon as you arrive in town. Your hotel will tell you where. This is one time you should leave home with a lot of cash.
Palermo Soho is the neighborhood to stay in while visiting Buenos Aires, and if they have availability, strongly consider L'Hôtel Palermo for your base. Nowhere will you find better value than at this unique boutique hotel on Thames street. The atmosphere is seductive; delightful garden breakfast abundant. The quiet tree-lined residential streets outside your door offer a staggering choice of restaurants, cheese & wine shops (even the most basic Malbec will wow you), bakeries and couture shopping. It felt like coming home at the end of a busy day and the staff only added to this feeling. L'Hôtel Palermo strikes the perfect balance between doting and too casual service. I loved it.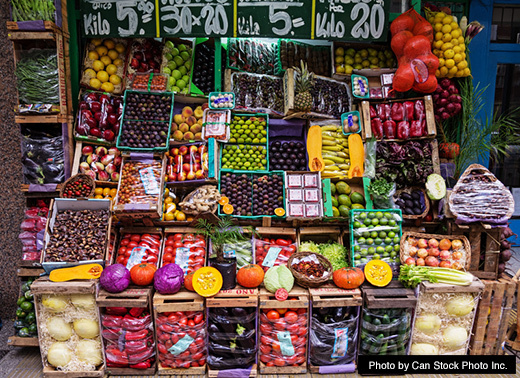 Palermo Soho has a fruit stand on almost every other block
The subways are clean and foolproof--even for people like me with no sense of direction. "Subte" signs are clearly noted on the street, strip maps showing stops are in every car, individual tickets at 5 pesos (45 cents) can be purchased from a manned booth. Many stations are decorated with commissioned art. Buenos Aires is large and the Subte practical when going long distances. Because taxis are inexpensive, it's never more than $2-$3 cab fare to a station. Often at the end of the day when I didn't feel like walking, I'd hop on the Subte to Palermo Soho, then take a $2 cab ride back to the hotel. On my first underground trip, a talented jazz musician boarded the train, and I found it particularly charming that after each performance, all the passengers enthusiastically clapped.
The Decorative Arts Museum has recently reopened after extensive work on the exterior and it's a must. Impossible to imagine that this was once a private home, I spent half a day here. Check out the temporary exhibits downstairs, and the on-site Croque Madame Café situated under the trees surrounding a fountain is perfection for lunch. I'd dine here even if I wasn't visiting the museum. If you're a chocolate lover, order the three-chocolate Bariloche cake, but be sure to ask for a media porción. Trust me.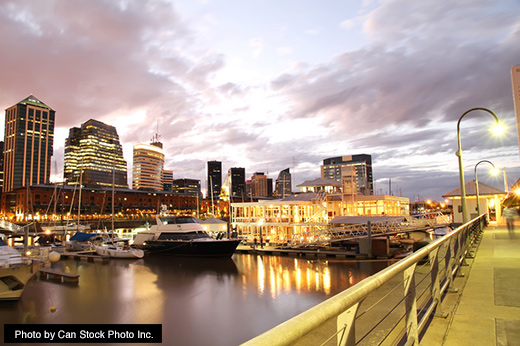 I'd also suggest a day wandering the waterfront in Puerto Madero where original brick warehouses line one side of the river, high-rises on the other. If you like the color pink, have lunch at the chic Hotel Madero. The nearby ecological reserve is ideal for biking or hiking. Stop at Central Market on Calle Macacha Güemes for a vast selection of picnic fare or tiny Fiambrería San Cayetano inside the San Telmo market for Reblochon, Parmesan, buffalo milk mozzarella, Gruyère, dried meats, etc. all made in Argentina. If you do the latter, tuck a baguette from Cocu Panaderia on Malabia into your bag before leaving Palermo Soho. For dinner, walk towards the anchored yachts on Dique 4 near calle Pierini Dealessi for a choice of picturesque cafés. Remember that it doesn't matter where you end up. There's always a cruising taxi to hail.
There are so many restaurants of every cuisine, I only mention the following as they're a bit hidden. The tranquil Pehache café in the back of a high-end housewares shop on Gurruchaga is ideal for something light; the non-touristy Social La Lechuza restaurant on Uriarte y Soler has a vintage homey feel. The people working in the comfy neighborhood Martinique Café on Parana #1158 in Recoleta were so kind and attentive, they deserve a shout-out. Next store to Ro Galería de Arte which represents another astounding Argentinian artist, Carlos Alonso, I had an unexpected pleasurable lunch because the galería hadn't yet opened!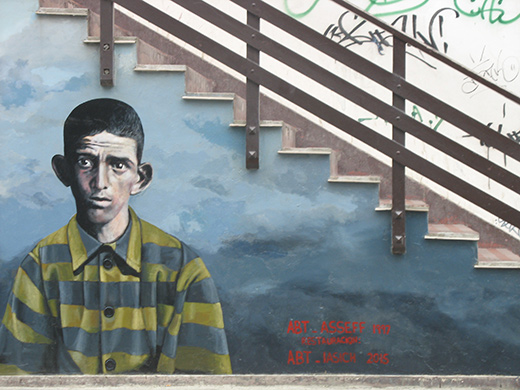 Street art is popular throughout Argentina
I'd definitely save a couple of days for a side trip to Colonia del Sacramento in Uruguay. Yes, Uruguay! Because of the fast ferry, many people go just for the day, but this Unesco World Heritage Site deserves an overnight. After all the tourists have left, you get a real sense of this small town while having dinner or quiet breakfast at an outdoor table on the square. The Uruguayan capital Montevideo, considered to have the highest quality of life of any Latin American city, is another easy possibility. Strolling the La Rambla promenade around old town is a joy. The $160 "reciprocity fee" you must pay to visit Argentina (because that's what we charge Argentinians) is good for 10 years and there are no visa requirements for Uruguay, so you can go back and forth as often as you like. Both of these trips are exceptional, and made me feel as if I got some mileage out of that $160!
Click on the green comment box to the left of the article as you read. Let me hear about your experiences. Ask questions. I'm happy to offer suggestions and look forward to solving challenges together. And check back every month for my latest travel tips. Next blog: Underrated Ushuaia, Argentina--Southernmost Town in the World
*Disclaimer: I receive no compensation for my recommendations.
Related