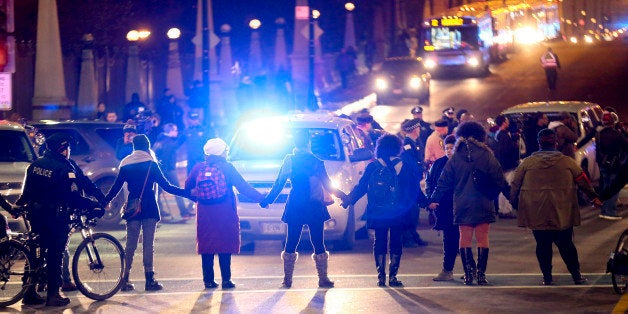 There was no reason at all for Police Officer Jason Van Dyke to cross the line and shoot Laquan McDonald sixteen times. This particular shooting represents an execution style murder for hire. What was this officer thinking as he fired his weapon several times on this young African American male? Did he feel threatened? Or was he thinking about the culture of violence that exists amongst some police officers nationwide?
Close to one thousand people have been killed by police this year and the numbers continue to rise. The leaders within the police department have to do a better job in training its officers to respond with lethal force, which is used only if there is an imminent threat. This is the 21st Century and with all of the media attention surrounding police killings nationwide, this particular police officer decided to cross the line anyway. Is there a shoot and ask questions later policy within the Chicago Police Department? Superintendent Gary McCarthy and Mayor Rahm Emanuel viewed this tape before the judge ordered it to be released to the public.
One would think that the superintendent would have fired this officer immediately, however no one acted at all. This officer was placed on desk duty. What does this tell you about police leadership in Chicago? Several police officers were at the scene and not one officer told Police Officer Jason Van Dyke to stop. Now he is facing murder charges.
The police want to improve relations with the community, but fail to improve relations within the department. If you take a closer look at the majority of police shootings, you will find that the people were killed. This article is not intended to bash the police because most of the officers are doing their best to serve and protect. However, we need to address the issue of police brutality. If we don't, then we are setting the police departments up for failure. There needs to be a serious dialogue right now to help move this issue forward in order to prevent another person from being murdered by the hands of a rogue police officer. Additionally, there is no evidence to support the police officer's decision to use lethal force in this situation.
There's no time for politically correct speeches or trying to pacify the people. We want action now! The Department of Justice needs to provide direct orders to address the issue of excessive force within the police departments nationwide. If this order is ignored, then they can enhance charges on some officers to the level of hate crimes, if proven by the law. Keep in mind that Laquan McDonald was clearly executed for no apparent reason and there are probably hundreds of Laquans throughout the United States that get no justice. Mayor Rahm Emanuel should have dealt with this incident last year instead of waiting on a judge to order the release of the police video. This says a lot about the current administration.
Calling all HuffPost superfans!
Sign up for membership to become a founding member and help shape HuffPost's next chapter